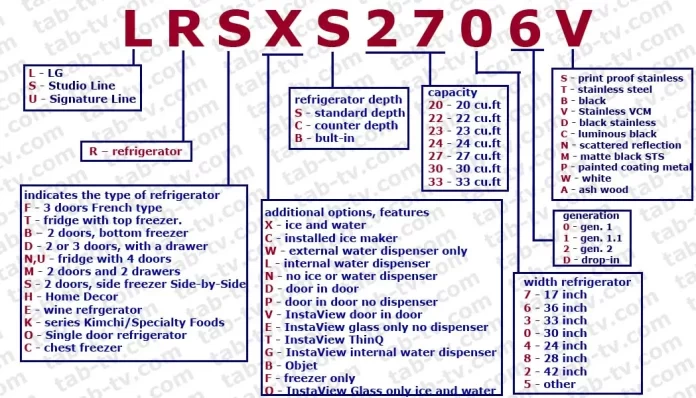 If you are interested in decoding LG model numbers for Europe, the information is available here LG refrigerator model number decode, explained by Europe 2017-2023
What do LG fridge model number mean?
LG fridge model numbers for the United States, Canada, and some other countries differ from the model number structure used in other regions. For example, Australia's model number structure in Europe is not the same as in North America. The features of the LG refrigerator model number for the USA and Canada consist of the main characteristics that will help the buyer to decide on the choice of the required refrigerator model. The model number contains basic information about the refrigerator, refrigerator type, the number of doors, depth, internal refrigerator volume in cubic feet, and refrigerator color.
The figure showing the model number structure in this article explains what basic information can be obtained by studying the LG refrigerator model designation. We want to point out that it is impossible to know the year of manufacture of the refrigerator from the model number. But you can easily find it out from the serial number.
LG refrigerator model and serial number lookup
LG refrigerator serial number lookup: The information sheet with the refrigerator model number, serial number, and other information is always located inside the refrigerator. It can be found on the side of the fridge, but less often, it can be located on the refrigerator door. The second place to find your LG refrigerator's model number and serial number are on the outside, on the side of the TV. But you should know that it is a barcode sticker; there are two barcodes, the model number and the serial number of your refrigerator; under the barcode, you can see the model number and the serial number. This is a packing sticker; it has a barcode and is designed to be read by a scanner when you pack your refrigerator at the factory.
Decode model number LG refrigerator 2019-2023
You should know that the 2019 LG refrigerator model number structure has been changed. A letter has been added to identify the product, the refrigerator. The model number has also added information about the refrigerator's generation. While these changes are not particularly significant, they allow you to identify and understand your refrigerator model more accurately.
Decode model numbers LG refrigerator 2016-2019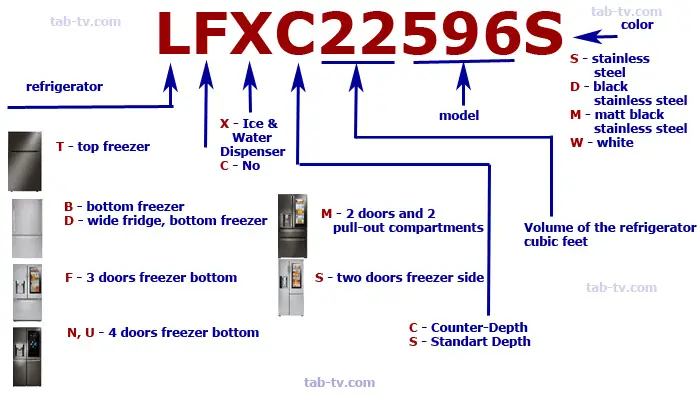 Which means LG fridge model number explained
L – indicates that this product is a LG refrigerator, in some countries also uses the letter G.

L – LG
S – Studio Line
U – Signature Line

R – refrigerator, the second character added after 2019 for faster product identification. Prior to 2019, this letter was missing from the model number.
F – indicates the type of refrigerator and the number of doors.

F – 3 doors, freezer bottom. 3 doors French type
T – fridge with top freezer.
B – refrigerator with two doors and bottom freezer
D – 2 or 3 doors, with a drawer
N – fridge with 4 doors
U – fridge with 4 doors
M – refrigerator with two doors and two drawers. 4doors French type
S – two doors, side freezer. Side-by-Side
H – Home Decor
E – Wine refrigerator
K – series Kimchi/Specialty Foods
O – Single door refrigerator
С – chest freezer

X – additional options, features

X – ice and water
С – installed ice maker
W – external water dispenser only
L – internal water dispenser
N – no ice or water dispenser
D – door in door
P – door in door no dispenser
V – InstaView door in door
E – InstaView glass only no dispenser
T – InstaView ThinQ
G – InstaView internal water dispenser
B – Objet
F – freezer only
O – InstaView Glass only ice and water

С – refrigerator depth

S – standard depth
С – counter depth
B – built-in

22– refrigerator volume in cubic feet, refrigerator capacity

20 – 20 cu.ft
22 – 22 cu.ft
23 – 23 cu.ft
24 – 24 cu.ft
27 – 27 cu.ft
30 – 30 cu.ft
33 – 33 cu.ft

596 – refrigerator model, control type, etc. 06 – After 2019, only two digits have become applicable, adding the ability to identify the refrigerator's generation and width.
0 – generation refrigerator

0 – generation 1
1 – generation 1.1
2 – generation 2
D – drop-in

6 – width refrigerator

7 – 17 inch
6 – 36 inch
3 – 33 inch
0 – 30 inch
4 – 24 inch
8 – 28 inch
2 – 42 inch
5 – other

S – refrigerator color

S – print proof stainless
T – stainless steel
B – black
V – Stainless VCM
D – black stainless
С – luminous black
N – scattered reflection
M – matte black STS
P – painted coating metal
W – white
A – ash wood
The LG refrigerator lineup is not updated every year; a refrigerator model may be manufactured for 3-6 years, depending on the success of the particular model. Therefore, the model number does not contain an identifier of the year of development of the refrigerator. You can only determine when the fridge was manufactured by referring to the information plate or the serial number of your LG refrigerator.
LG refrigerator models by year
You'll probably be interested in where you can see LG refrigerator models by year. Unfortunately, the model number does not include the year the refrigerator was developed. But you can always find out the year of the beginning of sales by some other signs; there are quite a few. For example, you can look at when the instruction manual was released, when the refrigerator model went on sale, or when the first reviews of the product appeared. If you need help, you can ask a question in the comments, and I will try to help you.