LG fridge model number which means
LG refrigerators have an individual model number. By model number you can find out some characteristics of refrigerators. Note that in other regions, LG will change a little to another method of designating the model of refrigerators.
Decode model number refrigerator LG example, explained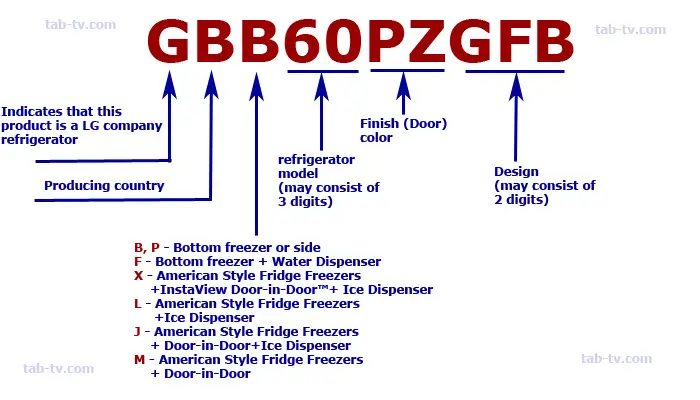 Decipher the example of the model LG GBB60PZGFB refrigerator.
And we will determine what specifications you can find out by the model number. 
G – Indicates that this product is a LG company refrigerator.
B – Producing country. This indicates which country or region the refrigerator was manufactured for. But this is not the country in which the refrigerator is assembled.

B -Europe
R – Korea
N – Indonesia
C, S – China
A – Russia
GBB60PZGFB
Indicates the type of refrigerator.
В, P – Bottom freezer or side
F – Bottom freezer + Water Dispenser
X – American Style Fridge Freezers +InstaView Door-in-Door™+ Ice Dispenser
L – American Style Fridge Freezers +Ice Dispenser
J – American Style Fridge Freezers + Door-in-Door+Ice Dispenser
M – American Style Fridge Freezers + Door-in-Door
GBB60PZGFB
refrigerator model
60 – refrigerator model (may consist of 3 digits).
GBB60PZGFB
PZ – Finish (Door) color
GFB – The last two or three letters in the designation of the LG model designate a design change. As a rule, the number of shelves, their type, the placement of shelves on the doors of the refrigerator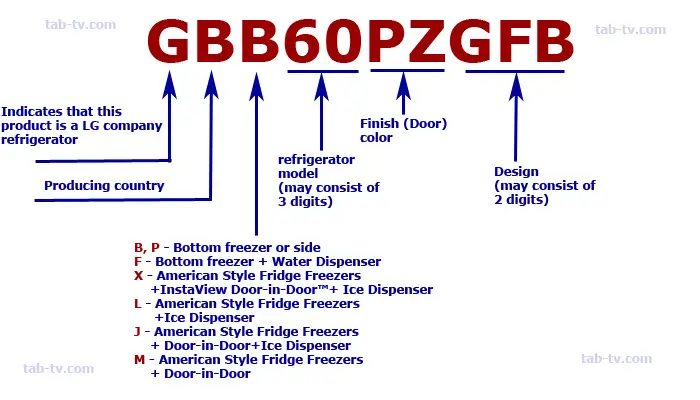 Identification models of refrigerators LG Europe 2017-2018
explanation designation of models of refrigerators LG 2017-2018 model year, type and features.
Publisher Name