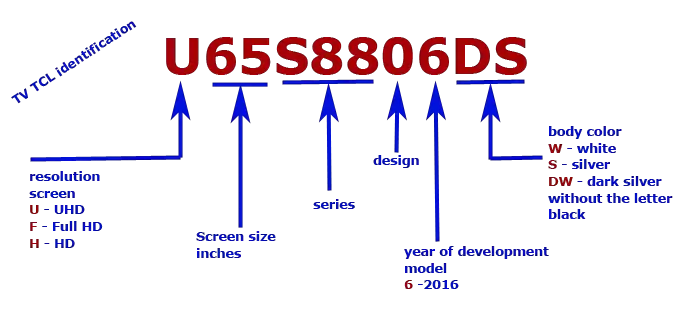 What does the TCL TV model number mean
Chinese concern TCL presents its TVs under the brand name TCL, Thomson, RCA, Rowa. The names of the TVs for each region are different, if the Thomson trademark was popular in Europe and most TVs go on sale under this name.
The designation of the model number of TCL TVs for different regions differs very significantly, this suggests that TCL does not develop TV models. TCL builds televisions based on market needs and component availability. Therefore, if in America there are two plants, they are focused on the assembly of televisions for North America and the designation of the model number of televisions in this region is adapted for the region. In addition, TVs with the pre-installed Roku TV online service are supplied for the United States. For Europe, other TV models are produced.
TCL TV Model Numbers in Europe
In Europe, the situation is different, since the TCL brand in Europe is not known, most TVs are sold under the Thomson brand. TCL televisions are only available in Poland, Spain, Germany and France.
The factory in Poland is focused on the production of better TVs. At a level that matches the budget models of other manufacturers. Therefore, in the designation of the model number, they tried to standardize technical specifications. But we can say that this failed.
Explanation of the model number of the TCL Europe TV using the example of U65S8806DS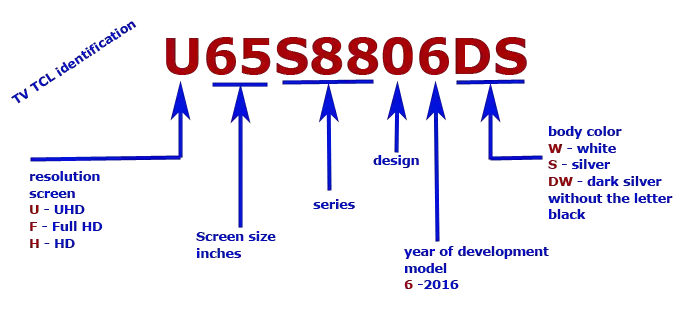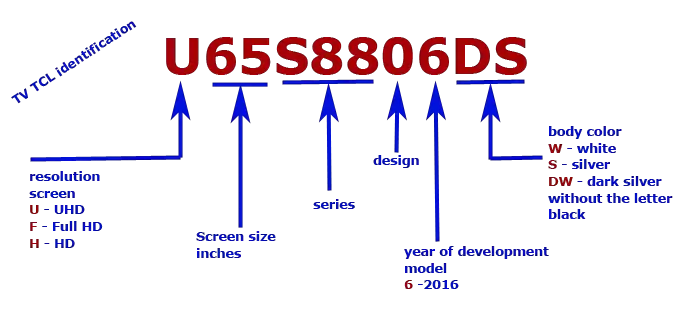 U – screen resolution

U – UHD,
F – Full HD,
H – hd

P – curved
65 – screen size inches
S88 – series
0 – design
6 – year of model development
DS – color,

W – white,
S – gray,
DS – dark gray
TCL TVs model numbers in the USA, Canada 2015-2019
For the North American market, TCL applies the abbreviated labeling of television models. And also divides the TVs into series, each series of TVs has its own characteristics. For example, series 8, these are televisions with screens in which ultra-small crystals are used to make screens, the so-called screens on quantum dots. US and Canada TCL TV labeling next
TCL 65Q825 TV model number, what does it mean
65 – screen size inches
Q – screen type

Q – the screen is made using super small crystals, screens on quantum dots.
R – screen on quantum dots with Roku TV
S – standard TV screens with resolutions from HD to UHD.

8 – TV series
25 – TV model
TCL TV model number 55UP130
55 – diagonal inches
U – screen resolution:

Q – screens on quantum dots.
U – UHD
F – Full HD,
without a letter – HD.

P – type of remote control:

P – remote control with the ability to listen to TV shows through headphones connected to the remote control,
S – ordinary distance.

130 – series