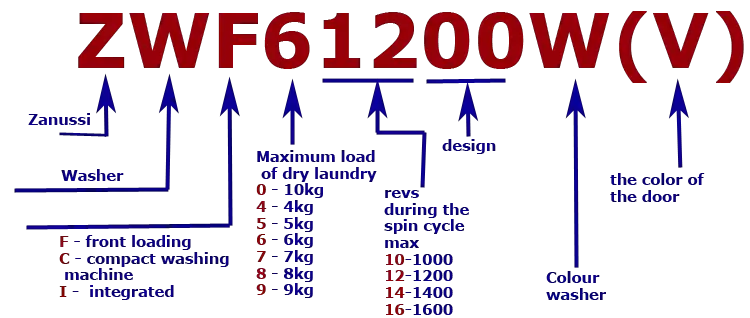 Zanussi Washing Machine model number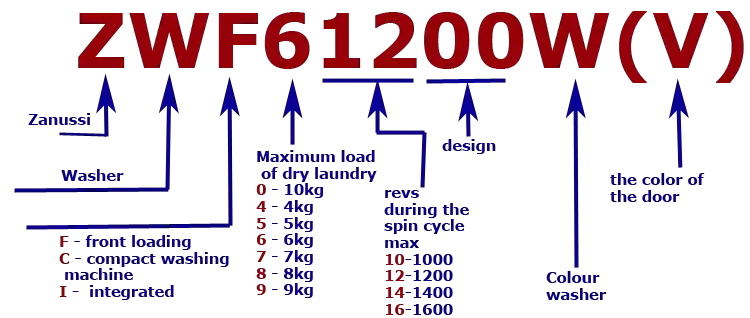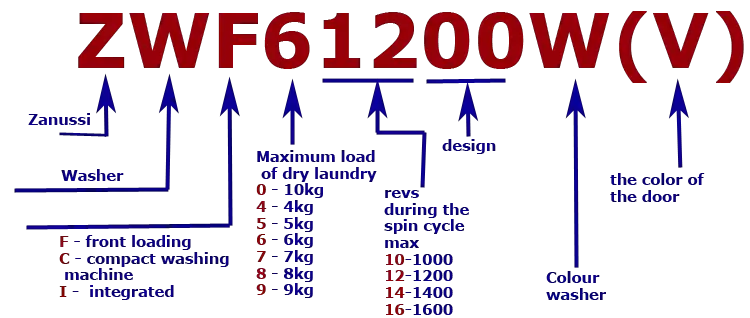 The company delivers its Zanussi washing machines only on European markets. Explanation of model designation of the washing machine will help the buyer to determine the model.
Zanussi produces four types of washing machines:
LINDO100 – washing machines decreases the size of the depth
LINDO300 – standard washing machines 60cm deep.
COMPACT – 50cm width.
Other BI – built-in washing machine
In 2017, zanussi stopped dividing washing machines into series by name and switched to the classic definition of washing machines frontal, built-in, top-loading, narrow washing machines.
Decoding model number washing machine Zanussi
Decipher what information is laid down in the designation of the washing machine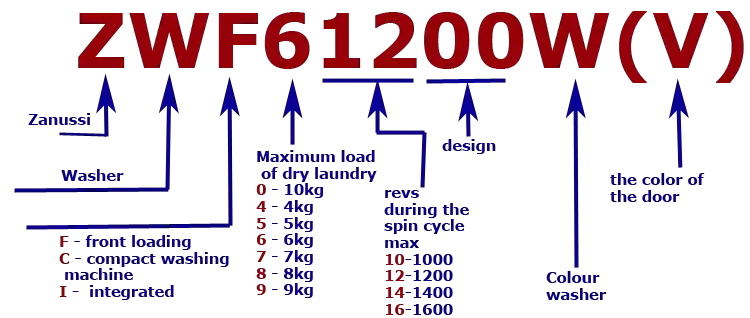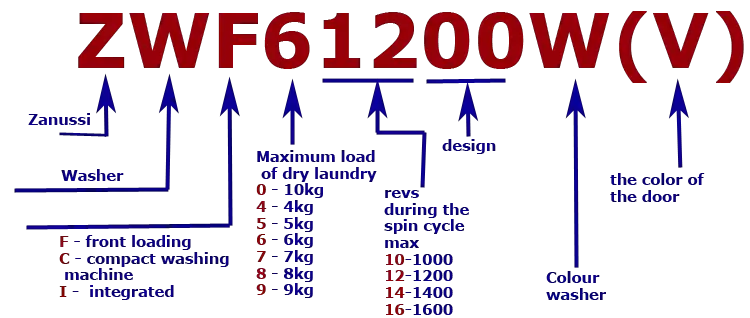 Decoding example of model number of washing machine Zanussi
ZWF61200W(V)
The designation of the model number of the Zanussi washing machine has not changed for about 6 years.
Z – Zanussi, trademark, Allows the user to determine what this Zanussi brand product is.
W – washing machine
F – type washing machine

F – front loading,
С, S – compact washing mashine,
I – Integrated
Y,Q – top-loading washing machine

6 – maximum load of dry laundry 

0 – 10kg
4 – 4kg
5 – 5kg
6 – 6kg
7 – 7kg
8 – 8kg
9 – 9kg

12– the maximum number of revolutions of the drum during the spin cycle 1200

10 – 1000
12 – 1200
14 – 1400
16 – 1600

00 – the design and model number of the washing machine, since the model of the washing machine has been produced for several years, the model numbers change approximately 1 time for 3 years.
W – body color washing machine
V– the color of the door of the washing machine