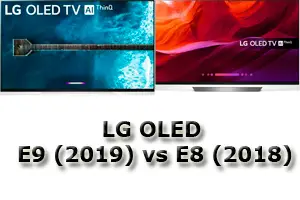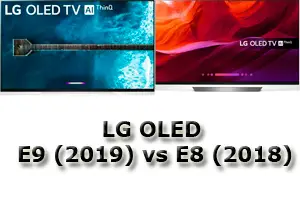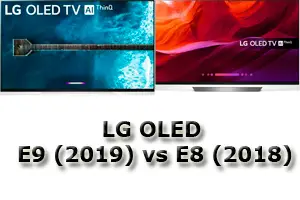 New TV LG 2019 E9 Series
A series of TVs E9 as in 2018, the series E8 is presented in two screen sizes 55 and 65 inches. At first glance, the LG E Series did not receive any special changes. But consider in more detail what the differences between the models of TVs E9 and E8.
For different countries, slightly different TV models are manufactured in North America. LG OLED E9PUA, Europe OLED E9PLA. Differences in the type of digital tuner. Other TV models may also be produced depending on which digital television standard is used in a particular country.
Differences between LG TV OLED E8 vs E9 TVs
Dimming Technology – screen dimming technology, in TVs E9 Pixel Level Dimming, E8 Self Lighting Pixel. This is the same technology just different marketing names.
Color – E9 added technology Intense Color, but it is also marketing.
Processor – E9 The new α9 Gen 2 Intelligent Processor, the E8 was installed on the α9 Intelligent Processor. LG does not disclose the characteristics of processors, but most likely in E9 is the same processor as E8, only added memory.
OS – the operating system has been updated to version 4.5
Voice assistants – added support for Alexa.
Remote control is a new type, but there is nothing new in it, just manufacturers make new models incompatible with previous versions of TVs.
HDMI – ports of the HDMI 2.1 standard, this gives its advantages, but the device that transmits HDMI should be with HDMI 2.1 ports. Backward compatibility implemented HDMI 2.1 ports support HDMI 2.0
LG OLED E8 vs E9
| | LG OLED E9 (2019) | differences | LG OLED E8 (2018) |
| --- | --- | --- | --- |
| | | | |
| screen | | | |
| Screen Size inch | 55, 65 | | 55, 65 |
| Screen Size real | 54.6", 64.5" | | 54.6", 64.5" |
| Style | Flat Panel | | Flat Panel |
| Resolution | 3,840 x 2,160 | | 3,840 x 2,160 |
| screen bit | 10bit | | 10bit |
| type screnn | WRGB | | WRGB |
| screen technology | OLED | | OLED |
| Backlighting | No | | No |
| Dimming Technology | Pixel Level Dimming | ✅ | Self Lighting Pixel |
| Video | | | |
| refresh rate | 120 | | 120 |
| Color | Intense Color, Billion Rich Colors, Advanced Color Enhancer, True Color Accuracy Pro | ✅ | Billion Rich Colors, Advanced Color Enhancer, True Color Accuracy Pro |
| HDR (High-Dynamic Range) | 4K Cinema HDR (Dolby Vision®, HDR10, HLG), HDR Dynamic Tone Mapping Pro | | 4K Cinema HDR (Dolby Vision®, HDR10, HLG), HDR Dynamic Tone Mapping Pro |
| Picture Processor | α9 Gen 2 Intelligent Processor | ✅❗ | α9 Intelligent Processor |
| Audio | | | |
| Dolby | Yes | | Yes |
| DTS | Yes | | Yes |
| Sound Output | 60W (20W Woofer) | | 60W (20W Woofer) |
| Woofer | Yes | | Yes |
| Speaker Type | 4.2CH | | 4.2CH |
| Multi-view | Yes | | Yes |
| Features | | | |
| OS | Web OS 4.5 | ✅❗ | Web OS 4.0 |
| Wi-Fi | Yes | | Yes |
| Bluetooth | Yes | | Yes |
| Smart TV | Yes | | Yes |
| Bixby | No | | No |
| Ultra Luminance | Ultra Luminance Pro | | Ultra Luminance Pro |
| Black | Perfect black | ✅ | Infinite Contrast |
| Game Mode | Yes | | Yes |
| Multi-view | Yes | | Yes |
| LG ThinQ® AI | Yes | | Yes |
| Google Assistant | Yes | ✅ | devise sold separately |
| Alexa | Yes | ✅ | devise sold separately |
| Auto Power Off | Yes | | Yes |
| Smart TV | Yes | | Yes |
| HDMI-CEC (Simplink) | Yes | | Yes |
| TV to Mobile - Mirroring (Smart Phone Connectivity) | Yes | | Yes |
| Upscaler | Yes | | Yes |
| Inputs & Outputs | | | |
| HDMI | 4 (version 2.1) | ✅❗ | 4 (version 2.0) |
| USB | 3 | | 3 |
| Ethernet | Yes | | Yes |
| RF In (Terrestrial/Cable) | Yes | | Yes |
| RF In (Satellite Input) | Yes | | Yes |
| Digital Audio Out (Optical) | Yes | | Yes |
| Audio Return Channel SupportР'В  | Yes | | Yes |
| Digital Broadcasting US | ATSC/ClearQAM | | ATSC/ClearQAM |
| Digital Broadcasting Europe | DVB T/T2/C/S/S2 | | DVB T/T2/C/S/S2 |
| Analog Tuner | Yes | | Yes |
| Accessories | | | |
| Remote control | Magic Remote Control | | Magic Remote Control |