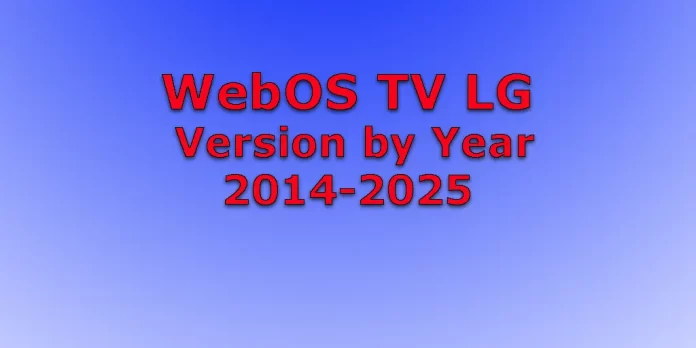 You've probably encountered a situation where you want to install a streaming service application but can't find it in the app store. Googling it, you find that the service works on TVs running WebOS 3.0 or higher or WebOS 6.0. And then you wonder which operating system is installed on your TV.
OS in LG TVs, what you need to know
Until 2014, LG TVs were running the NetCast operating system. In 2014, LG decided to switch to a new OS called WebOS.
WebOS was initially referred to as WebOS 1.0, WebOS 2.0, etc. But it's hard to navigate through the OS versions, so in 2022 it was decided to call WebOS by the year of release. C 2022, there is WebOS 22; now it is easier to understand the version of the operating system 22 means the 2022 version of the OS. But developers continue to use the old designation of the OS version.
LG WebOS list by year of release
Release year
Platform version
version
Comment
2025
webOS TV 25
2024
webOS TV 24
2023
webOS TV 23
8.x.x
2022
webOS TV 22
7.x.x
2021
webOS TV 6.0
6.x.x
Operating system update, incompatibility with previous versions.
2020
webOS TV 5.0
5.x.x
2018-2019
webOS TV 4.x
4.x.x
2016-2017
webOS TV 3.x
3.x.x
Operating system update, incompatibility with previous versions.
2015
webOS TV 2.0
2.x.x
2014
webOS TV 1.0
1.x.x
During the existence of WebOS, 8 versions of the operating system came out. In 2016-2017, LG TVs had the third version.
2016 – WebOS 3.0
2017 – WebOS 3.5
In the following years 2018-2019 also TVs had one version of the operating system WebOS 4
2018 – WebOS 4.0
2019 – WebOS 4.5
In the following years, a new operating system is released each year.
List of TVs LG and OS platforms
Here is a list of LG TV models and the platforms they run on. You can find your TV model and find out what platform it runs on. You can also see in the TV menu what OS version is installed on the TV. I will tell you how to do it below.
year (2025-2011)
Operating system version
LG TV models
2025
WebOS 25
2024
WebOS 24
2023
WebOS 23
OLED A3, B3, C3, Z3, R3: QNED (QNED***R*) 8*, 9*; UR9***, UR8***, UR7***
2022
WebOS 22
OLED A2, B2, G2, C2, Z2, R2; QNED (QNED***Q*)80, 85,90, 91, 95, 97, 99; Series Nano (Nano***Q*) 75, 80, 81, 85, 86, 88, 90, 91, 96, 99; UQ70**, UQ71** (only in some countries) UQ75**, UQ8***, UQ9***

2021
WebOS 6.0
OLED A1, B1, G1, C1, Z1, R1; QNED 90, 91,95, 97, 99; Series Nano (Nano***P*) 75, 80, 81, 85, 86, 88, 90, 91, 96, 99; UP70**, UP71** (only in some countries) UP75**, UP76**, UP8***, UP9***
2020
WebOS 5.0
CX, BX, GX, WX, ZX, Series Nano all models Nano 80, 81, 86, 90, 91, 95, 99, UN70**, UN71** (only in some countries), UN8***, UN9***
2019
WebOS 4.5
OLED W9, E9, C9, B9
NanoCell Models: SM99, SM95, SM90, SM86, SM81
4K UHD Models : UM80, UM75, UM74, UM73, UM71, UM6970

2018
WebOS 4.0
OLED: W8, E8, C8, B8, SK9500 NanoCell Models: SK9000, SK8070, SK8000 4K UHD Models: UK7700, UK6570, UK6500, UK6300
2017
WebOS 3.5
UJ7700, SJ8000, SJ8500, SJ850A, SJ9500, SJ8570, SJ857A OLED: B7, C7
2016
WebOS 3.0
UH655x, UH650x, UH635x, UH633x, UH630x, UH950x, UH850x, UH770x, G6, E6, C6, B6
2015
WebOS 2.0
UF77*, UF85*, UF95*, UG87x, EF98**, EG96**, EF95**, EG92**, UF94**, UF86**, UF83**, UF69**, UF68**, LF65**, LF64**, LF63**
2014
WebOS 1.0
LB63**, LB65**, LB67**, LB68**, LB69**, LB72**, LB73**, LB86**, LB87**
2013
NetCast
Europe - LM860V, LM960V,  EA9800, LA9700, LA9650, LM9600, LA8600
2013
NetCast
Europe - LA667V, LA667V, LA710V, LN655V, 27MT93V, PH670V, PH672V.
US - LA6950, LA6900, LA6205, LA6200, LN6150, LN5750, LN5700, LN5790, LN5710, LN5600, PH6700, PN5700
2013
NetCast
LA9700, LA9700, LA9650, LA9650
2012
NetCast
TM2792S, LM660S, LM660T, LM660T, LM670S, LM670T, LM760T, LM761S, LM761T, PM690S, PM970S, PM970T, LS5700
2011
NetCast
LV3700, LV5400, LW5700, LK530, LK550
How to find the OS version number of your LG TV
You can find out what version of operating system your LG TV is using. This information is available in the TV menu, here's how you can find it.
In the TV menu, press the settings button on the remote control.
Find the General option.
Then open TV Management.
Open TV Information
You will see WebOS TV Version, below is the number of the operating system
FAQ about WebOS TV LG
What is WebOS on an LG TV?: WebOS is the operating system of the TV, and OS controls the TV.
Which is better, WebOS or smart TV?: These are similar terms. WebOS is the Smart TV platform.
Does WebOS mean smart TV?: Yes, all TVs that run on WebOS are Smart TVs.
What is the advantage of WebOS TV?: This operating system is designed for LG TV sets. LG supports this OS.
Can you install apps on webOS?You can install apps from the LG app store on the TV. 
Can I install Android apps on webOS?: No, Android apps are not compatible with WebOS.
Is LG webOS TV Android or not?: No, it is not Android; it is another OS incompatible with Android.
What apps are available on LG webOS?: Apps are developed by the streaming service owners, and they are responsible for making them work on WebOS.
Can I upgrade webOS on LG TV?: You can only upgrade WebOS within the current version. You cannot upgrade WebOS 6.0 to WebOS 7.0. 
Does LG webOS have a browser?: Yes, WebOS has a built-in browser.