You should know that your LG TV has an "In Store" mode. This mode is used when the TV is installed in a showroom in a store. Retailers can turn this mode on to attract customer demand.
Features of LG TV in-store mode
When the TV switches to store mode, the following happens. The brightness, contrast, color saturation, and gamma settings are set to their maximum modes. It is assumed that in this mode, the store will display a demonstration image that has high picture quality. In addition, from time to time, a description of the TV with its characteristics will appear on the screen. This is great and appropriate in the store.
But you will be greatly disappointed if you accidentally turn this mode on at home or buy a TV that has worked a bit as a showpiece. The image will become unnaturally bright and saturated; also, advertising banners on the TV periodically appear annoying. Watching such a picture is uncomfortable; it is very quickly tiresome. For example, I took a picture of the TV with and without the mode in the store; also, in the photo, you can see how the settings have been changed. Below I will show you in pictures how to control the TV, turn off or disable store mode, and you can quickly return the TV to its normal state.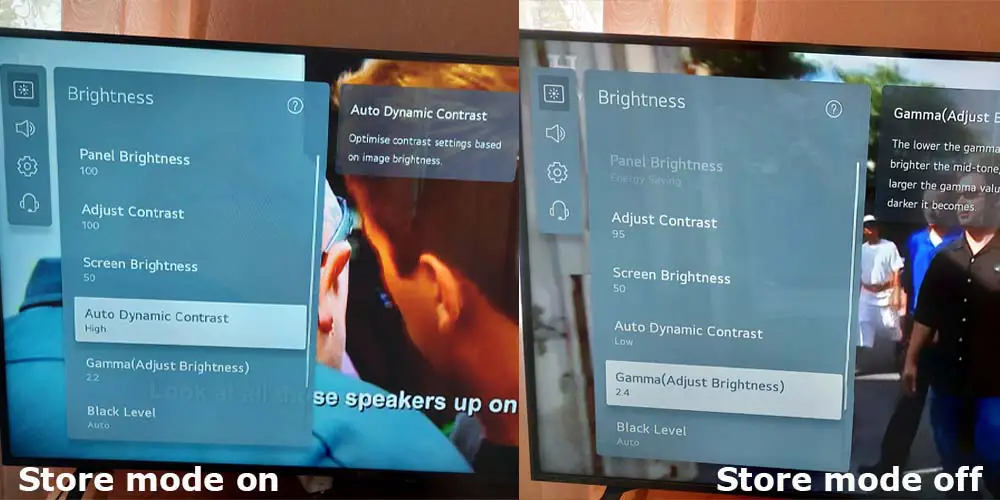 LG TV how to disable mode in the store
To control the mode in the store, do the following
Press the settings on the remote control (cogwheel)
select All setting
then General
then Deviсes
Next item, you must choose TV Management
and you will see the Home/Store Mode setting; enter this menu
You will see two modes Home Mode and Store Mode
Now you just have to choose the desired mode. I took pictures to visualize the steps to set up the TV and the mode in the store or at home, and you can easily navigate them; for example, I worked with the TV 2021. keep in mind that the menu on other TVs may be slightly different; it depends on the version of software installed on the TV.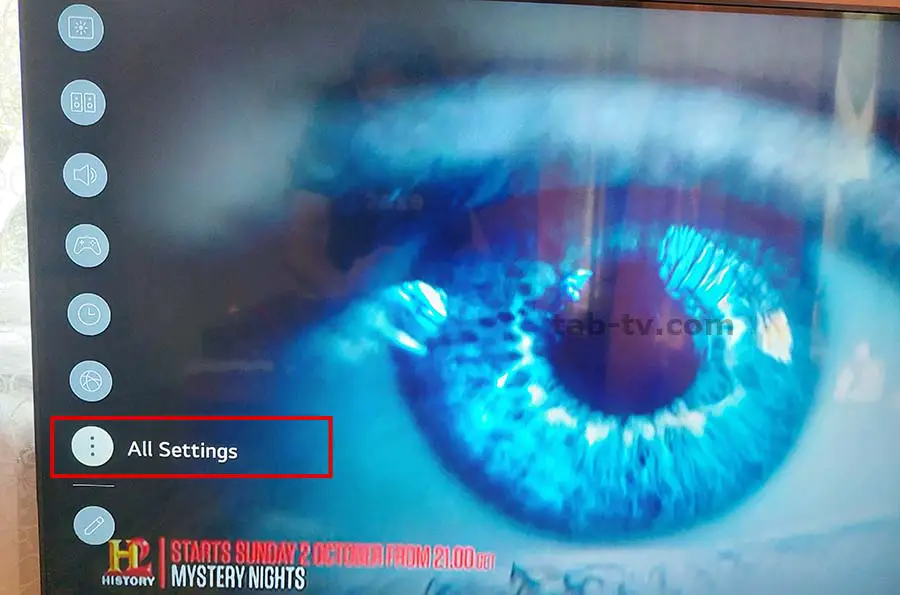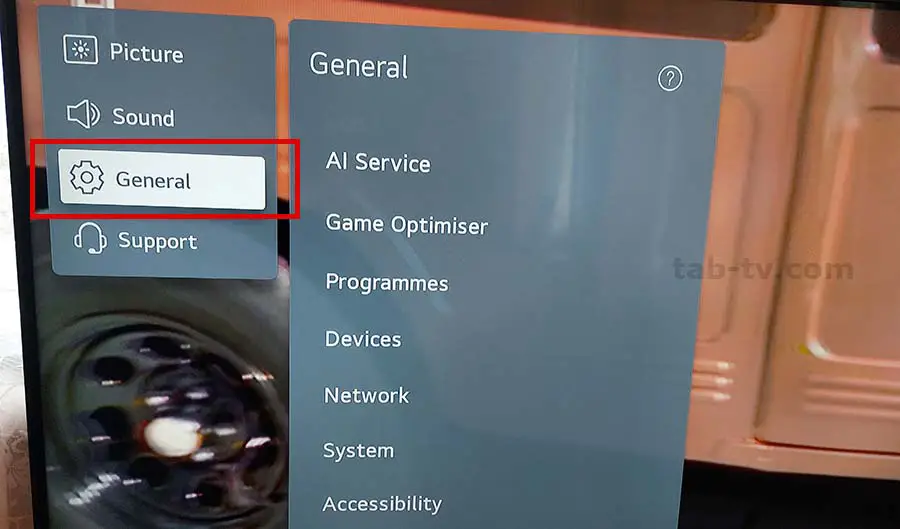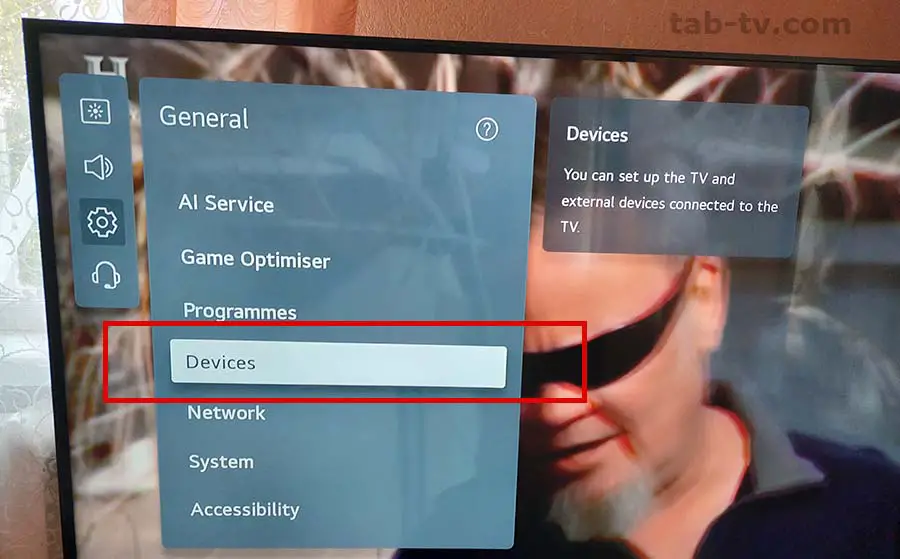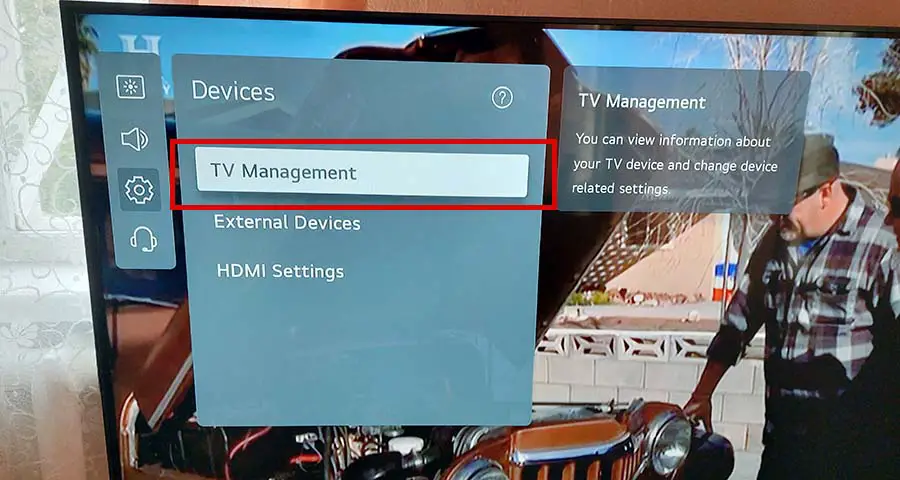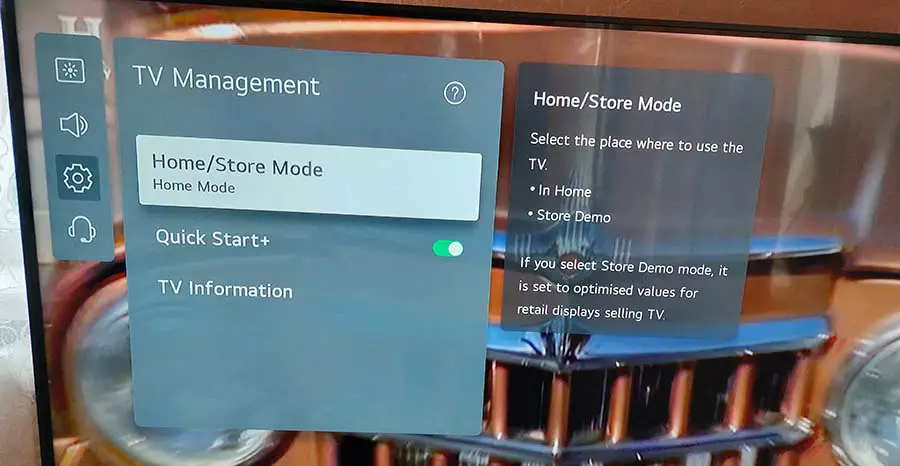 Here is in order what menu items you should select to control the mode in the store. Settings→All setting→General→Deviсes→TV Management→Home/Store Mode
That's how you can control the TV modes; of course, if you watch TV at home, you don't need to switch the mode in the store.