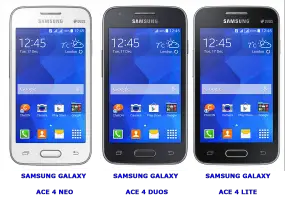 Series Phones Ace 4 have  four versions
1 sim
Duos
Neo
lite
TFT screens have the same 4 "and a resolution of 480×800 pixels. The most necessary and all the usual functions of a web browser, GPS, WI-FI.
The differences between the models of processors and cameras
Асе 4 duos (G313HU) 1 sim Ace 4 (G313H) core processor has two cores on the Cortex A7, with a frequency of 1GHz. 5 megapixel main camera, no front.
Ace 4 Neo (G318H) set as 2 core processor but clocked at 1.2 GHz, 3MP camera.
Ace 4 Lite  (G313HD) The phone has a processor with a single core and 1.2 GHz frequency, 3MP camera, no front.
Samsung Galaxy Ace 4: a new budget phone
In mid-2014, Samsung announced quite a few new smartphones with a soft price tag and the latest version of Android. One of them is the Galaxy Ace 4, the successor to the Galaxy Ace 3, which features a 4-inch screen (800 by 480 pixels), a dual-core 1 GHz processor and a 1500 mAh battery. The 4G version of the device has a slightly faster processor on board (1.2 GHz), 1 GB of working memory instead of 512 MB and an 1800 mAh battery.
It also has a 5-megapixel camera with flash on the back and a front-facing vga camera. The Galaxy Ace 4 runs Android 4.4.2 (KitKat) with TouchWiz out of the box. For a relatively low price, the Ace 4 is a very functional phone. It runs one of the latest versions of Android and will get the necessary updates in the near future. We expect the Samsung smartphone to drop in price over the next few months.
Samsung Galaxy Ace 4 in a nutshell
The Galaxy Ace 4 is perfect for those who don't want to pay a lot, but want a functional Android phone. Samsung's compact and lightweight smartphone offers a pleasant user experience and good performance for its price. Below we have listed the most important features of the device.
Compact 4-inch screen with a resolution of 800 by 480 pixels
Dual core processor with the frequency of 1.2 GHz (4G version)
512MB (3G version) or 1GB (4G version) of working memory
4GB of memory expandable with micro SD card
The Galaxy Ace 4 is the fourth really new device in Samsung's popular Ace series. Like its predecessors, the Ace 4 is aimed at the lower segment, with a modest price tag and relevant specs. The device comes as a regular model with only 3G and WiFi support. If you need faster mobile Internet, you may want to consider a model with 4G. The Galaxy Ace 4 4G also has a slightly faster processor and twice as much memory. This makes it worth the extra dime.
Both models have two cameras at their disposal. There is a 5-megapixel camera with flash on the back and a vga front camera on the front. It is suitable for taking selfies and video calls, although you should not expect miracles from it. The built-in 1500 mAh battery is replaceable and is rated for about a day and a half of use. Galaxy Ace 4!