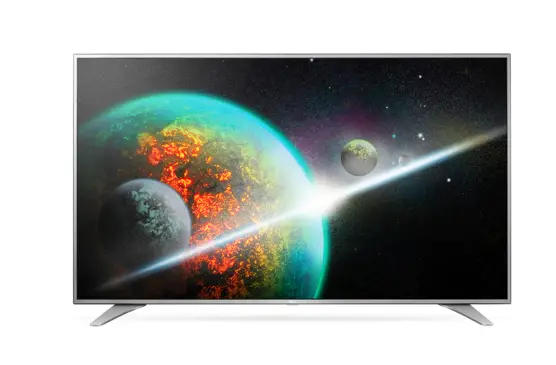 Calibration LG 55UH7700, 60UH7700, 65UH7700, UH770V
We offer to try to set up the TV UH7700 model, which model is available for the US and Canada. In Europe, the model is designated UH770v.
As usual for best picture are invited to turn off all additional functions and carry out the settings..
 SETTINGS

WHITE BALANCE

Picture Mode
standart
IRE
Red
Green
Blue
Aspect Ratio
16:9
5
-15
 -15
 -15
Energy Saving
Off
 10
 -15
-15
 -15
Picture Mode Settings
 
 15
-10
 -10
 -8
Backlight
70
20
 -3
-3
 0
Contrast
95
25
0
0
1
Brightness
50
 30
2
 3
2
H Sharpness
0
35
 3
3
 1
V Sharpness
0
 40
 5
 5
0
Color
55
45
 3
5
 -1
Tint
0
50
4
5
 -3
Picture Options
 
55
0
 2
 -6
Noise Reduction
Off
 60
 -4
 0
 -10
MPEG Noise Reduction
Off
65
 -2
 1
 -5
Black Level
Low
70
-1
 3
-2
LED Local Dimming
Off
75
-2
 1
 -5
TruMotion
Off
 80
-3
 -1
 -8
Expert Control
 
85
 -5
-4
-6
Dynamic Contrast
Off
90
 -8
 -8
 -8
Super Resolution
Off
 95
-5
 -5
 -4
Color Gamut
normal
 100
 -3
 -6
-3
Edge Enhancer
Off
 
 
 
 
Color Filter
Off
 
 
 
 
Gamma
2.2
 
 
 
 
White Balance
 
 
9
9
2
Color Temperature
Warm2
 
 
 
 
Method
2 point
 
 
 
 
Pattern
Outer
 
 
 
 
Point
Low
 
 
 
 
Попробуйте альтернативную настройку параметров:
Picture Mode-Standard
Backlight-82
Contrast-98
Brightness-49
Sharpness-25
Color-51
Tint-0
Color Temp-0
Under Advanced Controls
Dynamic Contrast-High
Dynamic Color-Med
Preferred Color
Skin Color 2
Grass Color 3
Sky Color 3
Color Gamut-Normal
Super Resolution-High
Gamma High1
Under Picture Options
Noise Reduction-Auto
MPEG Noise reduction-Auto
Black Level-High
Real Cinema-ON
LED Local Dimming-Medium
True Motion-User De-judder set to 3, De-Blur set to 5