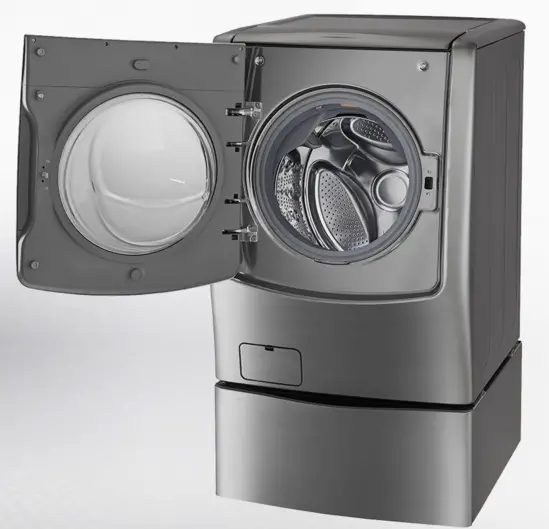 These washing machines are LG's smart home technology. They have an Internet connection and allow you to control them remotely, as well as receive progress or end-of-wash reports. In addition, the Internet connection will allow the service center to remotely connect and diagnose the washing machine if needed.
Differences between washing machines by size
WM5000 – 27″ x 38 13/16″ x 32 13/16″ (55″ D with door open)
WM9000 – 29″ x 14 1/10″ x 30 4/5″
With different sizes, in the WM9000 can download more of laundry.
WM5000 – 5.2 cu. ft.
WM9000 – 4.5 cu. ft
Model 9000, and given the smaller size of the download, use less water and energy efficiency class is 3. W 5000-2.
Other parameters are the same.
Comparison table of washing machines WM 5000 vs WM9000
| | | |
| --- | --- | --- |
|   | WM5000HW(V)A | WM9000HW(V)A |
| CAPACITY |   |   |
| Capacity | 4.5 cu. ft. | 5.2 cu. ft. |
| APPEARANCE |   |   |
| Design Look | Front Control | Front Control |
| On-Door Electronic Control Panel with LED Display | + | + |
| Touch Buttons | + | + |
| Dial-A-Cycle™ | + | + |
| ENERGY |   |   |
| 2015 ENERGY STAR® Most Efficient | + | + |
| CEE Tier | 2 | 3 |
| WASH PROGRAMS |   |   |
| No. of Programs | 14 | 14 |
| Wash Programs | Cotton/Normal, Perm. Press/Casual, Delicates, Speed Wash, TubClean™, Sanitary, Allergiene™, Heavy Duty, BrightWhites™, Towels, Rinse+Spin, Download, Sportswear, Bedding | Cotton/Normal, Perm. Press/Casual, Delicates, Speed Wash, TubClean™, Sanitary, Allergiene™, Heavy Duty, BrightWhites™, Towels, Rinse+Spin, Download, Sportswear, Bedding |
| No. of Options | 12 | 12 |
| Options | Prewash, Delay Wash, Extra Rinse, Child Lock, ColdWash™, FreshCare™, Steam, TurboWash™, Custom Program, Drum Light, Smart Grid, Remote Start | Prewash, Delay Wash, Extra Rinse, Child Lock, ColdWash™, FreshCare™, Steam, TurboWash™, Custom Program, Drum Light, Smart Grid, Remote Start |
| No. of Wash/Rinse Temps | 5 Extra Hot, Hot, Warm, Cold, Tap Cold (All Cold Rinses) | 5 Extra Hot, Hot, Warm, Cold, Tap Cold (All Cold Rinses) |
| Spin Speeds | Extra High (1,300 max.), High, Medium, Low, No Spin | Extra High (1,300 max.), High, Medium, Low, No Spin |
| No. of Water Levels | Automatically adjusts to the size of load | Automatically adjusts to the size of load |
| No. of Soil Levels | 5 | 5 |
| FABRIC CARE FEATURES |   |   |
| TurboWash® 2.0 Technology | + | + |
| Steam Technology | + | + |
| Allergiene™ Cycle | + | + |
| Sanitary Cycle | + | + |
| ColdWash™ Option | + | + |
| SenseClean™ System | + | + |
| CONVENIENCE FEATURES |   |   |
| TrueBalance™ Anti-Vibration System | + | + |
| 4 Tray Dispenser | Prewash, Main Wash (with liquid detergent cup), Bleach, Fabric Softener | Prewash, Main Wash (with liquid detergent cup), Bleach, Fabric Softener |
| LoDecibel™ Quiet Operation | + | + |
| End of Cycle Signal | + | + |
| LoadSense | + | + |
| Child Lock | + | + |
| Auto Suds Removal | + | + |
| Forced Drain System | + | + |
| Leveling Legs | 4 Adjustable Legs | 4 Adjustable Legs |
| SmartDiagnosis™ | • (v 3.0) | • (v 3.0) |
| Smart ThinQ™ (Wi-Fi) | Smart Grid Ready, Smart Access, Smart Adapt, Energy Monitoring, Laundry Starts | Smart Grid Ready, Smart Access, Smart Adapt, Energy Monitoring, Laundry Starts |
| NFC Tag On | + | + |
| MOTOR AND AGITATOR |   |   |
| Motor Type | Inverter Direct Drive Motor | Inverter Direct Drive Motor |
| Motor Speed | Variable | Variable |
| Max RPM | 1,300 | 1,300 |
| Axis | Horizontal | Horizontal |
| MATERIALS AND FINISHES |   |   |
| NeveRust™ Stainless Steel Drum | + | + |
| Cabinet | PCM | PCM |
| Control Panel | Plastic | Plastic |
| Top Plate | Painted | Painted |
| Door Rim | Glass/Chrome | Glass/Chrome |
| Door Cover | Dark Black Tinted Square Cover | Dark Black Tinted Square Cover |
| Door Opening | 40 1/2″ | 42 1/8″ |
| Available Colors | White (W), Graphite Steel (V) | White (W), Graphite Steel (V) |
| POWER SOURCE |   |   |
| Ratings | UL Listed | UL Listed |
| Electrical Requirements | 120V, 10 Amps | 120V, 10 Amps |
| Type | Electric | Electric |
| OPTIONS |   |   |
| Pedestal | WDP4W, WDP4V | WDP5W, WDP5V |
| Pedestal (WxHxD) | 27″ x 13 3/5″ x 28 2/5″ | 29″ x 14 1/10″ x 30 4/5″ |
| Sidekick™ Pedestal Washer | WD100CW, WD100CV | WD200CW, WD200CV |
| Sidekick™ Pedestal Washer (WxHxD) | 27″ x 14 1/10″ x 30 4/5″ | 29″ x 14 1/10″ x 30 4/5″ |
| Stacking Kit | – | KSTK2 |
| DIMENSIONS |   |   |
| Product (WxHxD) | 27″ x 38 13/16″ x 32 13/16″ (55″ D with door open) | 29″ x 41 1/4″ x 33 3/4″ (55 15/16″ W with door open) |
| Carton (WxHxD) | 29 7/32″ x 42 3/8″ x 33 7/32″ | Carton (WxHxD) 31 3/10″ x 44 2/3″ x 36 6/10″ |
| Weight (Product/Carton) | 210.0 lbs / 233.7 lbs | 227.1 lbs / 233.7 lbs |
| LIMITED WARRANTY |   |   |
|   | 1 Year Parts and Labor, 10 Years Motor, Lifetime on Drum | 1 Year Parts and Labor, 10 Years Motor, Lifetime on Drum |