If you're thinking about buying a set-top box for your home, there are quite a few options in front of you. You can get set-top boxes like Amazon Fire Stick, Apple TV, a lot of different Chinese set-top boxes, and of course Roku TV.
Roku is one of the most popular set-top boxes. In addition, you can also find some Smart TVs with the Roku TV operating system on board. Since it is one of the oldest streaming set-top boxes, it gives its users quite a lot of features. Roku has probably the widest range of different applications for streaming in its system.
What is a Roku TV and Roku streaming device?
In fact, the only difference between Roku TV and Roku Devices is that Roku TV is the operating system that is installed on the Roku Devices themselves and on some TVs. This means that if you like the Roku TV system, you can simply go to the store and choose a Smart TV with the Roku TV system already installed. In this case, you don't need any external equipment.
On the other hand, if you already have a TV and it doesn't have its own operating system or it doesn't have Roku TV installed, then you can buy a Roku streaming device. In this case, you will have a universal device, which will be enough to connect to any TV with HDMI and you get a Smart TV.
Roku is usually presented in the Chinese TV cheaper segment. This is due to the fact that the operating system was developed by a Chinese company. You can find it in TVs like Philips, Hissens TCL, and other inexpensive Chinese manufacturers.
What are Roku devices available?
At this point, if you want a streaming device from Roku, you have two basic options. First, you need to decide if you want a set-top box or if Streaming Stick is enough for you. The difference is that a set-top box gives you more options, but it also takes up a lot more space. The list of set-top boxes includes the Roku Express, the Roku Express 4K, and the Roku Ultra. They attach to your TV with an HDMI cable.
In the case of the streaming stick, things are generally similar. It looks like a big flash drive that plugs right into the HDMI port on your TV. And the streaming stick will also need an external power supply to work. You can buy Roku Streaming Stick and Roku Streaming Stick 4K.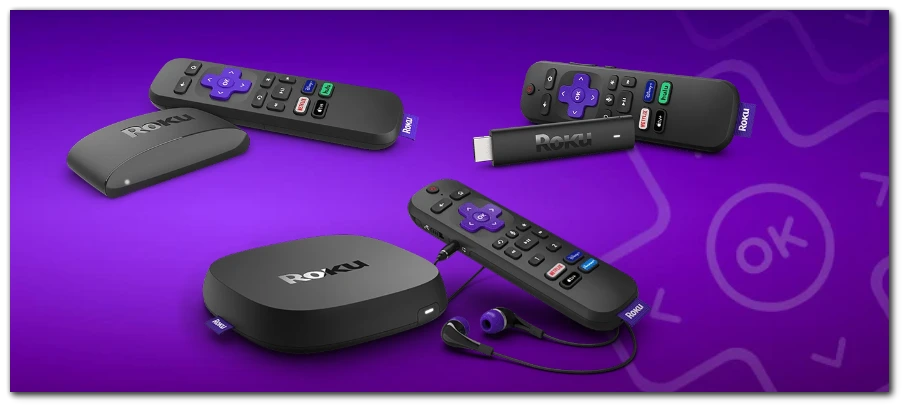 As you might have realized the main difference between the different sticks and set-top boxes is that the more expensive models give you access to 4K content. If your TV supports this picture resolution, then you should consider buying such a device. In addition, it is important to remember that for its work you will need a stable Wi-Fi connection.
What content can you watch on Roku?
As I wrote above, unlike many other streaming devices, on Roku you can access a wide variety of streaming services, channels, and other programs to watch a variety of content. You can subscribe to paid channels and watch many streaming services completely ad-free. Among the officially supported Roku services you can find:
Amazon Prime Video
Apple TV+
BritBox
Crackle
Discovery+
Disney+
ESPN+
fuboTV
HBO Max
Hulu
Hulu + Live TV
Netflix
Pandora
Paramount+
Peacock
Pluto TV
Sling TV
Spotify
YouTube
Plus, on any Roku device or with Roku TV, you get access to Roku Channel content. This allows you to access all of the content that Roku themselves have. However, in this case, you'll have to accept the presence of ads on the Roku Channel.
Read also:
How much does Roku cost?
If we talk about the price, the Roku sticks will cost a bit more than the TV set-top boxes. This price will be mainly because of their size and functionality. In any case, the cost of your Roku device will not even exceed $100. As I wrote above, these are very inexpensive devices in the first place.
If you need a Roku stick, you can buy the basic version of the Roku stick on their official website for $39.99. On the other hand, you have the option of buying a more powerful version of the stick with extra features like the Roku Streaming Stick 4K+ voice control for $69.99.
If you're interested in buying a set-top box, the basic version without 4K support will cost you $24.99. But if you want 4K content, you'll have to raise the price a bit and pay $39.99 for a 4K set-top box. In addition, the most advanced version of the Roku device, which is called Roku Ultra, is available. It has many extra features and is one of the most premium Roku devices. It will cost you $99.99.
Also, don't forget that you can just buy a TV with Roku TV pre-installed. The price tag on such a TV can vary a lot depending on its characteristics. I would say you can find a TV for $300 or even $2000.