Washing machine Electrolux Group are manufactured in factories in many countries, and therefore labeling of washing machines differs depending on sales region.
What does the model number of the Electrolux washing machine
Consider the designation of Electrolux washing machines to European countries.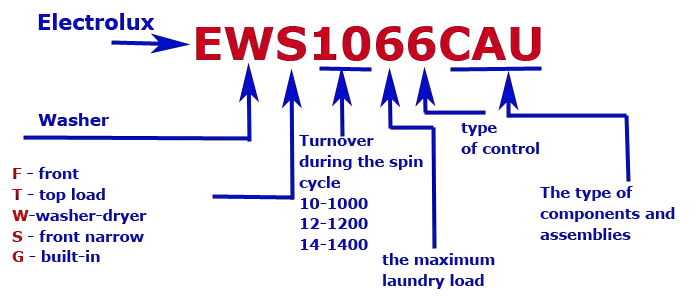 EWS1066CAU
E

- Electrolux

W

- Washer

S

- indicates the type of washing machine F - front, Т - top load, W-washer-dryer, S - front narrow,

G

- built-in.
10 - the maximum number of revolutions during the spin cycle 10 - 1000, 12 - 12000, 14 - 14000.
6 - laundry load kg.
6 - type of control
CAU -denotes the type of nodes used in the washing machine, such as the type of engine.
Electrolux washing  machine model number 
United Kingdom
Electrolux company in the UK offers the only built-in washing machines.
EWG127410W
E - Electrolux
W- Washer
 G, X - built-in.
12 - the maximum number of revolutions during the spin cycle 10 - 1000,

12

- 12000,

14

- 14000.
7 - laundry load kg

410

  - type of control
W - color
Electrolux washing  machine model number USA
EWFLS70JSS
E - Electrolux
W, I- Washer
 F - front

LS70J -

model

SS - color