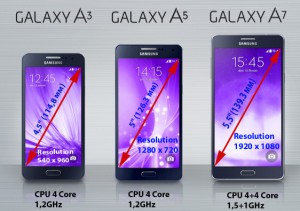 As strange as such a comparison may seem, these devices actually have a lot in common. The new line of Galaxy phones, designated by the letter A, the phones went on sale in late 2014, and the A7 model in early 2015.
Models A3, A5 are available in two types: with support for 1 or 2 for two SIM cards, respectively, they have different markings. A7 is only available in a version with support for two SIM cards, but an interesting point, if you decide to use a memory card, you can not insert a second SIM, as the second slot for micro SD / SIM card.
The smartphone uses AMOLED, so far the best screens available on the market. Samsung is also releasing different modifications of the smartphone for different countries, for example, for Germany is offered a modification with an extra battery (non-removable battery in the phone), which can be connected to extend the battery life of the device.
In general, the purpose of this flow of devices is to give users a premium design, which resulted in the quality of materials, the specifications were intentionally understated, so as not to create competition to the flagship Galaxy S.
Table Specifications phone Galaxy Series A.