Many computers and computer monitors resources involved in dynamic content, namely video games. computer video card creates pictures of the game and transmits them to display on the monitor.
Technology (AMD FreeSync ™, Nvidia G-Sync) provide complete software synchronization of the graphics card and monitor. In order that these technologies would work it is necessary that:
Working in pairs, if you have a graphics card AMD's chip, the monitor must support AMD FreeSync ™. If the graphics card on the chip from Nvidia needs the support of the monitor Nvidia G-Sync.
Install special software.
Video cards have to support these technologies.
Because of what may be glitches in the output image.
Most monitors support the 60Hz frequency, it means that in one second the monitor can show 60 frames and the frequency synchronized with the frequency of issuance of graphics frames, but the graphics card is not necessarily produces a number of frames, it can issue, and 30 and 65 frames per second.
In the absence of synchronization, the card generates a frame and transmits it to the monitor, because the frame is generated in the frame of the figure consists of multiple fragments which the monitor should display.
When synchronization is disabled, the monitor must show a picture even if the frame is not completely generated, but show a blank screen is not correct, therefore, shows a part of the previous and the new part of the frame, the picture may be distorted.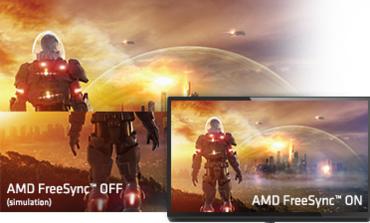 If synchronization is enabled, the display will not show the full picture is not, just skip it and will show in the next frame. There is a frame rate change, which slows down the game, increases the response time, which is critical in video games.
AMD and Nvidia graphics cards manufacturers for chips decided to synchronize the issuance of a maximum frame graphics card and the display of frames on the monitor.
The monitor provides a rigid synchronization with the video card is resolved at the program level. Monitor displays with the frame rate, which generates the graphics card.
These technologies work only in high-power graphics cards, also noted that when the video synchronization performance decreases by 1.5-2%. correct operation of the AMD FreeSync ™ technology, Nvidia G-Sync is 99% dependent on the video card.