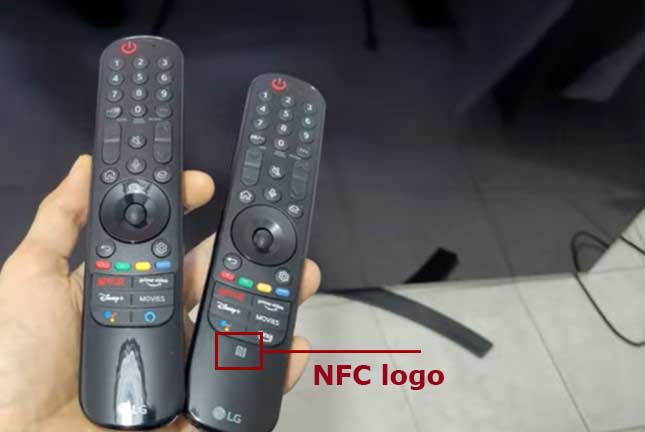 These are two remote controls for LG 2022 TVs. Some LG TVs come with the MR22GA remote, and there are top-of-the-line TV models that come with the MR22GN remote.
The differences between Magic remote AN-MR22GA and AN-MR22GN
Like, I already said, these are remotes for 2022 LG TVs, the difference between them is as follows. The AN- MR22GN remote has a built-in NFC module. The NFC module allows you to get extra control over the TV. This is the difference between the remotes.
Can the AN-MR22GN remote control be replaced with an AN-MR22GA remote control and vice versa?
If you prefer to use the remote only to control the TV, there is no difference which remote you use. Initially, both remotes work the same way. To activate NFC, you need to enable NFC in the TV settings, and only then can you take advantage of NFC. Once activated, the remote begins to generate an NFC field to recognize the NFC tag on the other device. A payment terminal in a store works the same way.
Connecting smart devices using NFC tags
NFC is a technology that uses near-field communication (13.56 MHz), allowing you to conveniently send and receive information without separate settings. By bringing your smart device close to an NFC-enabled remote control, you can install the
LG ThinQ app and connect your device to the TV.
Turn on NFC in your smart device's settings. To use NFC, set your smart device's settings to NFC to read/write tags. The NFC settings may vary depending on your device.
Bring your smart device close to (NFC) on the remote control. The required distance for NFC to work is about 1 cm. 0.5 inches.
Follow the instructions to install the LG ThinQ app on your smart device.
Re-tethering the smart device to the remote control will allow you to conveniently access the various features of the turned on TV through the LG ThinQ app.
Note
This function is only available for NFC-enabled smart devices.
This function is only available when there is an NFC logo on the remote control.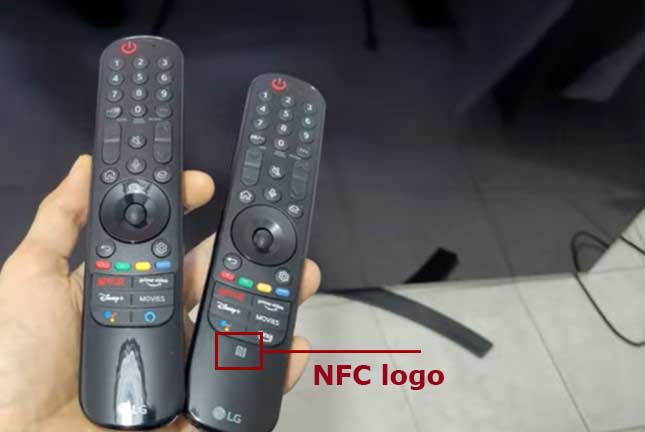 You can see the remote control and the NFC logo in the picture.
Specifications MR22GA
| | | |
| --- | --- | --- |
| | AN-MR22GA | |
| | Frequency range | Output Power (Max.) |
| Bluetooth | 2,400 to 2,483.5 MHz | 7 dBm |
Specifications MR22GN
| | | |
| --- | --- | --- |
| | AN-MR22GN | |
| | Frequency range | Output Power (Max.) |
| Bluetooth | 2,400 to 2,483.5 MHz | 8 dBm |
| NFC | 13.553 to 13.567 MHz | -9.95 dBuA/m @ 10 m |