Manufacture of household appliances for the care of clothes, one of the main directions of the concern Bosch-Siemens in the division for the production of household appliances.
Read also: Serial number of Bosch and Siemens washing machine, how to find and decipher 1980-2019

Washing machines can be described as a thoughtful, user-friendly technique. One drawback is the cost of post-warranty maintenance of equipment, in case of failure of this cost, the repair cost can reach more than half the cost of a new washing machine. This is due to the policy of the concern to accompany the goods during their operation.
Bosch washing machine model number decoder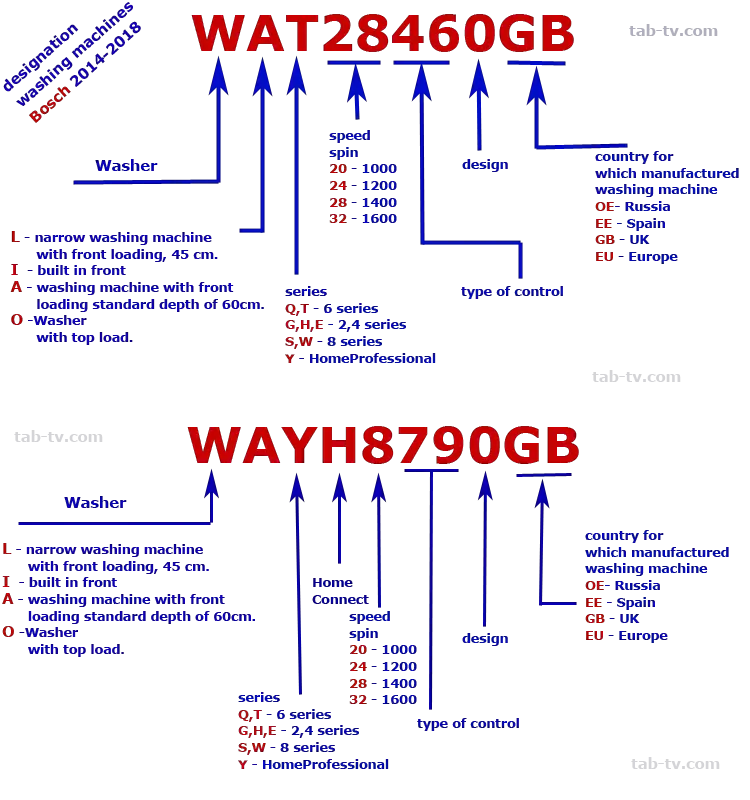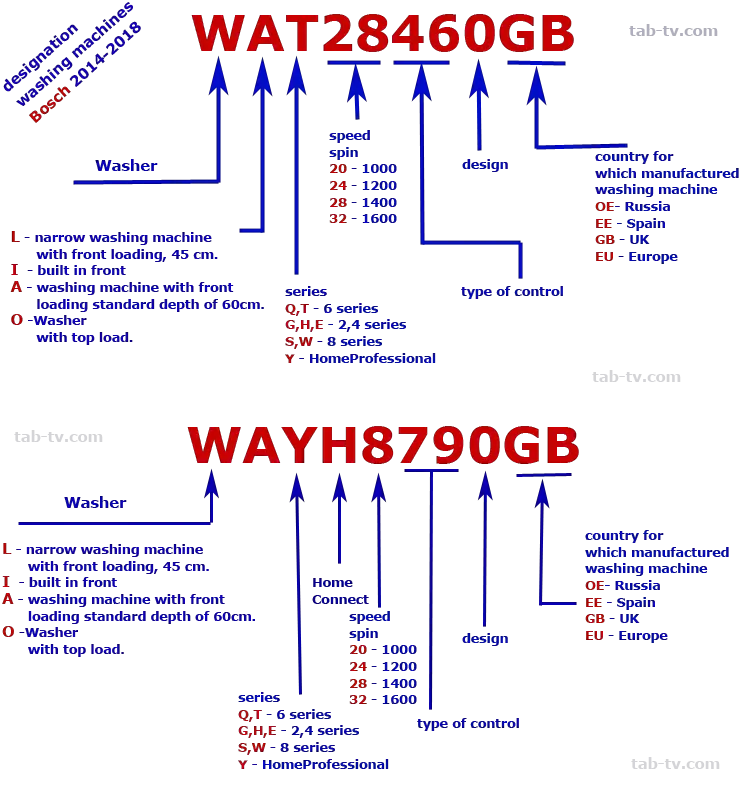 How to decode model number of Bosch washing machine
Let's look at the example of the serial number WAYH8790GB. Understanding Bosch model numbers will help to decide on the choice of a washing machine.
W - washing machine, standard designation in the model number of the washing machine, product from a series of washing machines.
A - front-loading washing machine standard depth 60cm. If the letter is

L - washing machine is 45cm deep.
I - built-in,
O - top load

Y  - series washing machine.

Y, V - series HomeProfessional, V - series 2019 year.
S, W, V - 8 series, V - series 2019 year.
Q, T - 6 series
G, H, E, T, K, N - 4 series

H - there is an Internet connection, a washing machine belongs to smart home devices
8 -  speed spin, in home connect washing machines the first digit is missing

2 (20) - 1000
4 (24) - 1200
8 (28) - 1400
32- 1600

79 -type of control
0 - design
GB - Washer manufactured for UK
Washing machines Bosch 2018
2018, there were washing machines with the function Home Connect control household appliances from a smartphone or tablet. Not entirely understandable possibility for a washing machine, the opportunity is realized to turn on the washing machine remotely or to send a message stating that the laundry is not stretched from the washing machine. While not much in demand possibility of washing machines but nevertheless Bosch promotes Home Connect.
Added an additional letter for washing machines with Home Connect.
In 2016, washing machines were divided into series (below in the figure), gradually, what new functionality was added.
Bosch washing machine series 2016

WAT28460GB
A

- washing machine with front loading standard depth of 60cm, I - built in front, L - narrow washing machine with front loading 45 cm, O - Top loading washing machine.

T

- series washing machine

W

A

T

28460GB,

E

- 4 series, К - 6 series 2015,

T, Q

- 6 series 2016, G, N - 2, 4 series, S, W - 8 series, Y - series HomeProfessional.

28

- spin speed

W

A

T

28460GB, 20 - 1000, 24 - 1200,

28

- 1400,

32

- 1600

46

- type of control WAT28

46

0GB, Various modifications of the display, the number of controls, the programmer.

0

- an embodiment, the color gamut body and door WAT2846

0

GB.

GB

- country for which manufactured washing machine WAT28460

GB

,

OE

- Russia,

EU

- Europe,

PL

- Poland,

GB

- UK,

EE

- Spain,

UC

- USA.