The last time the market moving LED lamps, they are used everywhere and are available in different housings, familiar to us household lighting lamps, LED ribbon, etc..
Manufacturers claim that the service life of the LED lamp is about 30 000 to 50 000 hours. By consuming 10 times less electricity they are significantly save the budget.
But few people know about rather unpleasant moments in the use of LED lamps, the service life. Below is a graph of light flux LED light bulbs over time (assuming the use of 5 hours per day) for the convenience of the luminous flux shown in watts incandescent bulbs.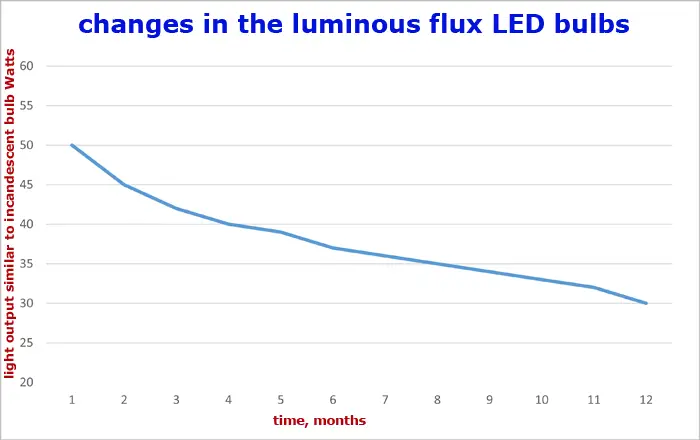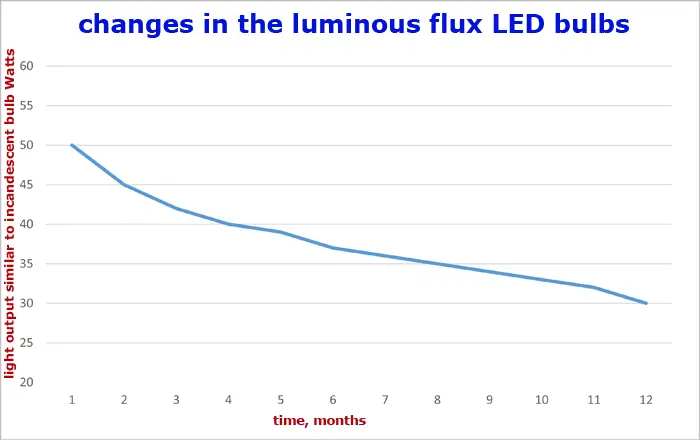 LED technology is that they quickly aging especially at high temperatures, the longest, LED lamps will be in the refrigerator. On average, 500-1000 hours of LED lamp brightness is reduced by 10-20%, and in 1000-2000 hours, about 20-30% in 5000-10000 hours of lamp can lose up to 40-50% of the luminous flux. The LED will light but with less brightness and that would get the former light output already need 2 lamps.
To notice the aging process is very difficult because it happened gradually and people get used to the light, he does not remember what it was when lighting the lamp was new.
Of course in different manufacturers decrease in the luminous flux of LED lamps is happening in different ways influenced by the quality of materials and production technology.
As an example of the actual situation, is displayed in the chart above: in a room of 12 sq.m. mounted luminaire for two lamps, it is set in two incandescent bulbs for 40W. When standing incandescent lighting was sufficient. It was decided to replace incandescent bulbs with LED light bulbs. Bought two 5W LED lights on if you believe the package is a light bulb shines like a light bulb filament 50W. The total luminosity should become both the 100W incandescent bulbs. Initially, it was really so, and the room was much lighter. But a year later became a luminous flux such as from incandescent bulbs to 60W and the room was dark. On average, the daily bulb included about 5 hours. So after 1800 hours of luminous flux of LED bulbs has decreased by 40%. And it's really in a domestic environment.
So concluded: LED light bulb is really more economical service life but meets the declared luminous flux decreases with time. For comfortable use of LED lamps need to buy fixtures with lots of lamps by 50%, which would in due course does not feel discomfort.