In early 2018 Asus released new models of monitors, as a rule, within a year, about 30 new models of monitors from different rulers go out. Therefore, the range of monitors from Asus is quite large, taking into account the models of previous years.
Asus divides its monitors into:
Professional
Gaming
Eye Care
4K and WQHD
Touch
Designo series
The monitor can be presented in several series at once. The division of monitors on the series is very conditional, as a rule modern monitors cope with all the tasks.
Asus VP228QG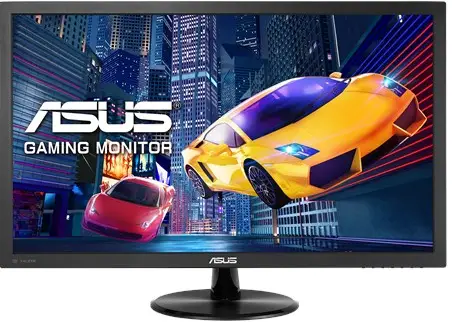 The monitor from the series of gaming monitors has the cheapest TN matrix, thanks to such a matrix the response time is about 1 ms, but the reverse side is poor transmission of color shades. The monitor can display only 72% of the shades according to the NTSC standard of 1953. Full HD resolution, 22 "diagonal. The monitor from a series of budgetary minimum functions but also the price is minimal.
Asus VG258Q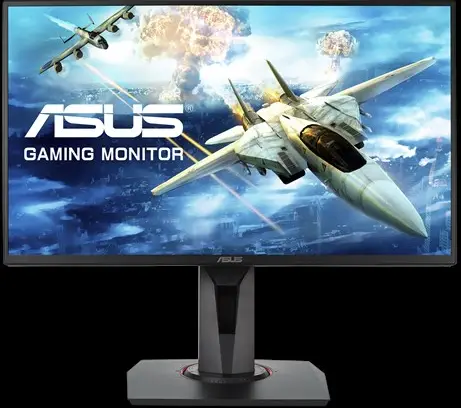 The monitor is also from a series of gaming frame rate frequencies can reach 144 frames per second. Additional features: improved display of dynamic scenes and reduced image blur. Technical parameters VG258Q mediocre, TN matrix, screen size 25 inches, Full HD resolution.
Asus VG255H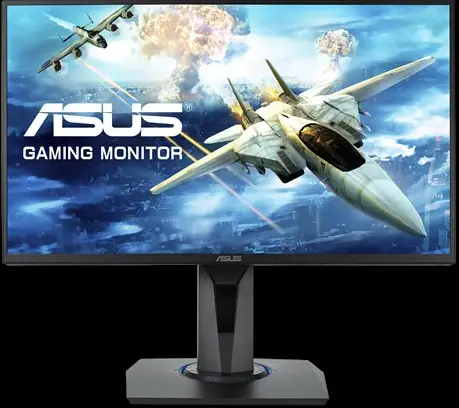 Modification VG258Q, only the matrix is worse, supports a frame rate of 75 per second.
Asus MG248QE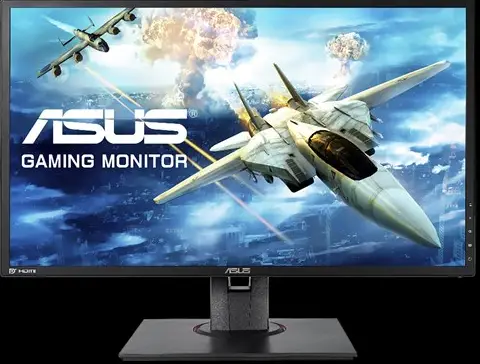 Also a gaming monitor from a series of budget, almost all the same as in previous monitors. Full HD resolution, support 144 frames per second.
Asus VP247HAE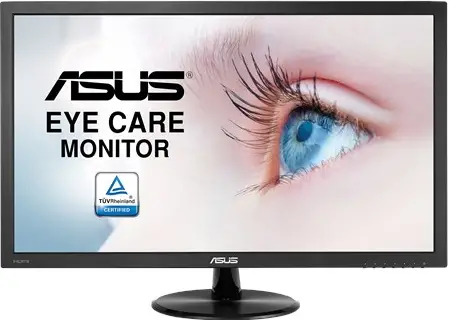 The monitor with a VA screen matrix from the Eye Care series, improved viewing angles, the quality of the image changed but not much, all the same 72% NTCS. The monitor is also from a series of inexpensive.
Monitors ASUS comparative table release 2017-2018
| Brand | Type monitors | Release | Size screen inches | Type screen | Aspect Ratio | Panel bit depth | sync Video | Panel manufacturer | Refresh Rate HZ | Resolution | Audio | Display Port | HDMI | USB/other | Thunderbolt | curved |
| --- | --- | --- | --- | --- | --- | --- | --- | --- | --- | --- | --- | --- | --- | --- | --- | --- |
| Asus | VP228QG | 2018 | 22 | TN | 16x9 | 8bit (6bit+FRC) | Free sync | ? | 75 | 1920 x 1080 | 2x1.5W | 1 (1.2) | 1 (1.4) | x/D-sub | x | |
| Asus | VG258Q | 2018 | 25 | TN | 16x9 | 8bit (6bit+FRC) | Free sync | AU Optronics | 144 | 1920 x 1080 | 2x2W | 1 (1.2) | 1 (1.4) | x/DVI-D | x | |
| Asus | VG255H | 2018 | 25 | TN | 16x9 | 8bit (6bit+FRC) | Free sync | ? | 76 | 1920 x 1080 | 2x2W | 1 (1.2) | 2 (1.4) | x/DVI-D, D-sub | x | |
| Asus | MG248QE | 2018 | 24 | TN | 16x9 | 8bit (6bit+FRC) | Adaptive-Sync | ? | 144 | 1920 x 1080 | x | 1 (1.2) | 1 (1.4) | x/DVI-D | x | |
| Asus | VP247HAE | 2018 | 24 | VA | 16x9 | 8bit (6bit+FRC) | x | ? | 75 | 1920 x 1080 | x | x | 1 (1.4) | x/D-sub | x | |
| Asus | C624AQH | 2018 | 24 | IPS | 16x9 | 8bit (6bit+FRC) | x | ? | 76 | 1920 x 1080 | 2x2W | 1 (1.2) | 2 (1.4) | 3USB/D-sub | x | |
| Asus | VC279HE | 2018 | 27 | AH-IPS | 16x9 | 8bit (6bit+FRC) | x | LG Display | 76 | 1921 x 1080 | x | x | 1 (1.4) | x/D-sub | x | |
| Asus | VG49V | 2018 | 49 | VA | 32x9 | 10bit | Adaptive-Sync | ? | 144 | 3840 x 1080 | 2x5W | 1 (1.2) | 2(2.0) | x | x | curved |
| Asus | PA34V | 2018 | 34 | IPS | 21x9 | 10bit | Adaptive-Sync | ? | 100 | 3440 x 1440 | x | 1 (1.2) | 2(2.0) | x | 2(3.0) | curved |
| Asus | CG32UQ | 2018 | 32 | VA | 16x9 | 10bit | Adaptive-Sync | ? | 60 | 3840 x 2160 | 2x5W | 1 (1.2) | 3(2.0) | 2(3.0)/x | x | |
| Asus | XG248Q | 2018 | 24 | TN | 16x9 | 8bit (6bit+FRC) | Adaptive-Sync | ? | 240 | 1920 x 1080 | x | 1 (1.2) | 1x(1.4);2(2.0) | 3(3.0)/x | x | |
| Asus | C623AQH | 2018 | 23 | IPS | 16x9 | 8bit (6bit+FRC) | x | ? | 76 | 1920 x 1080 | 2x2W | 1 (1.2) | 1 (1.4) | 3(3.0)/D-sub | x | |
| Asus | C622AQH | 2018 | 22 | IPS | 16x9 | 8bit (6bit+FRC) | x | ? | 76 | 1920 x 1080 | 2x2W | 1 (1.2) | 1 (1.4) | 3(3.0)/D-sub | x | |
| Asus | PG27UQ | 2018 | 27 | AHVA IPS | 16x9 | 10bit (8bit+FRC) | G-SYNC | AU Optronics | 120 | 3840 x 2160 | x | 1 (1.4) | 1(2.0) | 3(3.0)/x | x | curved |
| Asus | PA32UC | 2017 | 32 | AHVA IPS | 16x9 | 10bit | x | AU Optronics | 65 | 3840 x 2160 | 2x3W | 1 (1.2) | 4(2.0) | 3(3.0)/x | 2(3.0) | |
| Asus | MX32VQ | 2017 | 32 | VA | 16x9 | 8bit | x | ? | 75 | 2560 x 1440 | 2x8W | 1 (1.2) | 2(2.0) | x | x | curved |
| Asus | PA27AC | 2017 | 27 | IPS | 16x9 | 8bit | x | ? | 60 | 2560 x 1441 | 2x2W | 1 (1.2) | 2(2.0);1(1.4) | 1(2.0);4(3.0) | 2(3.0) | |
| Asus | BE24AQLBH | 2017 | 24 | IPS | 16x10 | 8bit (6bit+FRC) | x | ? | 61 | 1920 x 1080 | 2x2W | 1 (1.2) | 1 (1.4) | 3(3.0)/D-sub | x | |
| Asus | BE249QLBH | 2017 | 24 | IPS | 16x9 | 8bit (6bit+FRC) | x | ? | 76 | 1920 x 1080 | 2x2W | 1 (1.2) | 1 (1.4) | 3(3.0)/D-sub | x | |
| Asus | BE239QLBH | 2017 | 23 | IPS | 16x9 | 8bit | x | ? | 76 | 1920 x 1080 | 2x2W | 1 (1.2) | 1 (1.4) | 3(3.0)/D-sub | x | |
| Asus | BE229QLBH | 2017 | 22 | IPS | 16x9 | 8bit | x | ? | 76 | 1920 x 1080 | 2x2W | 1 (1.2) | 1 (1.4) | 3(3.0)/D-sub | x | |
| Asus | VA249HE | 2017 | 24 | VA | 16x9 | 8bit | x | ? | 76 | 1920 x 1080 | x | x | x | x/D-sub | x | |
| Asus | PG27VQ | 2017 | 27 | TN | 16x9 | 8bit | G-SYNC | AU Optronics | 165 | 2560 x 1440 | x | 1 (1.2) | 1 (1.4) | 3(3.0)/x | x | curved |
| Asus | XG35VQ | 2017 | 35 | AMVA | 21x9 | 8bit | Free sync | AU Optronics | 100 | 3440 x 1440 | x | 1 (1.2) | 1 (1.4);2(2.0) | 3(3.0)/x | x | curved |
| Asus | XG258Q | 2017 | 25 | TN | 16x9 | 8bit (6bit+FRC) | Free sync | ? | 240 | 1920 x 1080 | x | 1 (1.2) | 1 (1.4) | 3(3.0)/x | x | |
| Asus | XG27VQ | 2017 | 27 | SVA | 16x9 | 8bit | Free sync | Samsung | 144 | 1920 x 1080 | x | 1 (1.2) | 1 (1.4) | 3(3.0)/x | x | |
| Asus | XG32VQ | 2017 | 32 | SVA | 16x9 | 8bit | Free sync | Samsung | 144 | 2560 x 1440 | x | 1 (1.2) | 1(2.0) | 3(3.0)/x | x | curved |
| Asus | C623AQH | 2017 | 23 | IPS | 16x9 | 8bit (6bit+FRC) | x | ? | 76 | 1920 x 1080 | 2x2W | 1 (1.2) | x | 3(3.0)/D-sub | x | |
| Asus | C622AQH | 2017 | 22 | IPS | 16x9 | 8bit (6bit+FRC) | x | ? | 76 | 1920 x 1080 | 2x2W | 1 (1.2) | x | 3(3.0)/D-sub | x | |
| Asus | VP28UQC | 2017 | 28 | TN | 16x9 | 10bit | Free sync | ? | 60 | 3840 x 2160 | x | 1 (1.2) | 2(2.0) | x | x | |
| Asus | VP278QG | 2017 | 27 | TN | 16x9 | 8bit (6bit+FRC) | Free sync | ? | 75 | 1920 x 1080 | 2x2W | 1 (1.2) | 2(1.4) | x/D-sub | x | |
| Asus | VP247QG | 2017 | 24 | TN | 16x9 | 8bit (6bit+FRC) | Free sync | ? | 75 | 1920 x 1080 | 2x1.5W | 1 (1.2) | 1 (1.4) | x/D-sub | x | |
| Asus | VZ27VQ | 2017 | 27 | VA | 16x9 | 8bit | x | ? | 76 | 1920 x 1080 | x | 1 (1.2) | 1 (1.4) | x/D-sub | x | curved |
| Asus | VP249H | 2017 | 24 | IPS | 16x9 | 8bit | x | ? | 75 | 1920 x 1080 | 2x1.5W | x | 1 (1.4) | x/D-sub | x | |
| Asus | VP249N | 2017 | 24 | IPS | 16x9 | 8bit | x | ? | 75 | 1920 x 1080 | x | x | x | x/D-sub | x | |
| Asus | BE27AQLB | 2017 | 27 | IPS | 16x9 | 8bit | x | ? | 76 | 2560 x 1440 | 2x2W | 1 (1.2) | 1 (1.4) | 5(3.0)/x | x | |
| Asus | PG35VQ | 2017 | 35 | AMVA | 21x9 | 10bit | G-SYNC | AU Optronics | 200 | 3440 x 1440 | x | 1 (1.2) | 1 (2.0) | 3(3.0)/x | x | curved |
| Asus | VA327H | 2017 | 32 | VA | 16x9 | 8bit | x | ? | 75 | 1920 x 1080 | 2x2W | x | 2(1.4) | x | x | |
| Asus | VA327N-W | 2017 | 32 | VA | 16x9 | 8bit | x | ? | 75 | 1920 x 1080 | x | x | X | x | x | |
| Asus | VG275Q | 2017 | 27 | TN | 16x9 | 8bit | Free sync | ? | 75 | 1920 x 1080 | 2x2W | 1 (1.2) | 2(1.4) | x | x | |
| Asus | VG245Q | 2017 | 24 | TN | 16x9 | 8bit | Free sync | ? | 75 | 1920 x 1080 | 2x2W | 1 (1.2) | 2(1.4) | x | x | |
| Asus | MZ27AQ | 2017 | 27 | IPS | 16x9 | 8bit | Free sync | ? | 60 | 2560 x 1440 | 2x6W+1x5W (woofer) | 1 (1.2) | 2(1.4) | x | x | |
| Asus | VZ229N | 2017 | 22 | IPS | 16x9 | 8bit | x | ? | 76 | 1920 x 1080 | x | x | x | x/D-sub | x | |
| Asus | VZ229H | 2017 | 22 | IPS | 16x9 | 8bit | x | ? | 76 | 1920 x 1080 | 2x1.5W | x | 1 (1.4) | x/D-sub | x | |
| Asus | VZ229HE | 2017 | 22 | IPS | 16x9 | 8bit | x | ? | 76 | 1920 x 1080 | x | x | 1 (1.4) | x/D-sub | x | |
| Asus | VZ27AQ | 2017 | 27 | IPS | 16x9 | 8bit | x | ? | 76 | 2560 x 1440 | 2x2W | 1 (1.2) | 1 (1.4) | x/D-sub | x | |
| Asus | MX34VQ | 2017 | 34 | SVA | 21x9 | 8bit | x | ? | 100 | 3440 x 1440 | 2x2W | 1 (1.2) | 3(2.0) | x | x | |
| Asus | VZ249HE | 2017 | 24 | IPS | 16x9 | 8bit (6bit+FRC) | x | ? | 76 | 1920 x 1080 | x | x | 1 (1.4) | x/D-sub | x | |
| Asus | C624BQH | 2017 | 24 | IPS | 16x10 | 8bit | x | ? | 76 | 1920 x 1080 | 2x2W | 1 (1.2) | 2 (1.4) | 3(3.0)/D-sub | x | |