TV Samsung NU vs RU on the example TVs 8 series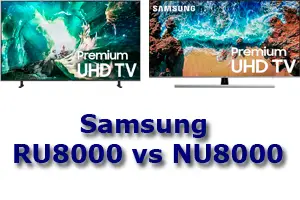 Samsung tv 8 series refers to the premium tv series. Let's look at the differences in the technical characteristics of Samsung TV series 8000 (2019) compared to 2018.
The main critical differences between models RU8000 according to user feedback
The sound in the RU8000 model is much worse.
The brightness and contrast of the image in the RU8000 TV model is worse than the NU8000. Approximately 20-30%. This is probably due to the fact that the RU8000 model has a different screen matrix (with a color depth of 10 bits).
Samsung RU8000
This is a new model of Samsung TV 2019. New modification of the previous model in 2018 NU8000
Differences between Samsung TVs 75RU8000 (2019) and 75NU8000 (2018)
The main difference that affects the quality of the image is the type of matrix screen in televisions. The 2018 TV model NU8000 was completed with a screen matrix with a color depth of 8 bits. and to increase the number of shades, the backlight flicker system (FRC) was used, which created additional shades. In models of RU8000 2019, the matrix is ​​set with a color depth of 10 bits. no flicker. The type of matrix significantly affects the quality of the image.
Highlighting different names Ultra Slim Array RU8000, Edge-lit LED NU8000 but these are just different names.
Screen dimming technology, also different names, UHD Dimming RU8000, Supreme UHD Dimming NU8000. A small difference may exist, as different types of screens, but not significant.
The sound as in most models of 2019, the sound is worse compared to 2018. The RU8000 model has two speakers, and the NU8000 has two speakers and a subwoofer.
Televisions in 2019 support the Google assistant and Alexa.
Other differences such as the operating system, the other remote control is not significant.
Comparison of TVs Samsung RU8000 vs NU8000
| | QN75RU8000 (2019) | differences | QN75NU8000 (2018) |
| --- | --- | --- | --- |
| | | | |
| screen | | | |
| Screen Size | 74.5" | | 74.5" |
| Style | Flat Panel | | Flat Panel |
| Resolution | 3,840 x 2,160 | | 3,840 x 2,160 |
| screen bit | 10bit | ✅❗ | 10bit (8bits+FRC) |
| type screnn | premium | | premium |
| screen technology | VA | | VA |
| Backlighting | Ultra Slim Array (Edge) | ✅ | Edge-lit LED |
| Dimming Technology | UHD Dimming | ✅ | Supreme UHD Dimming |
| Stand Type (Color) | Flat Foot Simple | ✅ | T-Type Center Low |
| Bezel Width | SNB | ✅ | 3 Bezel-less |
| Video | | | |
| Motion Rate | 240 | | 240 |
| refresh rate | 120 | | 120 |
| Color | Dynamic Crystal Color | | Dynamic Crystal Color |
| HDR (High-Dynamic Range) | HDR | ✅ | HDR Plus |
| Picture Engine | UHD Engine | | UHD Engine |
| Audio | | | |
| Dolby | Yes | | Yes |
| Sound Output | 20W | | 40W |
| Woofer | No | | Yes |
| Speaker Type | 2CH | ✅❗ | 2.1CH |
| Multiroom Link | Yes | | Yes |
| Features | | | |
| OS | Tizen 5.0 | ✅❗ | Tizen 4.0 |
| Wi-Fi | Yes | | Yes |
| Bluetooth | Yes | | Yes |
| Smart Hub | Yes (incl. Sports, Music and TV Plus) | | Yes (incl. Sports, Music and TV Plus) |
| Bixby | Yes | | Yes |
| Digital Clean View | Yes | | Yes |
| Ultra Black | No | | No |
| ConnectShare | Yes | | Yes |
| Closed Captioning | Yes | | Yes |
| Game Mode | Yes | | Yes |
| Eco Sensor | Yes | | Yes |
| Mobile to TV - Mirroring, DLNA | Yes | | Yes |
| Google Assistant | Yes | ✅❗ | No |
| Alexa | Yes | ✅❗ | No |
| Auto Channel Search | Yes | | Yes |
| InstaPort S (HDMI Quick Switch) | Yes | | Yes |
| Channel Guide | Yes | | Yes |
| Ambient Mode | No | | No |
| Auto Power Off | Yes | | Yes |
| AI Technology | No | | No |
| Apps Platform | Smart TV with Bixby Voice, Apps and Full Web Browser | | Smart TV with Bixby Voice, Apps and Full Web Browser |
| Auto Motion Plus | Yes | | Yes |
| Embedded POP | Yes | | Yes |
| Anynet+ (HDMI-CEC) | Yes | | Yes |
| V-Chip | Yes | | Yes |
| TV to Mobile - Mirroring | No | | Yes |
| USB HID Support | Yes | | Yes |
| AI Upscale | No | | No |
| Easy Pairing | No | ✅ | Yes |
| Inputs & Outputs | | | |
| HDMI | 4 | | 4 |
| USB | 2 | | 2 |
| Ethernet | Yes | | Yes |
| RF In (Terrestrial/CableР'В  | Yes | | Yes |
| RF In (Satellite Input) | Yes | | Yes |
| Digital Audio Out (Optical) | Yes | | Yes |
| Audio Return Channel SupportР'В  | Yes | | Yes |
| One Connect | No | | No |
| Dimensions | | | |
| Product Size (W x H x D) Without Stand | 66.3" x 38" x 2.4" | ✅ | 65.9" x 38" x 2.3" |
| Product Size (W x H x D) With Stand | 66.3" x 40.5" x 14.9" | ✅ | 65.9" x 41" x 14.5" |
| Product Weight With Stand | 87.7 lb. | ✅ | 87.3 lb |
| System | | | |
| Digital Broadcasting | ATSC/ClearQAM | | ATSC/ClearQAM |
| Analog Tuner | Yes | | Yes |
| Accessories | | | |
| Remote control | TM1950A | ✅❗ | TM1850A |
| | | | |