LG TVs stipulate the use of several image enhancing technologies. One such technology that works to improve the contrast is Object Depth Enhancer. Note that similar technology, there are other manufacturers of TVs, but they have a slightly different name.
So technology, depth amplifier object. As you know, to select an object and create depth, you need to make a transition to set off an object.
How does the object depth enhancer work?
As an example, in the figure below two inscriptions are made in the same color, but in the second one the creation of shadows is applied, as a result the depth of the image has increased.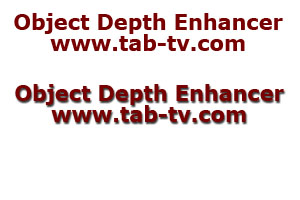 A special program on the TV analyzes color shades and corrects the image to create a better picture.
Disadvantages, perhaps not always correct image processing, the signal processing delay increases significantly.
Object Depth Enhancer must be disabled when using the TV as a monitor. When viewing high-quality video using the Object Depth Enhancer does not give a noticeable improvement in the image.
Recently, in connection with the advent of modern video recording and playback technologies, for example, HDR technology. Image enhancement technologies are no longer needed, and they work very mediocre. With the original image of poor quality, no technology on the TV can make the image beautiful.