What is a laser TV
How to watch video from a projector and a laser TV
The past few years, increased advertising for laser TVs. But a laser TV is just a projector. it's not enough to buy a TV projector and watch videos; To watch the video you need a surface (screen) where the video will be shown.
Do not believe the ads, buy a laser TV or projector and watch videos with a diagonal size of 90-120 inches. This is far from the case. Not only will you pay quite a bit for the projector. You also need to buy a screen on which you can watch the video. And also you need to prepare a room in which you will watch the projector.
What is a screen for a projector and why is it needed
Projectors, including laser televisions, show video with a fairly low brightness and in order to see the image, you need a surface that has quite specific parameters. The surface onto which the image will be projected should have a large light-reflecting ability.
Can I watch video from a projector on an ordinary wall
Is it possible to watch video from a projector on an ordinary wall? No, it is impossible, ordinary surfaces have very low light reflectivity. Video on the wall will be very faded. This image is not nice to watch. In the photo below the image on an ordinary wall.
How can I watch video from a projector on the wall, without a special screen
For those who want to watch a projector or a laser TV on an ordinary wall, a solution has long been found. Special paints with a reflection effect are produced. The so-called screen paints. They can paint the wall and you get a more, less acceptable surface for viewing the projector. The cost of such paint for a screen measuring 100 inches will be about $ 100. But do not forget that the wall must be prepared, it must be made as even as possible, without tubercles and depressions.
Paints for projector screens, laser TVs
Inks for screens are of various types, depending on the composition they can be for 4K video or Full HD. Differences in the size of light-reflecting particles in the paint. You must also be able to apply the paint evenly.
Ready screens for projectors
You can also buy a ready-made screen for viewing video from a projector on it. There are a lot of ready-made screens for sale. In short, they are intended to reflect the image. The screens themselves are not expensive, but their price may vary depending on additional accessories. for example, a wall-mounted screen, a ceiling-mounted screen, a stand screen, an automatic screen with an electric motor.
Features of viewing video from projectors
Since when watching video from a projector, home theater, you see a reflected image from the screen. A very large impact on image quality has external lighting. Like in a movie theater to watch a movie you need to turn off the light. So at home, if you want to see high-quality video, you must limit the penetration of external lighting into the room.
Image from a laser projector in a room with electric artificial lighting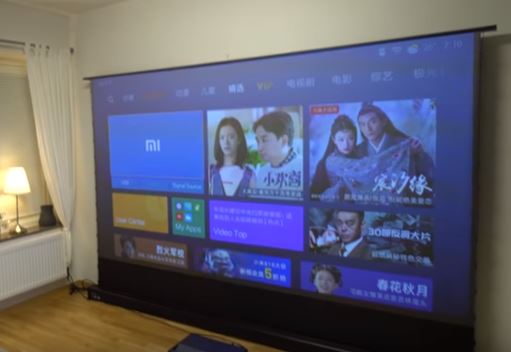 As you can see, the image is better than just on the wall. Thanks to the reflective properties of the screen, you can watch the image, but still there is not enough brightness. Similarly, the image quality in daylight, in the photo below.
Image from a laser TV in daylight
As you can see, if the room is bright, the image loses its brightness.
As a laser projector shows, a laser TV in a darkened room
In a darkened room, the image of the projector or laser TV is of the best quality. This image is comparable to the image in the cinema.