What is a Real Game Enhancer on Samsung TVs
Samsung TVs from 2019 have a new Real Game Enhancer setting. At the request of the user, it can be turned on in the TV settings. According to the statement, Samsung Real Game Enhancer improves games without the need for manual settings. With Real Game Enhancer, additional motion clarity automatically reduces ghosting and motion blur in fast-moving game scenes, while AMD FreeSync reduces image tearing and jerking.
How Real Game Enhancer Works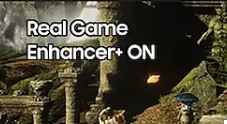 In fact, Real Game Enhancer is just a Game Mode that was previously on TVs. It's just that since 2019, TVs began to install HDMI ports of standard 2.1. And if earlier, when the game mode was turned on, all additional settings and image enhancers were simply turned off to speed up the image output to the screen. That new HDMI 2.1 port also supports additional gaming features in addition to the standard game mode settings. Such as synchronization of image output with the game console and TV, a smooth transition from one display frequency to another frequency, this is true for games.
The halo around the images decreases due to the disconnection of all additional programs that should improve the image, but if you use the TV as a monitor, all programs for image enhancement are useless. Something real on the TV when you turn on the Real Game Enhancer. When you turn on the Real Game Enhancer, the image is simply transmitted from the game console as it is generated by the video card of the game console.