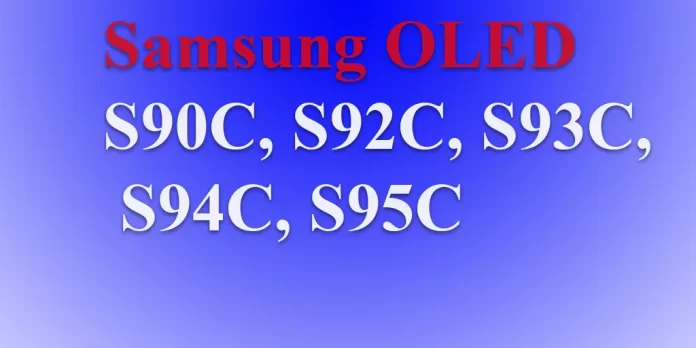 In some countries, several Samsung OLED TVs are on sale, and it is challenging to understand how they differ. If you choose a Samsung OLED TV, this article will help you understand the differences between 2023 TV models. But first, let's look at what TV models are available in some countries.
USA, Canada, Mexico: S90C, S95C
Europe: S90C, S92C, S93C, S94C, S95C.
Other countries usually have only two models of S90C and S95C TVs. In China, OLED TVs have the model numbers S90Z and S95Z; in Korea, the model number looks slightly different from SC90 and SC95.
If the S92C-S94 TV models are available in your country, you'll be interested to know the differences.
Samsung 2023 OLED TV
You should know that only two basic Samsung 2023 OLED TVs are available.
S90C first basic model has modifications S92C, S93C, S94C
S95C is the second basic model, the premium OLED TV model. 
You can read more about the differences between S95C and S90C in the article Samsung OLED S90C vs. S95C, which is better to buy. In a nutshell, the differences between the S95C and S90C are as follows:
Form Factor: The S95C has two parts – the screen and a separate One Connect unit. 
Screen: The S95C has a new OLED screen with increased brightness. 
Sound: S95C has an improved speaker system with more speakers and power. 
USB: The S95C has one more port (3 USB ports).
Samsung OLED S90C, S92C, S93C, S94C
Now about the differences between these TV models. The S90C is the original TV model. The S92C, S93C, and S94C are modifications of the S90C, and here are the differences between them.
S90C: 40-watt sound, 2.1 sound formats (two speakers and a subwoofer)
S92C, S93C, S94C: 2.1.2 sound format (three speakers and two subwoofers), 60-watt sound power.
The screens and motherboards in these TVs are the same.
Differences between S92C, S93C, S94C
Now let's look at the differences between OLED TVs.
The specifications of these TVs are the same. The package is also the same. The only difference is a slight change in design, the Samsung icon on a different background, or some plastic insert in a different color. The second reason is to fill the market with various TV models. And simply put, it's marketing; the customer comes into the store, looks at the available TVs, there is the S92C model, and there is the S94C subconsciously includes a comparison S94C should be better than the S92C.
Conclusion on Samsung 2023 OLED TVs
There are only three TV models with technical differences between them.
S90C: weak sound, last year's screen
S92C, S93C, S94C: better sound, last year's screen.
S95C: good sound 4.2.2 format, new generation screen with increased brightness, TV has an external One Connect unit with the main board and power supply.