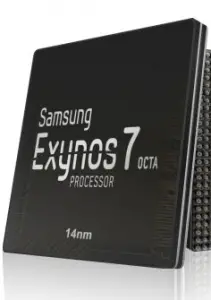 Exynos 7 Octa 7420  released Samsung, family of processors in a line of Exynos. Processor designed for mobile devices. At the beginning of 2015 announced its application in the phone line Galaxy S6.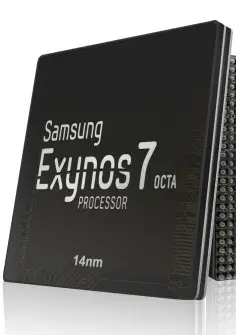 The processor is a chip with built-in modules for additional functions and has.
Integrated graphics chip GPU Mali-T760, the chip is designed in the late 2013 may have up to 16 shader cores, manufactured by 28nm technology, the clock frequency of 770 MHz. the clock frequency is increased from 550 MHz compared to the first version of the graphics chip.
In Exynos Octa 7 7420 has 8 cores architecture supports 4 + 4, 4 cores CortexA53, 4 core Cortex A57.
Specifications Exynos Octa 7 7420
CPU

Quad-core 1.5GHz ARM Cortex A53 + quad-core 2,1GHz A57
64-bit capable

GPU 
GPU Mali-T760
DSP
 
Modem
 
RF
 
USB
USB 3.0
Bluetooth
 
WiFi
 
GPS
 
NFC
Supported
Video/Audio

1080p60 playback with H.264 (AVC) and H.265 (HEVC) formats
1080p30 capture with H.264 (AVC)
DASH is supported

Camera
Up to 16MP
Display
Uo to WQXGA (2560 x 1600)
Quick Charge
 
Memory/Storage
LPDDR4  1600MHz Single-channel 32-bit (25.6GBs)
Process Technology
14nm LP
QRD
QRD supported
At the beginning of 2015 Exynos Octa 7 7420 is the development of a new Samsung line of processors, earlier versions 7 Exynos Octa, 5433/7410 chips manufactured by 20nm technology and installed in phones Samsung Galaxy Note 4.