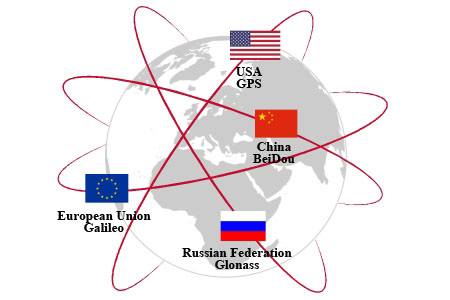 To locate on the ground with reference to the coordinate system developed different positioning and navigation. All of these systems were developed by military their main objective to provide guidance weapon at the target, the use of so-called smart munitions, the second purpose of navigation, orientation in the spatial coordinates.
For the civilian population, about 5% percent of navigation system capabilities are available
Navigation systems are under military control. The construction and maintenance in operational condition of these systems is very costly to cover part of the costs, the navigation system was opened for civilian use, but the team can disable satellites from any territory.
For the operation of the navigation system and covers the entire planet must be at least 24 operational satellites. You can create a navigation system that will cover only part of the territory (it is cheaper), this path goes India creating a regional navigation system.
As of 2019 the following systems are operated.
GPS – operated by the Department of Defense US
Glonass – operated by the Ministry of Defense of Russia
Beidou – operated by the Ministry of National Defense (only China and the surrounding regions)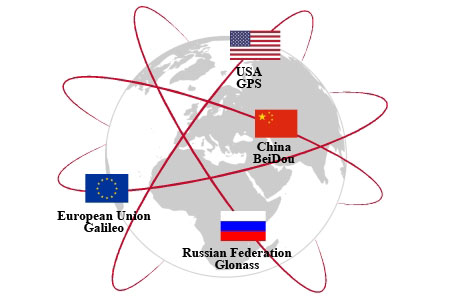 At the stage of construction
Galileo – European navigation system is created as an alternative to GPS for the European countries funded by the European Union, as well as investors, a full commercial use is planned for 2020.
IRNSS – The Indian Regional Navigation System is designed for navigation in India and the region within a radius of 1500 km from the borders of India.
QZSS – Japanese regional navigation system.
Since smartphones have GPS satellite receivers that allows you to check the location.
Now phone sets three main systems GPS, Glonass, Beidou.
As work positioning system
The receiver which is located in the phone, Car navigator, receives a signal from the satellite.
Since the signal transmitted current time (mounted on the satellite atomic clocks), the known location of the satellite, the GPS time is spent on signal transmission from the satellite calculates the distance to the satellite. Taking the signal from two satellites can calculate the coordinates but we can not determine the height, received signal from a third satellite is calculated the exact location.
The more satellites from the signal is received, the more accurately we can determine the location of the receiver. Also, location is determined more accurately than longer working receiver, with each subsequent calculation of the reduced error.
The phone software overlays the location on the map in accordance with the calculated coordinates of the phone.
This is how maps on the phone and games that use geolocation work.