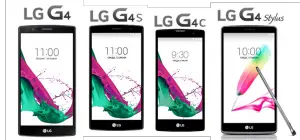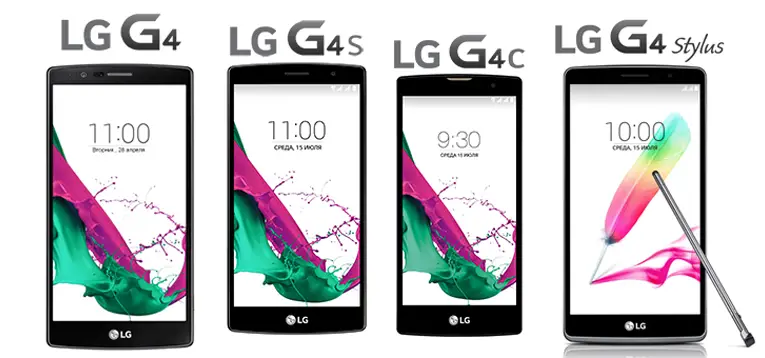 Series phones from LG G4 represented by several models:
G4 (H818) 5,5 inch
G4s (H736) 5,2 inch
G4c (H522y) 5 inch
G4 Stylus (H540F) 5,7 inch
G4 as a leader among the handsets of this series of course has the best performance, we compare the main parameters phones.
processor
G4 имеет 6 core processor with 1.8 GHz clock frequent.
G4s 8 core processor with a frequency of 1.5 GHz but.
 G4c 4 core processor with a frequency of 1.5 GHz.
G4 STYLUS 8 cores at 1.4 GHz.
Considering the application in the G4 processor Snapdragon 808, and at G4s Snapdragon 615 we will get faster phone G4.
Screen resolution
Resolution Screen Phones
HD models have G4 STYLUS and G4c
Full HD G4s
Quad HD 2560×1440 G4.
As we can see the best screen resolution of the model G4.
communication standard
phones have as a standard module to connect to the network 2g, 3g, as well as integrated modules for data from 4g phones G4, 4s and G4c
Available resources (memory)
G4 as it is the top model and memory resources available overall, namely, 3GB of RAM, built-in 32GB and support for memory cards up to 128GB, note that the internal memory is enough for most users.
G4s has 1.5 GB of RAM, G4c, G4 Stylus 1GB, all three models have 8GB of internal memory and the ability to install a memory card up to 32GB.
Camera
G4- 16 and 8 mega pixels.
G4s, G4c, G4 Stylus 8 and 5 mega pixels.
Conclusions G4 is certainly good options, all other models have simplified the task of phones that meet customers wishing to buy a functional but not overly expensive phone.