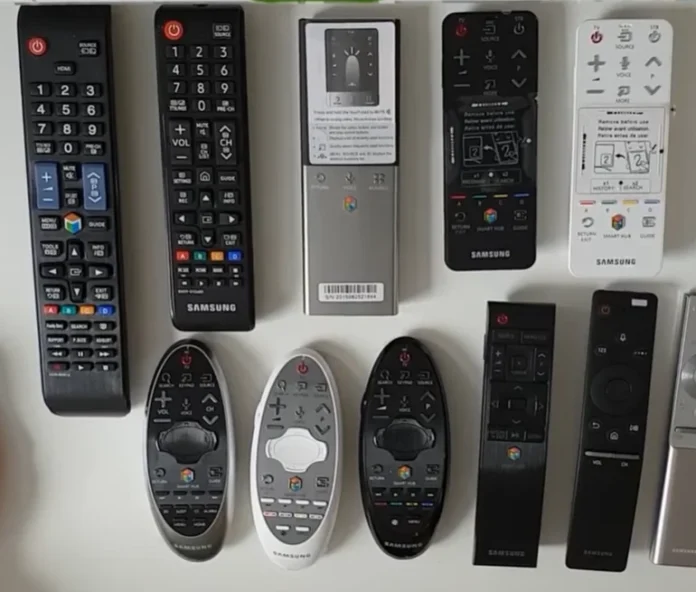 Samsung One remote control by year
If you need a remote control for your Samsung TV, you need to replace the remote control that comes with the TV in the box, buy a replacement remote control or replace a faulty one, you may be a little confused, remotes are offered in large numbers and by different manufacturers. It is necessary to know the basic rules for choosing a remote control for your Samsung TV. Universal remote, released after 2012, will work with any TV Samsung. Smart remote or One remote works only with certain TV models, why so, I will tell you.
Where can I buy a Universal remote, Smart remote or One remote?
You can use the official parts website (US or UK remotes, ). You should also know that there are two names for the remote. For example, TM2180E is the marketing name and the part number is BN59-01357A. Samsung recommends searching for a new remote by the part number. This name makes it difficult for many people to find a remote control. Also, many manufacturers of replacement remotes have dozens of part numbers for remotes that have minor differences. But I've tried to gather as much information as possible in the table, which makes it much easier to find the right remote for your Samsung TV. Amazon also offers a large number of remotes for Samsung TVs.
Types of Samsung remotes One remote and universal remote
There are a total of two types of remote controls for Samsung TVs. These are universal remotes, which have many buttons, and Smart remotes (One Remote).
Samsung Smart Remote vs Samsung One Remote
If you're wondering what the difference is between the Smart and One remotes, I'll answer that there's not much difference between these remotes, and frankly, there isn't. They are remotes to control smart TVs, these remotes have a bluetooth module, the TV is controlled via bluetooth. Before 2017, the remotes were called Smart remotes. Since 2018, a new concept was applied to distinguish the remote from a dozen similar remotes of other brands. The remotes began to be called one remote, which means the ability to control not only the TV, but also other devices that are connected to the TV, soundbars, media players. Now the remote control to control the Samsung smart TV is called One remote. But you should know that smart remotes of other brands also have these functions.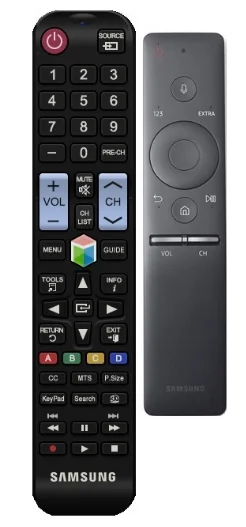 How Samsung remote controls work – smart and universal
Universal remote control– controls the TV using infrared radiation. It supports all TV controls except voice control. These remotes are less convenient to use, you have to point them at the TV when you press the buttons. But their advantage is that you can buy any remote and it will work with your TV as long as it's manufactured in 2012-2022, so these remotes are called universal remotes. Also, the standard remote control allows you to enter the hidden menu of the TV to control the settings at the operating system level. This option is intended for service technicians.
One Remote, Smart remote control – This remote control communicates with the TV using infrared (to turn the TV on and off only) and Bluetooth. Bluetooth is used to control the TV and you can also use voice commands to control the TV and search for information on the Internet. The One Remote Control is more convenient to use, it can receive voice commands and then send them to the TV. For entry-level 6,7 series TVs with regular screens, the One Remote Control comes without a microphone because these TVs do not support voice control. Entry-level TVs have low-power processors, making it difficult to process voice commands quickly.
Samsung remote controls replacement for Samsung TVs
There are many remotes available as replacements for the original remote control. These remotes are manufactured by third-party companies and may not support all of the functions of the original remote, this only applies to One remotes. Universal remotes regardless of manufacturer are the same because the IR control protocol hasn't changed in 10 years. Now a little about the One remotes that are available as replacements. The One remotes work with some TVs, this is due to Bluetooth protocol compatibility. But replacement remotes can vary in large ranges. Some remotes are positioned by the manufacturer as One remotes, but actually only work in IR range, but have the look of a smart remote, which means they do not have a Bluetooth module. Some remotes come with external Bluetooth adapters that need to be plugged into a USB port on the TV. In addition, replacement remotes may support multiple TV models from different years, which is basically not in line with Samsung's specifications. When choosing a replacement Samsung remote, I recommend making sure to study the description of the remote, read reviews, and if you have doubts, ask the salesperson.
One remote Samsung cost
The cost of original remotes is quite high, because the manufacturer meets all the requirements for technical specifications and workmanship quality. The original universal remote costs about $20, the original One remote costs more than $60, the premium models of One remotes, for example, in a metal case, cost more than $100. If the remote One costs about $20 or less, it most likely has no Bluetooth and only works in the infrared, or has very limited functionality, as the developers of such a remote came up with.
Samsung Remote Control Model Numbers
As I mentioned before, there are two types of model numbers for Samsung TV remote controls. The commercial model number of the Samsung TV remote control is the designation for Smart remotes: TM1950A, TM1950B, TM1950C. Universal remotes TM1240A. The commercial name of the remote control model can be found on the Samsung website in the specifications of the TV.
But when you buy it, you will see that the commercial name of the remote is not used. The part number used is one that looks like BN59-01266A, for example. This is the number assigned to the remote in the Samsung parts catalog. The model number or part number can be found on the remote control, and this model number looks like BN59-01266A. Remotes are sold with these model numbers at stores such as Amazon.
One remote compatibility with old Samsung TVs
Compatibility of One remotes with Samsung TVs – As Samsung says your TV is compatible with the model remote that you found in the box with your TV. This is not entirely true, there are several modifications of remotes, the differences are very relative. For example the one you got with your TV has Amazon Prime and Netflix shortcut buttons and another remote control model might have Disney+ instead of Netlix. In any case, you should know that the One remote can only turn on the TV, then the remote works via Bluetooth. If you managed to bind the remote to the TV (create a pair of remote-TV) remote will work if not, alas, your TV does not support this remote modification.
Samsung TV remote compatibility list 2012-2022
model remote
Item model number
Type
year TV model
Buy on AMAZON..
Compatible LG TV models
TM2280E
Smart (Solar) One Remote
2022
Neo QLED: QN800B, QN900B, QN85B, QN90B, QN95B
OLED: S95B
QNED: Q60B, Q70B, Q80B, Q90B
BU7000, BU8000, BU9000

TM2180E
BN59-01357A
Smart (Solar) One Remote
2021
QLED: QN9**A, QN8**A, QN7**A , QN9*A, QN8*A, Q8*A, Q7*A, Q6*A Life Style: LS**A
TM2180*
BN59-01274A, BN59-01266A, BN59-01292A
Smart One remote
2021
AU8***, AU9***
TM2095A
Smart One remote
2020
The Terrace: LST*T
TM2050*
BN59-01330A BN59-01329A, BN59-01266A
Smart One remote
2020
Q8**T, Q9**T, LSR9, LS**T, Q7*T, Q8*T, Q9*T, TU8***, TU9***
TM1950*
BN59-01312A, BN59-01312G
Smart One remote
2019
Q***R, Q**R, LS**R, RU****
TM1850A (B, C)
BN59-01259B BN59-01298A
Smart One remote
2018
NSxxxx, NUxxxx, series QxxNx, series LSxxNx,
TM1850
BN59-01300A
Smart One remote
2018
Q9FN
TM1750A (B,C)
BN59-01266A
Smart
2017
MS****, MU****, Q****,
TM1680A (B, C)
BN59-01241A
Smart
2016
KS****, KU****,
TM1560A (B, C)
BN59-01220E
Smart
2015
JS****, JU****, J****
TM1490*
BN59-01184b, BN59-01185F, BN59-01181A
Smart
2014
HS****, HU****, H****
TM1390
AA59-00764A,
AA59-00758B
Smart
2013
F****, FS****, S9
TM1240A
BN59-01180A
standart
2012-2021
All TV
TM1250A
BN59-01178B
standart
2012-2021
All TV
TM1260С
AA83-00655A
standart
2014-2021
All TV
...
Samsung TM1240a remote control 2012-2022
TM1240A – universal remote control suitable for any Samsung TV produced after 2012. This remote control was equipped with televisions without an Internet connection, it has no button to call the smart platform. After a while, this remote became the standard remote in addition to the Smart TV or One remote. In this remote control, the TV is controlled by infrared radiation. The main functions: switching programs, adjusting the sound, controlling the TV settings through the menu. The remote control has many buttons, which can be used to call up a menu of specific settings. Modifications of universal remotes are numerous, you can choose any one you like the most.

Samsung One Remote control for TV (2021 serie A, 2022 serie B) TM2180E, TM2180A, TM2280E, TM2280A
The premium 2021-2022 TVs come with an advanced smart remote control called the Solar sell. This One Remote has solar panels on the back of the remote and uses these batteries to recharge the batteries in the remote. It reminded me of Japanese calculators from 1980-1990, they also had solar panels, the idea is not new, but it saves batteries, which is relevant these days. Standard AU series TVs are equipped with the usual Smart remote control. The remote control works with TVs
TM2280 is compatible with 2022 TV models
QLED: QN9**B, QN8**B, QN7**B, QN9*B, QN8*B, Q8*B, Q7*B, Q6*B;
Life Style: LS**B;
Crystal series: BU
TM2180 is compatible with 2021 TV models
QLED: QN9**A, QN8**A, QN7**A, QN9*A, QN8*A, Q8*A, Q7*A, Q6*A;
Life Style: LS**A;
Crystal series: AU
Samsung Smart Remote for M, N, R, T series TVs 2017-2020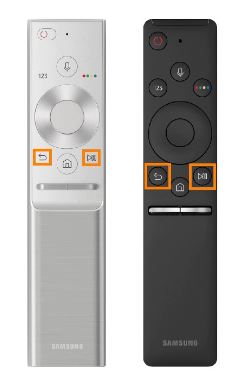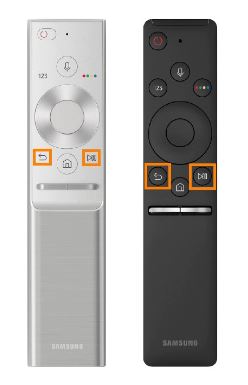 The appearance of the Samsung One 2017-2020 remote control. The remotes are very similar in appearance, also the original 2017-2020 remotes are interchangeable. But not in all countries and regions, this rule may not work. So I still recommend checking the compatibility of the remote with your TV before buying. And it's best to buy a remote that is compatible with your TV. See the table for compatibility with TV models.
Remote Control for Samsung K Series 2016 TVs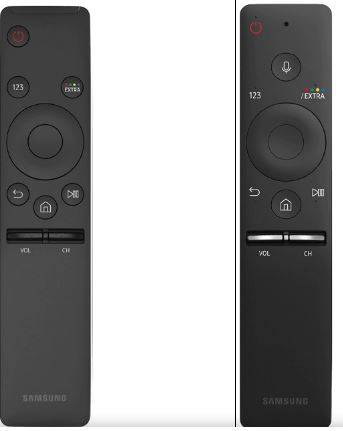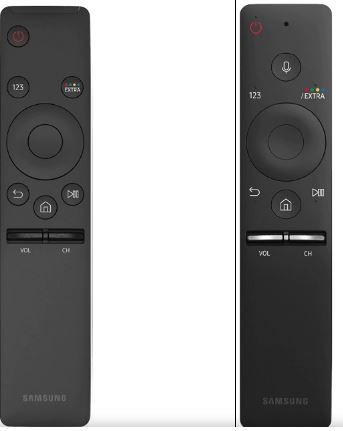 The TM1680 is the first remote control of 2016 for K-Series TVs, the design of which has been preserved to this day. The concept of the remote control has been adopted as follows, it is controlled with a control ring, there are two main buttons for volume and channel switching. The buttons work on the joystick principle, moving up, down and pressed.
Remote control for TV series J 2015
Remote control TM1580A (TM1560A, ТМ1560B)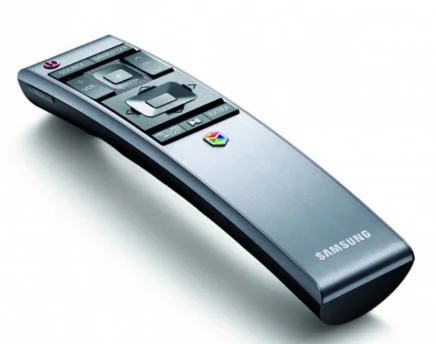 This remote control TM1560 belongs to the Smart Touch Control series for Samsung 2015 J-series TVs, the remote controls a smart TV. The feature of the remote control is that it is controlled via bluetooth (wireless connection). The remote must be paired with the TV for it to work correctly, controlling the TV.
The TM15** works with 2015 (J) TVs like the UE60JS7200U. This was another attempt by Samsung to create a more ergonomic remote for Samsung smart TVs.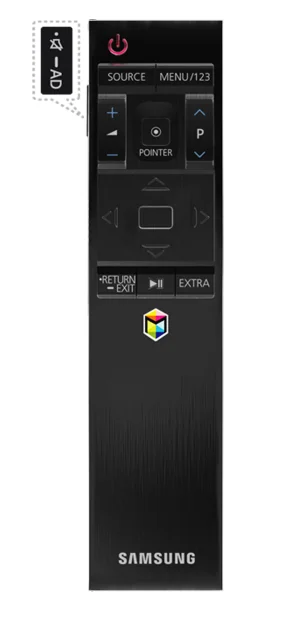 Remote control for TV series H 2014
Remote control TM1490A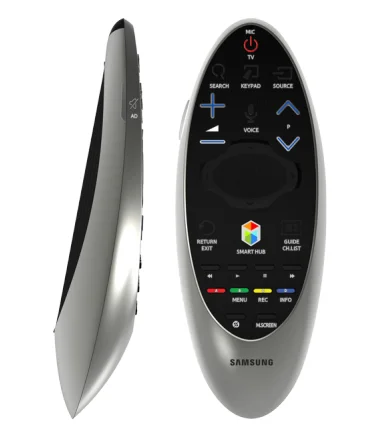 The Smart Touch Control Model 2014 fits the televisions designed in the 2014 TV (H) series. UE65HU8500T.This is an attempt by Samsung to create an unusual form of remote control. Apparently, users did not like these remotes very much, the following year the shape of the remote control was changed.
Remote control for TV series F 2013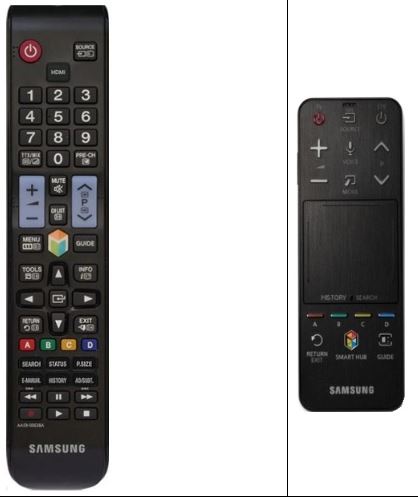 The TM1390 smart remote control for Samsung Internet-enabled TVs. Samsung's attempt in 2013 to create a remote control with a touchpad, like a laptop. Many people liked this remote control, some did not like it, in the future such a remote control was not used anymore.
Universal remote control Samsung TV 2012-2022
Remote control TM1260C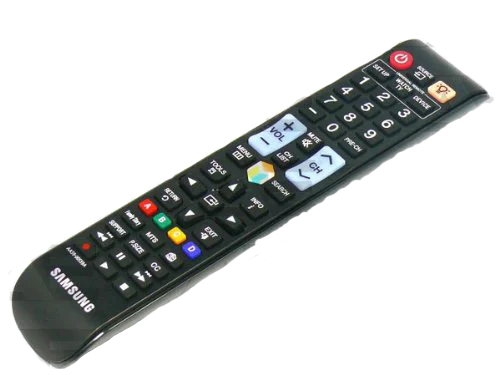 A variation of the standard remote control comes with the TV for some countries, such as the United States.
Remote control TM1250A


Standard remotes TM1250, TM1260 control the TV using infrared waves and are fully functional, provide full control of the TV, of course except for voice commands, but are inconvenient when typing and browsing the web. These remotes come with TVs equipped with Smart TVs. The TM1240A remote comes with TVs that don't have Smart TVs, there are no Smart buttons on the remote. Currently supplied with TVs as a supplement to the Smart remote control.