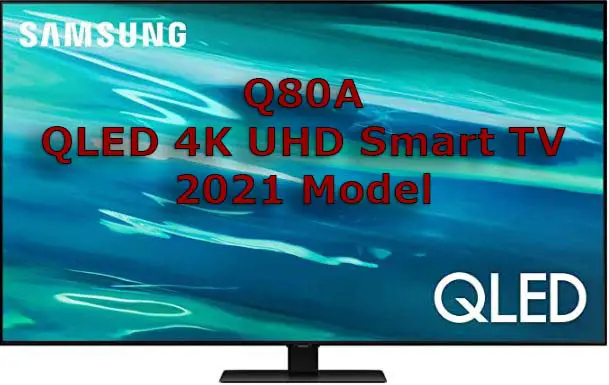 Q80R is the best choice for people who want to save some money. It still offers high quality, but now at an affordable price.
Q80T offers the best price-quality ratio, so the money you would pay would be justified.
Q80A also offers good price-quality ratio, but you would pay a little bit more.
If you're just looking for comparison table of Samsung Q80A, Q80T, Q80R TVs, you can scroll down to the end of the article.
Buying a TV is always a challenge, at least because it's difficult for an inexperienced person to understand how one model differs from another and what you lose if you take the previous year's model. This article will help you choose exactly the model that will give you the most value for the money you spend.
First of all, in 2021 Samsung features its Neo QLED TVs, which would be used in 8+ series. However, Q80A would receive a previous generation screen, the same as used in Q80T.
Q80R – 2019
Q80T – 2020
Q80A – 2021
Also, if you want to better understand Samsung TV model numbers, you can read our article covering this topic.
Samsung Q80A features
Q80A is the new 2021 QLED TV model 2021 that offers the new Tizen OS version (Tizen OS 6.0). The new Tizen version was redesigned following new trends and has got some new gaming opportunities, as well as the 'using TV as a monitor' feature. So now you can use the TV not only to watch movies or connect it to a gaming console but use it, for example, in offices to conduct presentations.
Also, in Tizen 6.0 there are some changes in gaming features. The most important is Auto Low-Latency Mode (ALLM) that has replaced Game mode. If previously you needed to turn on gaming mode manually, now TV can detect when the gaming console is connected, so it activates Game mode automatically.
Also, Q80A has some additional features, such as Super Ultra-Wide Game View and Game Bar that allow quick setup of game functions. There's also FreSync mode, which allows you to synchronize your TV with the video card.
The new Solar Cell smart remote control
In 2021 Samsung also introduced a new Solar Cell smart remote control, a new generation of One remote, that has sollar cells to save battery charge. We already talked about it in our article, so you can read about it you're interested in. The only thing you should know is that Solar Cell remote can work with previous Smart TV generations, so you can buy it and use with Q80R or Q80T if you wish.
New technologies in Q80A
With Tizen 6.0 update, TVs would get a lot of new technologies. Some of the are brand new ones, while others are just new names to technologies that already existed.
The full list is as follows:
Film Mode
LED Clear Motion
Natural Mode Support
Motion Technology
360 Video Player
360 Camera Support
Easy Setup
App Casting
Wireless TV On – Samsung WOW
Wired TV On – Samsung WOL
SmartThings App Support
SmartThings
Far-Field Voice Interaction
TV Plus
Web Browser
Gallery
EPG
FreeSync
Filmmaker Mode
BT HID Support
MBR Support
IPv6 Support
Tap View
Auto Game Mode (ALLM)
Wireless Dex
Cloud Service
Multi View
Game Motion Plus
Dynamic Black EQ
Super Ultra Wide Game View
Is Q80A better than Q80T?
Frankly speaking, that's hard to give you advice in this regard. The TVs have the same hardware, but Q80A would have Tizen 6.0 (while Q80T wouldn't get the update).
If you want to save some money and you're planning to use TV primarily as a 'watching station', then I think you can save some money and buy Q80T. But if you want to get all the new features, that the best decision is to buy Q80A.
Q80A, Q80T, and Q80R comparison
Here's a table comparing the Q80A to the Q80R to the Q80T. We don't recommend relying on a pure performance comparison, but it can be very helpful if you still don't know which TV to buy.
| | Q80A (2021) | Q80T (2020) | Q80R (2019) |
| --- | --- | --- | --- |
| | | | |
| screen | | | |
| Screen Size | 55, 65, 75, 85 | 49, 55, 65, 75, 85 | 55, 65, 75, 82 |
| Style | Flat Panel | Flat Panel | Flat Panel |
| Resolution | 3,840 x 2,160 | 3,840 x 2,160 | 3,840 x 2,160 |
| screen bit | 10bit (8 bit+FRC) | 10bit (8 bit+FRC) | 10bit |
| type screnn | Quantum Dot | Quantum Dot Dual LED | Quantum Dot |
| screen technology | VA | VA | VA |
| Backlighting | Direct Full Array 8x | Direct Full Array 12x | Direct Full Array 8x |
| Dimming Technology | Supreme UHD Dimming | Supreme UHD Dimming | Ultimate UHD Dimming |
| Stand Type (Color) | FLOATING PLATE | TITAN BLACK | Flat Foot |
| Bezel Width | 4 Bezel-less | 3 Bezel-less | 4 Bezel-less |
| Video | | | |
| Motion Rate | 240 | 240 (49' 120) | 240 |
| refresh rate | 120 | 120 (49' 60) | 120 |
| Color | 100% Color Volume with Quantum Dot | 100% Color Volume with Quantum Dot | 100% Color Volume with Quantum Dot |
| Contrast | Direct Full Array 8x | | |
| HDR (High-Dynamic Range) | Quantum HDR 12x | Quantum HDR 12X | Quantum HDR 12X |
| Picture Engine | Quantum Processor 4K | Quantum Processor 4K | Quantum Processor 4K |
| Audio | | | |
| Dolby | Yes | Yes | Yes |
| Sound Output | 60W | 60W (49' 40W) | 40W |
| Woofer | Yes | Yes | Yes |
| Speaker Type | 2.2.2 CH | 2.2.2 CH (49' 2.2CH) | 4.1CH |
| Object Tracking Sound | Yes | Yes | No |
| Q-Symphony | Yes only soundbar | Yes | No |
| Multiroom Link | Yes | Yes | Yes |
| Features | | | |
| OS | Tizen 6.0 | Tizen 5.5 | Tizen 5.0 |
| Wi-Fi | Yes WiFi5 | Yes | Yes |
| Bluetooth | Yes 4.2 | Yes 4.2 | Yes |
| Smart Hub | | Yes | Yes |
| Samsung Health | Yes | | |
| Bixby | Yes | Yes | Yes |
| Film Mode | Yes | | |
| LED Clear Motion | Yes | | |
| Natural Mode Support | Yes | | |
| Motion Technology | Motion Xcelerator Turbo+ | | |
| 360 Video Player | Yes | | |
| 360 Camera Support | Yes | | |
| Easy Setup | Yes | | |
| App Casting | Yes | | |
| Wireless TV On - Samsung WOW | Yes | | |
| Wired TV On - Samsung WOL | Yes | | |
| Digital Clean View | Yes | Yes | Yes |
| Ultra Black | No | Ultra Black Elite | Ultra Black Elite |
| ConnectShare | Yes | Yes | Yes |
| Closed Captioning | Yes | Yes | Yes |
| Game Mode | No | Yes | Yes |
| Eco Sensor | Yes | Yes | Yes |
| Mobile to TV - Mirroring, DLNA | Yes | Yes | Yes |
| Google Assistant | Yes | Yes | Yes |
| Alexa | Yes | Yes | Yes |
| SmartThings App Support | Yes | | |
| SmartThings | Yes | | |
| Far-Field Voice Interaction | Yes | | |
| TV Plus | Yes | | |
| Web Browser | Yes | | |
| Gallery | Yes | | |
| EPG | Yes | | |
| FreeSync | Yes FreeSync Premium Pro | | |
| Filmmaker Mode | Yes | | |
| IP Control | Yes | | |
| BT HID Support | Yes | | |
| MBR Support | Yes | | |
| IPv6 Support | Yes | | |
| Tap View | Yes | | |
| Auto Game Mode (ALLM) | Yes | | |
| Wireless Dex | Yes | | |
| Cloud Service | Office 365 | | |
| Multi View | Yes | | |
| Game Motion Plus | Yes | | |
| Dynamic Black EQ | Yes | | |
| Super Ultra Wide Game View | Yes | | |
| Game bar | Yes | | |
| Expert Calibration | Yes | | |
| Auto Channel Search | Yes | Yes | Yes |
| InstaPort S (HDMI Quick Switch) | Yes | Yes | Yes |
| Channel Guide | Yes | Yes | Yes |
| Ambient Mode | Yes | Yes | Yes |
| Auto Power Off | Yes | Yes | Yes |
| AI Technology | ? | ? | Yes |
| Apps Platform | Yes | Smart TV with Bixby Voice, Apps and Full Web Browser | Smart TV with Bixby Voice, Apps and Full Web Browser |
| Auto Motion Plus | Yes | Yes | Yes |
| Embedded POP | Yes | Yes | Yes |
| Anynet+ (HDMI-CEC) | Yes | Yes | Yes |
| V-Chip | Yes | Yes | Yes |
| TV to Mobile - Mirroring | Yes | Yes | Yes |
| USB HID Support | Yes | Yes | Yes |
| AI Upscale | Yes | Yes | Yes |
| Easy Pairing | No | No | No |
| Inputs & Outputs | | | |
| HDMI | 4 (3 ver.2.0, 1 ver 2.1) | 4 (3 ver.2.0, 1 ver 2.1) | 4 ver. 2.0 |
| USB | 2 (2.0) | 2 | 2 |
| Ethernet | Yes | Yes | Yes |
| RF In (Terrestrial/Cable | Yes | Yes | Yes |
| RF In (Satellite Input) | Yes Europe, No US | Yes Europe, No US | Yes Europe, No US |
| Digital Audio Out (Optical) | Yes | Yes | Yes |
| Audio Return Channel Support | Yes | Yes | Yes |
| eARC | Yes | Yes | No |
| One Connect | No | No | Yes |
| Samsung OneRemote | Yes | Yes | No |
| System | | | |
| Digital Broadcasting | ATSC/ClearQAM US, DVB Europe | ATSC/ClearQAM US, DVB Europe | ATSC/ClearQAM US, DVB Europe |
| Analog Tuner | Yes | Yes | Yes |
| Accessories | | | |
| Remote control | TM2180E | TM2050C | TM1950C |