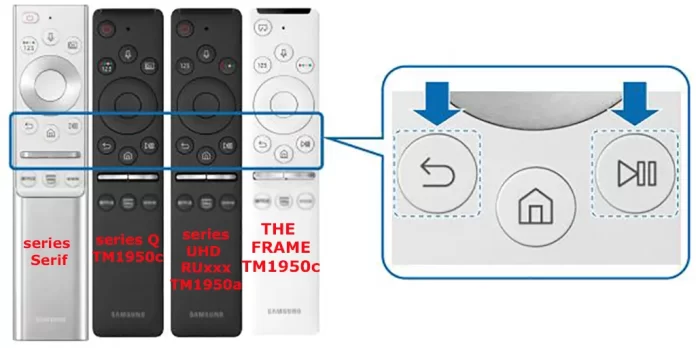 If you have a TV with an R in its model number, it will work with TM1950 remotes. There is a wide variety of remote controls in terms of material and design. You can also find replacement remotes that may have completely different technical parameters.
Although the remotes perform essentially the same functions, there may be a different letter at the end of the model number, depending on the country. This is mainly due to the different video streaming services programmed into the shortcut buttons, which are the bottom buttons on the remote.
For example, the TM1950 has quick access to Netflix Prime Video and HULU in the US, and Netflix, Amazon, and Rakuten TV in UK.
TM1950 remote control – here's what you need to know
To find out the remote control model that came with your TV, check its specifications. If you are looking for a remote control, you will find the remote control numbers BN59-01312A.
TM1950A (TM1950C) is the commercial name of the remote control
BN59-01312A is the part number of the remote control, which is how it is sold.
When buying a TV, you should carefully read whether the remote control works with the TV; TM1950 remotes support work with Samsung Q**R, Q**R, LS***R, and RU*** TVs, but you should still find out the compatibility of the remote control with TV models.
2019 TV remote control models
TM1950c – for TVs on quantum dots (black remote)
TM1950c – for The Frame Series TVs (white remote)
TM1950a – For UHD TVs (black remote)
Series The Serif
Choosing a remote control for 2019 TVs
Let's see what remotes can be found on sale and what TVs they work with
| | |
| --- | --- |
| | BN59-01312A Smart TV Voice Replacement Remote Applicable for Samsung QN82Q70RAFXZA QN82Q70R QN49LS03RAFXZA QN49LS03R QN75Q70RAFXZA QN75Q70R QN55Q60RAFXZA QN55Q60R QN65Q70RAFXZA QN65Q70R QN55Q70RAFXZA |
| | OEM Samsung BN59-01312A OneRemote for 2019 QLED 8K & 4K TV Models. |
| | BN59-01312A RMCSPR1BP1 Voice Remote for Samsung 4K Smart TV QN43Q60RAF QN43Q60RAFXZA QN49Q60RAF QN49Q60RAFXZA QN55Q60RAF QN55Q60RAFXZA QN65Q60RAFXZA QN75Q60RAFXZA QN82Q60RAFXZA QN43Q6DRAF QN49Q6DRAF |
| | BN59-01312G Replace Smart Voice TV Remote Control fit for Samsung 2019 Premium Smart 4K UHD TV Q50R QLED RU8000 RU800D RU740D UN49RU8000FXZA UN55RU8000FXZA UN65RU8000FXZA UN75RU8000FXZA |
| | New Replaced Voice Remote fit for Samsung Smart TV Q90 Q90R QLED TV QN55Q90RA QN55Q90 QN65Q90RA QN65Q90 QN65Q90RAFXZA QN75Q90RA QN75Q90 QN75Q90RAFXZA QN82Q90RA QN82Q90 QN82Q90RAFXZA QN65Q90RAFXZC |
Samsung Smart Remote control (QLED and SERIF TVs) TM1950c vs TM1950A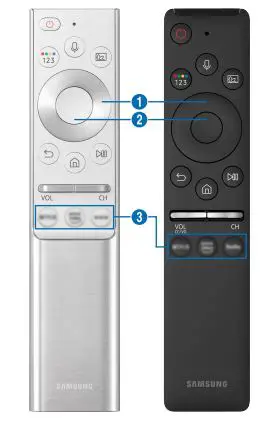 Samsung Smart Remote (UHD TV) TM1950A

TM1950c remote control for QLED TVs and The Serif series. TM1950A remote control for budget TVs. The difference is the two Color / Number buttons in TM1950C are combined into one, in TM1950A they are two different buttons. The 1950C also has an Ambient Mode button. But in general these two remotes are quite similar and can replace each other.
Samsung Smart Remote (THE FRAME) TM1950a

Remote control for The Frame series TVs is the same as for UHD series TVs (white)
Samsung Smart remote Infrared

You may see a remote control on sale that looks like a Smart, but the description says Infrared. These universal remotes only use infrared signals to control the TV; they look like Samart remotes but are not. Some remotes have support for voice control, these remotes have a Bluetooth connection, but only the audio stream is transmitted; no other control signals are transmitted via Bluetooth. Such a remote is not the original and does not perform the functions that the original remote was designed to perform. Such remotes are sold a lot; they are cheap to produce; if a universal remote control can be bought for $7-8, then for such a remote control, ask from $10 to $20, profit more.