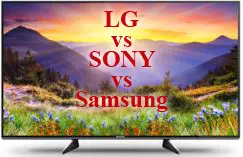 Televisions with a screen size of 49-50 inches, for the North American market is not much. This is due to the fact that most people buy a TV with a large screen. LG represents the largest number of TV models, but in fact, there are only two models of TVs UK6300 and UK6500.
The most attractive offer from Sony XBR-49X900F, firstly it is a TV of the 9 series, and also it has a matrix with support for 10 bit color depth, in other models 8 bit matrix, thanks to the FRC declared a pseudo 10 bit depth of color shades. Declared support for 120 frames per second.
Samsung UN49NU8000 differs from other models by the presence of a subwoofer (low-frequency speaker) with a power of 20 watts.
LG models 6300 do not have a function of local dimming of the screen.
On the possibilities and quality of the image, TVs can be divided by rating.
Sony XBR-49X900F
Samsung UN49NU8000
LG UK6500
Samsung UN50NU7100
LG  UK6300
Depending on the capabilities of the TV, the price of the TV is also significantly different.
TV 49'-50' comparison LG, Samsung, Sony, Panasonic (US, Canada)
| Brand | Model | Year | Panel Type | Screen size | Series | Motion Rate | Refresh Rate | Bit screen | screen resolution | Smart platform | speakers | Processor | Curved | voice command | Dimming | tuner | Ports |
| --- | --- | --- | --- | --- | --- | --- | --- | --- | --- | --- | --- | --- | --- | --- | --- | --- | --- |
| Samsung | UN50NU7100 | 2018 | VA | 50 | 7 | 120 | 60 | 10 bit (8bit+FRC) | UHD | Tizen(4.0) | 2x10W | Quad-core | No | no | yes | ATSC;ClearQAM | 3xHDMI(2.0);2xUSB(2.0) |
| Samsung | UN49NU8000 | 2018 | VA | 49 | 8 | 120 | 60 | 10 bit (8bit+FRC) | UHD | Tizen(4.0) | 2x10W+1x20W(woofer) | Quad-core | No | yes | yes | ATSC;ClearQAM | 4xHDMI(2.0);2xUSB(2.0) |
| LG | 50UK6500AUA | 2018 | VA | 50 | 6 | 120 | 60 | 10 bits (8bits+FRC) | UHD | webOS 4.0 | 2x10W | Quad-core | No | yes | yes | ATSC;ClearQAM | 4xHDMI 2.0;2xUSB 2.0 |
| LG | 49UK6300PUE | 2018 | IPS RGBW | 49 | 6 | 120 | 60 | 10 bits (8bits+FRC) | UHD | webOS 4.0 | 2x10W | Quad-core | No | yes | no | ATSC;ClearQAM | 3xHDMI 2.0;2xUSB 2.0 |
| LG | 49UK6300BUB | 2018 | IPS RGBW | 49 | 6 | 120 | 60 | 10 bits (8bits+FRC) | UHD | webOS 4.0 | 2x10W | Quad-core | No | yes | no | ATSC;ClearQAM | 3xHDMI 2.0;2xUSB 2.0 |
| LG | 50UK6300PUE | 2018 | VA | 49 | 6 | 120 | 60 | 10 bits (8bits+FRC) | UHD | webOS 4.0 | 2x10W | Quad-core | No | yes | no | ATSC;ClearQAM | 3xHDMI 2.0;2xUSB 2.0 |
| LG | 50UK6300BUB | 2018 | VA | 50 | 6 | 120 | 60 | 10 bits (8bits+FRC) | UHD | webOS 4.0 | 2x10W | Quad-core | No | yes | no | ATSC;ClearQAM | 3xHDMI 2.0;2xUSB 2.0 |
| Sony | XBR-49X900F | 2018 | VA | 49 | 9 | 240 | 120 | 10bit | UHD | Android | 2x10W | Quad-core | No | yes | yes | ATSC;ClearQAM | 4xHDMI(2.0);2xUSB(2.0); 1xUSB(3.0) |