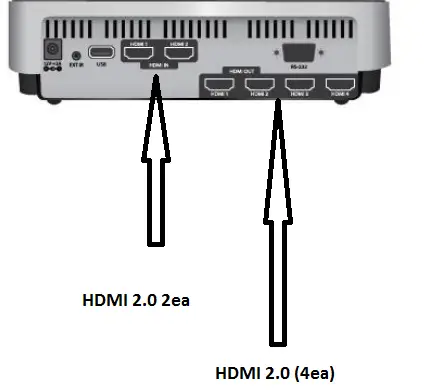 Port designation ea, what is it, 1ea, 2ea, 3ea, 4ea value
Technical specifications for electronic devices such as televisions, monitors, you can find the notation of how many ports (ea) it is shortened pcs. As a rule, it applies to ports that are placed side by side.
Which means 1ea, 2ea

1ea means the device has one port.
Which means 2ea – This designation refers to ports that are placed, for example, on the side of a TV set or at the back of a TV set.
What does 2ea mean?
You can specify the number of ports on the side of the HDMI 2.0 2ea and on the back of the HDMI 2.0 2ea. This means there are 2 HDMI ports on the side of your TV and 2 HDMI ports on the back.
In addition, this symbol is used if the ports are grouped together.
Which means 4ea.
Which means 4ea – This means that 4 ports (usually USB, HDMI and other ports that can be installed more than one in the device) are nearby. This designation is an accepted reduction in the number of ports and their location. To avoid recording, the device has 4 HDMI ports and the ports are located nearby. The abbreviation HDMI 4ea is used.
USB 1ea vs 2ea vs 3ea vs 4ea ports
A similar indication of the number of connectors can be applied to other types of ports. The manufacturer can specify, for example, the number of USB ports: 2ea at the side and 3ea at the back.
Or it can stand for USB 4ea. This means that there are 4 USB ports nearby.
This designation applies to the ports on the devices if there are more than one. Usually these are USB and HDMI ports.