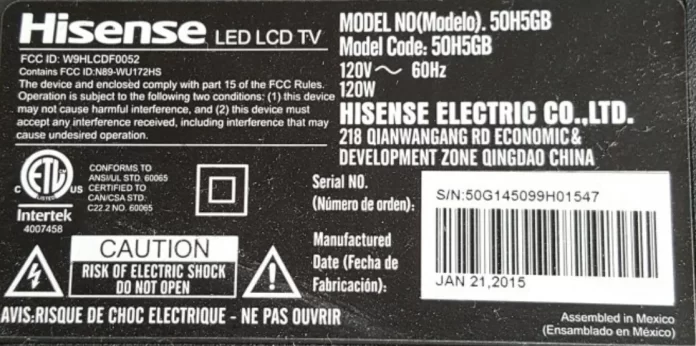 Who makes Hisense TVs: Hisense TVs are manufactured by the Hisense Group, a large corporation that makes both TVs and electronics and home appliances. According to Wikipedia, Hisense has 14 industrial parks. According to Chinese sources, as of 2022, Hisense has 20 subsidiaries in China, according to Hisense, they have 17 industrial parks in the world and 16 R&D centers as of 2022, of course, it is best to believe the official Hisense website. Given current development and merger opportunities, this is quite possible. These factories assemble a variety of electronics and home appliances.
If we analyze the various websites of Hisense, the models of TVs produced by Hisense differ from region to region. And this shows that Hisense, we hope, is still in the process of maturing, there is no unified approach to TV production. Regional divisions of the company independently create TVs in their region, or the second option, the development of TV models for a particular region. As a result in Australia we have some TV models, in the U.S. they are quite different, and in Europe we have our own models.
Brands owned by Hisense
Since Hisense not only makes TVs but also other home appliances, there are quite a few brands owned by Hisense. Hisense owns or licenses the following brands
Hisense: it is the main brand of Hisense Group in the field of electrical appliances.
Rongsheng: home appliances for China
Kelon: Kelon Air Conditioning is one of the pioneers in research, development, production and popularization of inverter air conditioners in China.
ASKO: founded in 1918, is a global luxury home appliance brand. ASKO includes a series of kitchen appliances, refrigerators, detergents and care products, offering consumers a better lifestyle.
Gorenje: Founded in Europe in 1950, was acquired by Hisense in 2018.
HITACHI: Qingdao Hisense Hitachi Air Conditioning System Co., Ltd. was founded on January 8, 2003. It was jointly invested by Hisense Group and Johnson Controls Hitachi Air Conditioning in Qingdao.
TOSHIBA (Toshiba TVs): Toshiba was founded in 1875 and was acquired by Hisense in 2017.
York: York. brands multi-section air conditioners.
SANDEN: Sanden Holding Co., Ltd. was founded in 1943. Its main business is the manufacture and sale of automotive compressors, automotive air conditioning systems and other automotive equipment. Hisense Group completed the transaction with Sanden Holdings on May 31, 2021.
Vidda: youth fashion brand Hisense aims to create creative fashionable and cool products using advanced technological knowledge.
Juhaohao: Hisense Group, a home Internet company, was founded in July 2016 and aims to provide the best stage services for families across the country.
Saiwei: founded in 2002 and headquartered in Qingdao, the company focuses on electronic products, information technology and data applications, intelligent transportation and other areas, and aims to become a first-class service provider in the country.
Briefly about Hisense
Hisense began as an OEM manufacturer, custom TV sets were assembled under third-party brands, in early 2000 Hisense began to assemble TV sets under its own brand. Then Hisense began to acquire various companies, first in China and then in other continents. The most significant acquisitions were Sharp's TV business in North America, including a factory in Mexico. Later, after disputes and lawsuits by Sharp (Sharp claimed that the televisions it produced were of poor quality, and this affected the overall attitude toward the Sharp brand), an agreement was reached to cease production of Hisense televisions with the Sharp brand beginning in 2019. Also of note was the purchase of Toshiba's visual solutions division. But the fate of the Toshiba brand is still unknown, as Toshiba had previously licensed the TV brand to other manufacturers such as Compal in North America and Vestel in Europe. According to Toshiba, TVs will be produced by these companies until the license expires, it is also possible to revise the license terms, it can be understood that if an agreement is reached with Hisense, the licensing terms may be renegotiated. But it is likely that when buying Toshiba, Hisense needs it to get advanced technology, these nuances will be negotiated. But they will not be widely advertised, so as not to scare the buyer, the buyer does not need to know that Toshiba TVs are not made by Toshiba, but by some Vestel and Hisense.
Where Hisense TVs are made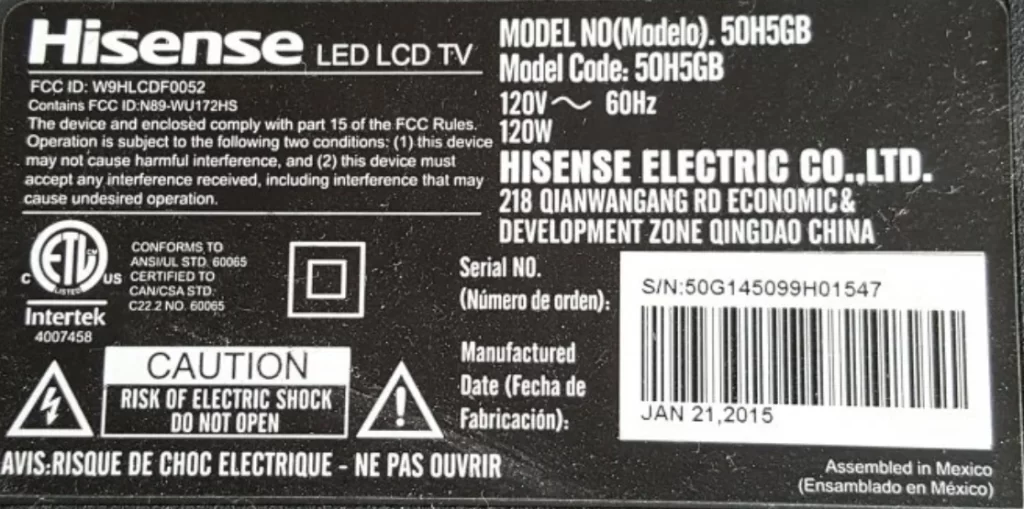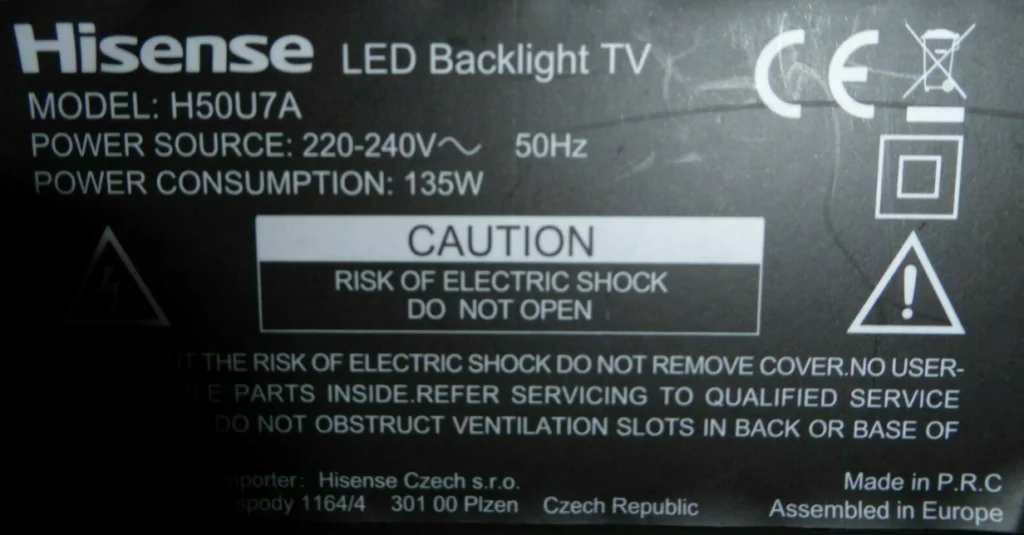 The TVs are made from components manufactured in China at Hisense factories, with some components also purchased from other Chinese manufacturers. The televisions themselves are assembled in Hisense-owned assembly plants around the world. This is done to minimize taxes on imports of finished TVs. Hisense assembles its televisions at the following plants.
For the United States, Canada and Mexico, TVs are assembled in Mexico at the former Toshiba plant.
Europe – TVs are assembled in the Czech Republic, previously TVs were assembled in Hungary, but due to low demand the production site in Hungary was closed.
China – China is a major manufacturer of TVs, China has two assembly plants that can produce about 16 million TVs per year. From the Chinese factories, televisions are shipped to many countries.
Who makes components for Hisense TVs
The components for the TVs are both manufactured by Hisense itself and purchased from other Chinese manufacturers. Screens are also purchased from third-party manufacturers, but Hisense does not say who the screen supplier is. Although there are only a few major screen manufacturers Samsung (which will stop producing standard LED screens from 2021), LG, BOE, AUO, Sharp. But if you believe the Chinese sites, the main supplier of screens for Hisense TVs, is the Taiwanese company Chi Mei Corporation (InnoLux Corporation) and AUO (AU Optronics).
But depending on the country for which the TV and the specific batch of TVs, the same TV model may have screens from different manufacturers. This sometimes causes complaints from users about the quality of the screens.
The quality of Hisense TVs
In recent years, especially after the acquisition of the Toshiba division, the quality of TVs has improved. But I, for example, am very confused by the lack of a uniform policy of assigning TV model numbers. In each country, TVs are offered with completely different model numbers. In my opinion, the reason may be that the televisions come with different accessories. Also, I don't like the published advertising by Hisense, in the form of ULED screens that are superior to OLED, it just can't be.