Choosing a remote control for your Samsung TV is quite difficult. Samsung practically does not support its remote controls, it is impossible to find a description of the remote controls on the official website, the operation of the remote control is described only in the documentation for the TV. On sale there are a huge number of different remotes in most cases, these are analogues of the original remotes to Samsung TVs.
Types of Samsung Remote Controls
One remote and standard remote
The remote controls of Samsung TVs are divided into two types: standard or Smart (One Remote).
How Samsung Remote Controls Work
Standard remote control – it controls the TV using infrared radiation. Such remotes are less convenient to use. But they are suitable for any TV regardless of the year of manufacture of the TV. The standard remote control allows you to enter the TV's engineering menu to control settings at the operating system level and test the TV.
One Remote, Smart remote control – this remote control interacts with the TV using both infrared radiation and via Bluetooth. Bluetooth is used to control the TV using voice commands and search the Internet. Smart remote control is more convenient to use, it can receive voice commands and then transmit them to the TV. There are no standard control buttons in such a remote control; a set of commands is used to control the TV. Manufacturers can change the remote control and TV interaction protocols. Therefore, when choosing a remote control, you need to know which TV it will work with. Also, for TVs of the 6.7.8 series with ordinary screens, One Remote controls without a microphone can be supplied, since the TVs do not support voice control.
Analogs of Samsung TV Remote Controls
The figure above shows the appearance of the original Samsung TV remote controls. But there are many remotes on the market that Samsung does not produce, nevertheless they are compatible with TVs. But pay attention if the remote control costs about $ 20 or less, it most likely does not have bluetooth and works only in the infrared range. Such remotes do not need to be configured, pair with the TV, they will fit any TV. Such a remote control can be identified by the lack of a microphone button.
Samsung Remote Control Model Numbers
Two designations of the Samsung TV remote control model number are used
Commercial designation of the Samsung TV remote control – this designation has the form TM1950A, TM1950B, TM1950C, as the remotes are presented on the Samsung website in the description for the TVs.
The model number, it can be found on the remote control, the model number has the form BN59-01266A. With this designation, remote controls are sold in stores.
Samsung one remote Samsung standard remote compatibility list
In recent years, 4 the appearance of the remote control for Samsung TVs has not changed. Minor changes can be made, for example, separate buttons can be added to call the most commonly used applications. As planned by Samsung, all the remote controls manufactured since 2017 are universal and can control the basic functions of TVs regardless of the year of manufacture.
Compatibility table of the remote and Samsung TV model numbers
| model remote | Item model number | | Type | year TV model | Price $ Amazon | Compatible LG TV models |
| --- | --- | --- | --- | --- | --- | --- |
| TM1950C | BN59-01312A | | smart | 2019 | | QxxR, LSxxR |
| TM1950A | | | smart | 2019 | | RUxxxx, |
| TM1850A (B, C) | BN59-01259B | | smart | 2018 | 29 | NSxxxx, NUxxxx, series QxxNx, series LSxxNx, |
| TM1750A (B,C) | BN59-01266A | | smart | 2017 | 49 | MSxxxx, MUxxxx, Qxxxx, |
| TM1680A (B, C) | BN59-01241A | | smart | 2016 | 48 | KSxxxx, KUxxxx, |
| TM1560A (B, C) | BN59-01220E | | smart | 2015 | 90 | JSxxxx, JUxxxx, Jxxxx |
| TM1490 | BN59-01184b | | smart | 2014 | 80 | HSxxxx, HUxxxx, Hxxxx |
| TM1390 | AA59-00764A | | smart | 2013 | 165 | Fxxxx, FSxxxx |
| TM1240A | BN59-01180A | | standart | 2012-2019 | 18 | All TV |
| TM1250A | BN59-01178B | | standart | 2012-2019 | 49 | All TV |
| TM1260С | AA83-00655A | | standart | 2014-2019 | 29 | All TV |
Samsung TM1240a remote control
TM1240A – The standard remote control is suitable for any Samsung TV. From the beginning, TVs without an Internet connection were equipped with such a remote control. But then such a remote control became standard in addition to the Smart TV type remote control. Controlling a TV using infrared radiation. Key features: switching programs, adjusting sound, managing TV settings through the menu.

Remote control for TV series M, N, R, T 2017-2020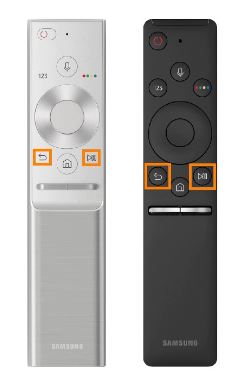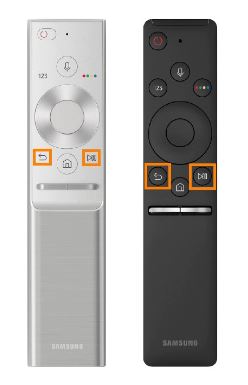 Remote Control for Samsung K Series 2016 TVs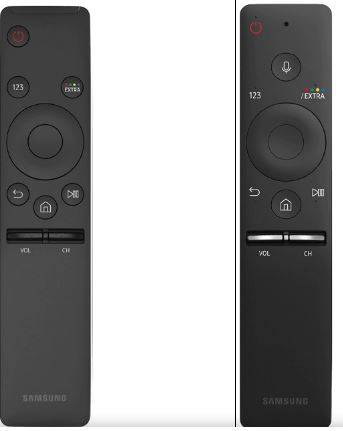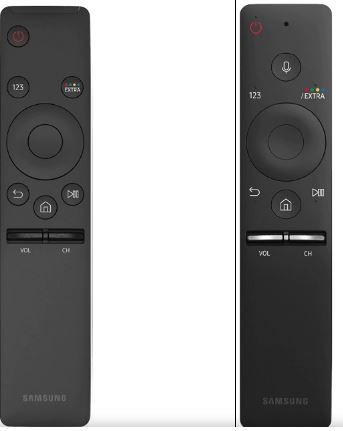 Remote control for TV series J 2015
Remote control TM1580A (TM1560A, ТМ1560B)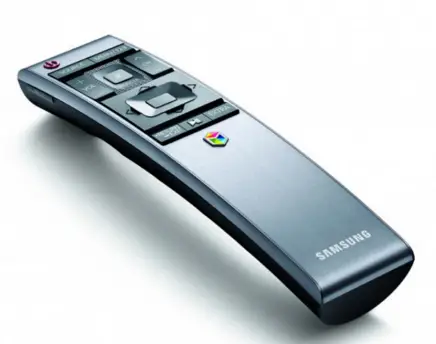 This remote control of a series of Smart Touch Control, it makes it easier to control your TV especially when connected to the Internet and select the active elements of the site. The peculiarity is that the control is on the bluetooth (Wireless connection). For proper operation of Moodle you need to create a couple of TV (similar to how the two are connected by phone bluetooth).
It works with TVs in 2015 (J) UE60JS7200U. To work with a TV in it to be the receiver. such TVs Smart Touch Control comes bundled or declared as an option.
TM1560A first version control for TVs in 2015. In appearance there is no difference, the functional differences are not observed.
Remote index B variety for other countries such as the US.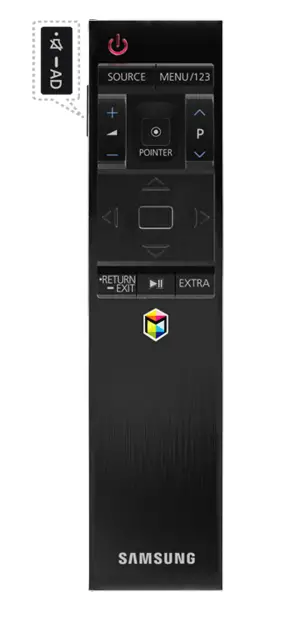 Remote control for TV series H 2014
Remote control TM1490A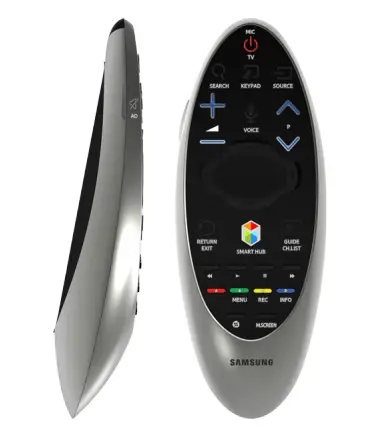 Smart Touch Control Model 2014 comes to TVs developed in 2014, the TV series (H). UE65HU8500T.
Remote control for TV series F 2013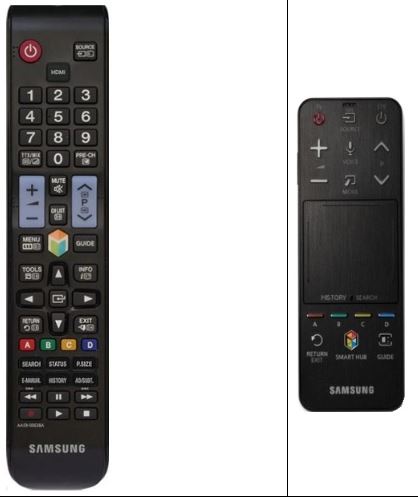 Universal, standard Samsung TV remote controls 2012-2019
Remote control TM1260C
A variation of the standard console comes with a TV for some countries such as the United States.
Remote control TM1250A

Standard remote control panel works on infrared radiation and has full functionality but is inconvenient when typing, and networking. It comes with TVs with Smart TV.
Remote TM1240A comes with TVs that do not have Smart TV, the console has fewer buttons on it were removed buttons helps to work on the network.