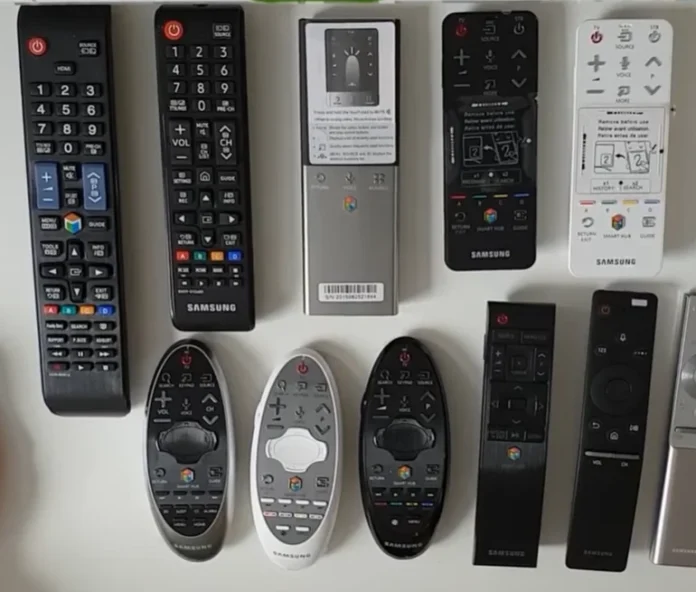 If you need a remote control for your Samsung TV you can use the official spare parts website (remote controls). You should also know that there are two names for the remote control. For example, TM2180E is a marketing name and there is a part number that is BN59-01357A. Samsung recommends looking for a new remote control using the part number.
Types of Samsung Remote Controls
  One remote and universal remote
Samsung TV remote controls are divided into two types: standard or Smart (One Remote).
How Samsung remote controls work – smart and universal
Standard remote control – controls the TV using infrared radiation. It supports all TV controls except voice control. These remotes are less convenient to use. But their advantage is that you can buy any remote and it will work with your TV as long as it is manufactured in 2012-2021.
Also, the standard remote allows you to enter the hidden menu of the TV to control the settings at the operating system level. This option is for service technicians.
One Remote, Smart remote control – This remote control communicates with the TV using infrared and Bluetooth. Bluetooth is used to control the TV with voice commands and to search for information on the Internet. The Smart Remote Control is more user-friendly, it can receive voice commands and then transmit them to the TV. For Series 6,7,8 TVs with regular screens, the Smart remote control comes without a microphone because these TVs do not support voice control.
Samsung replacement remote controls for TVs
There are many remotes available as replacements for the original remote control. These remotes are made by third-party companies, these remotes may not support all the functionality of the original remote. If your remote control costs about 20 dollars or less, it most likely does not have Bluetooth and only works in the infrared range. The cost of the original Smart remote control is about $50-60.
Samsung Remote Control Model Numbers
As I said before, there are two types of Samsung TV remote control model numbers
Commercial model number of the remote control TV Samsung – this designation is for Smart remotes TM1950A, TM1950B, TM1950C, standard remotes M1240A or Universal so remote control Samsung called on the official Samsung website in the description of the TV.
The model number or part number can be found on the remote control, this model number looks like BN59-01266A. Remotes are sold with these model numbers in stores.
Samsung Smart Remote, Samsung One remote compatibility list
The appearance of the remote control for Samsung TVs has not changed in recent years. Minor changes are possible, for example, separate buttons can be added to call the most frequently used applications. In 2021, a solar cell was built into the remote control to recharge the batteries of the remote control.
Compatible remotes from different years – all remotes from 2017 onwards are interchangeable and can control basic TV functions regardless of the year of manufacture. Before 2016 remotes are not interchangeable, you need to look for a specific remote control model compatible with your TV. Infrared beams are used to turn the TV on or off, then the smart remote control works using bluetooth.
Samsung TV remote compatibility list 2012-2021
model remote
Item model number
Type
year TV model
Price $ Amazon
Compatible LG TV models
TM2180E
BN59-01357A
Smart (Solar) One Remote
2021
80-100
QLED: QN9**A, QN8**A, QN7**A , QN9*A, QN8*A, Q8*A, Q7*A, Q6*A Life Style: LS**A
TM2180*
BN59-01274A, BN59-01266A, BN59-01292A
Smart One remote
2021
50-60
AU8***, AU9***
TM2095A
Smart One remote
2020
50-60
The Terrace: LST*T
TM2050*
BN59-01330A BN59-01329A, BN59-01266A
Smart One remote
2020
50-60
Q8**T, Q9**T, LSR9, LS**T, Q7*T, Q8*T, Q9*T, TU8***, TU9***
TM1950*
BN59-01312A, BN59-01312G
Smart One remote
2019
50-60
Q***R, Q**R, LS**R, RU****
TM1850A (B, C)
BN59-01259B
Smart One remote
2018
29
NSxxxx, NUxxxx, series QxxNx, series LSxxNx,
TM1850
BN59-01300A
Smart One remote
2018
100
Q9FN
TM1750A (B,C)
BN59-01266A
Smart
2017
49
MS****, MU****, Q****,
TM1680A (B, C)
BN59-01241A
Smart
2016
48
KS****, KU****,
TM1560A (B, C)
BN59-01220E
Smart
2015
90
JS****, JU****, J****
TM1490*
BN59-01184b, BN59-01185F, BN59-01181A
Smart
2014
80
HS****, HU****, H****
TM1390
AA59-00764A,
AA59-00758B
Smart
2013
165
F****, FS****, S9
TM1240A
BN59-01180A
standart
2012-2021
18
All TV
TM1250A
BN59-01178B
standart
2012-2021
49
All TV
TM1260С
AA83-00655A
standart
2014-2021
49
All TV
...
Samsung TM1240a remote control
TM1240A – The standard remote control is suitable for any Samsung TV. TVs without an Internet connection were equipped with such a remote control. But then it became a standard remote control in addition to the Smart TV remote control. The TV is controlled by infrared radiation. Main functions: switching programs, adjusting sound, controlling TV settings through the menu.

Samsung Smart Remote control for TV series A TM2180E, TM2180A
The 2021 premium TVs come with an advanced smart remote, called the solar sell. This One Remote has solar cells on the back of the remote and uses these cells to recharge the batteries in the remote. It reminded me of Japanese calculators 1980-1990 years, they also had solar cells, the idea is not new but saves batteries, which is relevant nowadays. The standard AU series TVs are equipped with the usual Smart remote control. Remote control works with TVs
QLED: QN9**A, QN8**A, QN7**A, QN9*A, QN8*A, Q8*A, Q7*A, Q6*A;
Life Style: LS**A;
Crystal series: AU
Samsung Smart Remote control for TV series M, N, R, T 2017-2020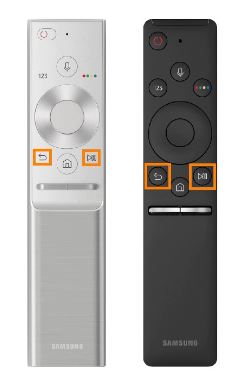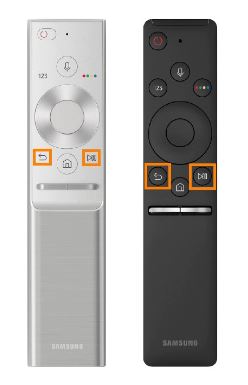 The appearance of the Samsung One remote 2017-2020. The remotes are very similar in appearance, also the original 2017-2020 remotes are interchangeable. But if you bought a replacement this rule may not work. So I still recommend checking if the remote is compatible with your TV before buying. You can see the compatibility with TV models in the table.
Remote Control for Samsung K Series 2016 TVs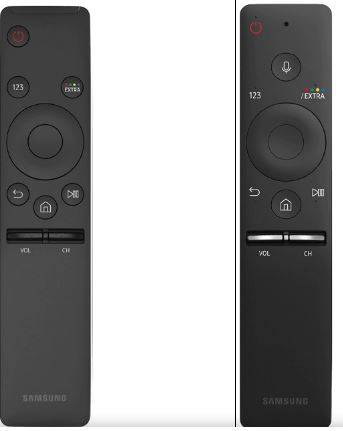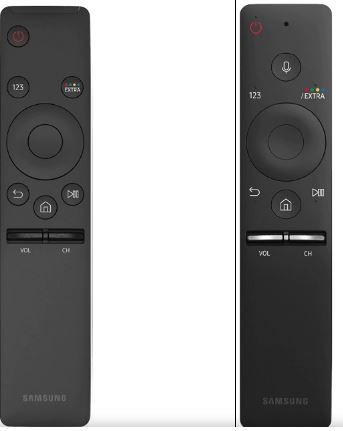 Remote control for TV series J 2015
Remote control TM1580A (TM1560A, ТМ1560B)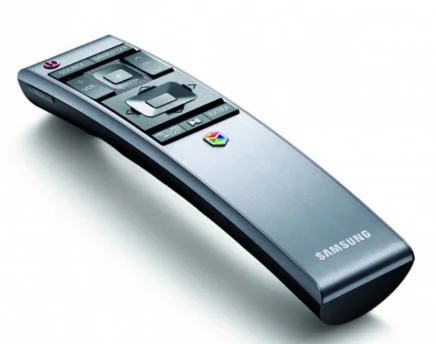 This remote control from the Smart Touch Control series for Samsung 2015 J-series TVs, the remote controls the smart TV The feature of the remote control is that it is controlled via bluetooth (wireless connection). The remote needs to be paired with the TV for it to work properly.
The TM15** remote works with the 2015 (J) UE60JS7200U TVs. It must have a bluetooth receiver to work with the TV.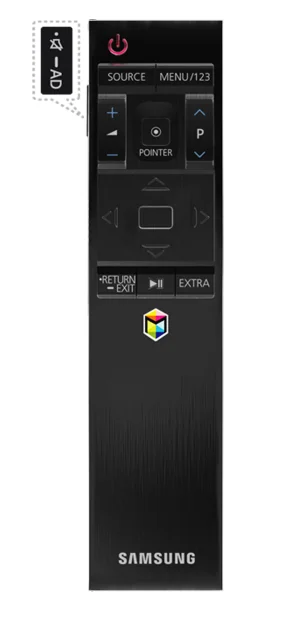 Remote control for TV series H 2014
Remote control TM1490A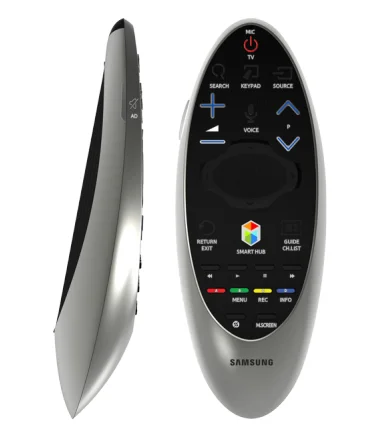 Smart Touch Control Model 2014 fits into the TVs designed in the 2014 TV (H) series. UE65HU8500T.
Remote control for TV series F 2013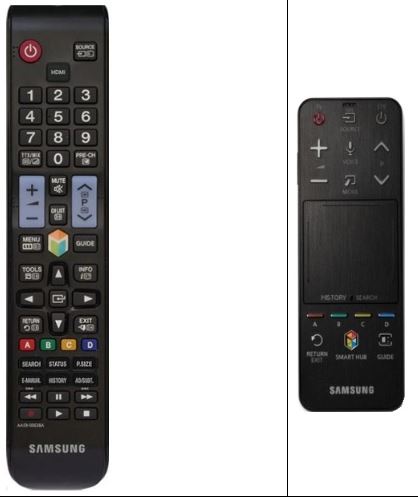 Universal remote control Samsung TV 2012-2021
Remote control TM1260C
A variation of the standard console comes with a TV for some countries such as the United States.
Remote control TM1250A


The standard TM1250, TM1260 remote control controls your TV using infrared waves and is fully functional but awkward when typing and surfing the web. These remotes come with TVs equipped with Smart TV
The TM1240A remote comes with TVs that do not have Smart TV, there are no Smart control buttons on the remote. Currently supplied with TVs as an addition to the Smart remote control.