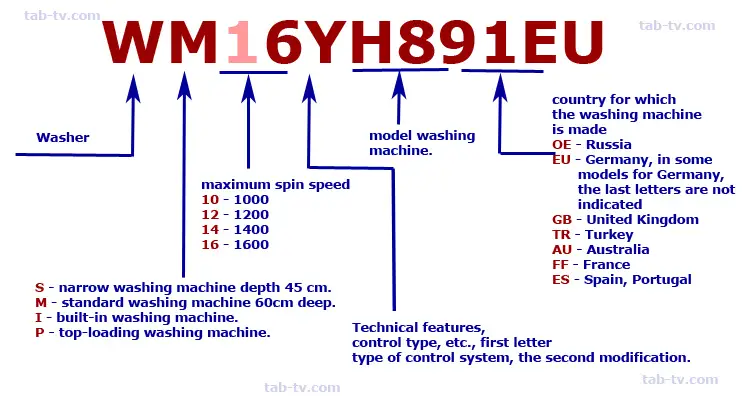 Siemens Washing Machine Models number
The designation of Siemens washing machines is similar to the designation of Bosch washing machines, this is understandable since these two trademarks belong to one concern.
Read also: Serial number of Bosch and Siemens washing machine, how to find and decipher 1980-2019
Models of washing machines are few, but thoughtful design and workmanship have long won confidence in Siemens technology. Depending on the country, the number of washing machines in each series may vary slightly for several models. The following series of washing machines are produced, briefly about the features of washing machines in each series.
avantgarde – a series of washing machines with a new design, a large touch screen.
iQ800 – i-Dos dosing system and iQdrive motor, touchscreen display for controlling the operation of the washing machine.
iQ700 – iSensoric touchscreen display and iDos detergent dispensing system, built-in WI-FI and Home Connect system (smart home).
iQ500 – iQdrive motor
iQ300 – In some models, iQdrive motor, but mostly normal, reduced the maximum speed during the spin cycle.
More details on the labeling of washing machines Siemens. There are several types of Siemens washing machine markings, the differences are probably related to the place of production of a specific type of washing machine. The figure below shows what information the manufacturer laid in the labeling of the washing machine. Also, knowing the label, you can quickly compare the various models of washing machines and understand the main difference between them.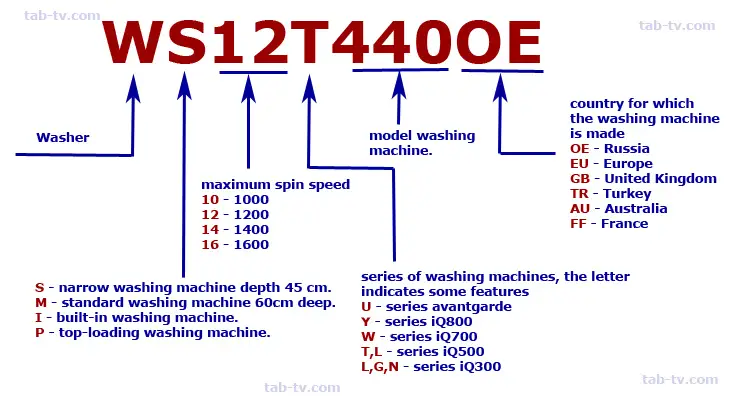 W – washing machine
S – Narrow washer depth of 45 cm.

M – standard washing machine 60 cm deep.
I – built-in washing machine.
P – top-loading washing machine.

12 – maximum spin speed

10 – 1000
12 – 1200
14 – 1400
16 – 1600

T – washing machine series

U – series avantgarde
Y – iQ800
W – iQ700
T, L – iQ500
L, G, N – iQ300

440 – washing machine model
OE – for which country is made, the designation corresponds to the accepted international abbreviation of the country.

OE – Russia
EU – Germany
GB – Great Britain
FF – France
ES – Spain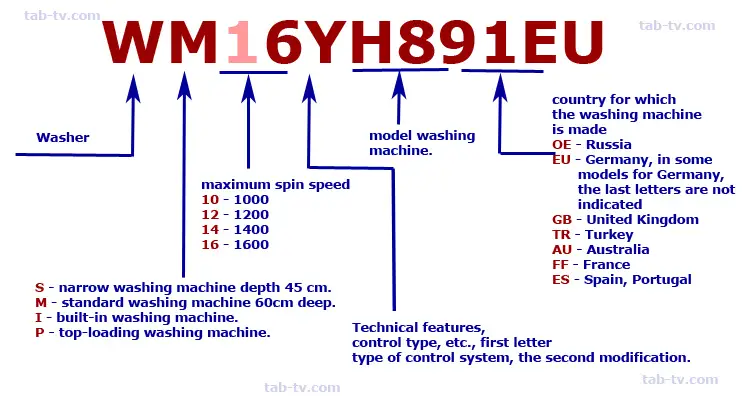 Almost the same model designation of a washing machine, but there are some differences.
The maximum number of revolutions can be denoted by one letter.
The control type in the washing machine is indicated by two letters. First letter control type second modification.
All other designations are the same. For Germany, the model number may not include letters indicating the country for which the washing machine was manufactured.