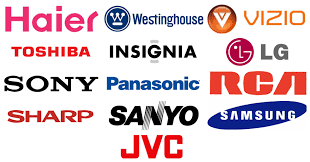 All TV brands who owns
Televisions are made under different brands, many companies have invested in the development of new technologies and have won the well-deserved attention and reverence of users.
But these days, TVs have changed a lot, and many companies just can't compete in the TV segment. And now there are three types of companies:
● Companies that develop new technologies and produce televisions.
● Companies engaged in assembling televisions from various components. They can also produce TVs of famous brands under an outsourcing scheme. Or they lease the right to make TVs under a certain brand (production of TVs under license).
● Companies that do not make televisions, but make components for televisions.
Now, when you buy a TV of a well-known brand, it may well turn out that the company that made the name for their TV has not actually made TVs for a long time, having sold their TV business along with the trademark. Or they sell the license to use the brand to another company.
TV manufacturers in 2020, all brands
Samsung TVs (best TV brands)
Samsung brand TVs – Korean company, a leader in TV production, invests in the development of new technologies, produces and sells televisions under its brand Samsung. In recent years, it has been developing QLED TVs.
LG TV brand (best TV brands)
LG, a company engaged in the development of new technologies and the production of televisions. One of the most significant developments is the release of OLED screens. LG also sells its OLED screens to other manufacturers.
LG – Who owns LG? LG Corporation is publicly traded on the London and Korean stock exchanges. Who owns LG stock? The corporation is made up of several companies. In total, about 30% of the stock is owned by the corporation, and about 50% of the stock is owned by various investment funds and private owners in Korea. About 20% of the shares are owned by foreign investors.
Sony TV brand (best TV brands)
Sony is a Japanese company that produces TVs under its own brand, the screens are mainly purchased from other manufacturers, such as LG. The peculiarity of Sony TVs is the quality software and good processors. Cheap TVs are made by outsourcing to other companies
Panasonic TV brand
Panasonic – Japanese company sells televisions under its own brand, develops new technologies, since 2014 does not sell its televisions in the U.S. Since 2020 and in Canada. In 2016, production of its own TV screens was discontinued. All screens installed in Panasonic TVs, starting in 2017, are manufactured by third-party manufacturers. Part of the TV sets are produced under the outsourcing scheme, the TV sets for the European market are produced by the Chinese concern TPV. TPV also makes Philips TVs. OLED TVs and premium TVs are made in Malaysia at Panasonic factories.
Toshiba TV Brand
Toshiba – Who owns Toshiba. Americas, Toshiba sold its TV business in 2015 to Compal, a Japanese company, (including a plant in Mexico) that makes electronics for various brands. In other regions, Toshiba has also stopped producing TVs since 2015. For Europe, TVs are made by Vestel, a Turkish company commissioned by Toshiba. And at the end of 2017, Toshiba announced the sale of its TV business to the Chinese company Hisense. Now Toshiba TVs are made by Hisense.
Blaupunkt TV brand
Blaupunkt – Originally a German company, it was controlled by the Bosch-Siemens group until 2008. In 2008, it was sold to the investment group Aurelius AG. Since after the sale of Blaupunkt, the Bosch-Siemens group retained the component production plants (only the assembly lines were sold). The new owner began to reduce production costs by moving production to third countries; since 2011 all Blaupunkt products are custom-made in China on third-party assembly lines. Naturally, quality suffered, and many companies that previously bought products to install in their products (e.g., cars) refused to do so. In 2016, the company was declared bankrupt. In 2016, the company went into liquidation. The factories were sold, the staff was laid off.
Since 2016, since the Blaupunkt trademark is owned by the investment company Aurelius AG, the trademark rights are controlled by Aurelius AG's subsidiary, GIP Development SARL, which handles trademark licensing.
As a result, any electronics manufacturer can now license and produce products under the Blaupunkt brand. Blaupunkt televisions are currently manufactured by several companies. The manufacturers differ from country to country.
If we look at the production of televisions. These televisions are mainly made in India and China. Also, some manufacturers assemble TVs in Eastern Europe from Chinese components. TVs of the budget segment themselves have a minimum of features and functionality. They are mostly assembled in China from cheap components.
Element Seiki TV, Westinghouse TV, THTF
Element Seiki, Westinghouse TV, THTF – All of these brands are owned by the same company, namely China Tsinghua Tongfang. To promote their televisions, several brands are registered or purchased for use under license. The televisions are made in China. A number of Element televisions are assembled from off-the-shelf components in the United States. The TVs in the budget segment are mainly aimed at the U.S. market.
JVC TVs brand
JVC – JVC stopped producing TV sets in 2010, the right to produce TV sets under the JVC brand was sold in 2011. The right to manufacture and sell TVs under the JVC brand in the United States, Canada and Mexico was bought by the Taiwanese company AmTran Video, in 2018 the license expired and the right to sell TVs was bought by the Chinese company Shenzhen MTC, it also has a license to sell TVs in China and Korea. In Europe, the license was bought by the Turkish concern Vestel. Since the license holders order TVs from companies that assemble TVs under different brands, the quality of the TVs is highly questionable.
Sharp TV Brand
Sharp is a Japanese corporation operating in various industries, a leader in the production of displays for commercial use. TV production had been unprofitable for several years. In 2015, the television manufacturing business in America, including a plant in Mexico, was sold to China's Hisense, and the license to sell Hisense television sets in the Americas was also sold. Sharp subsequently realized his mistake and is trying to regain control of the North American market by trying to terminate the agreement with Hisense in court, but so far without success. In Europe, Sharp also abandoned the Sharp TV brand for televisions and sold (under license) to the Slovakian UMC (Universal Media Corporation), which failed to actively promote it. Sharp Corporation produced only for Japan, China, Singapore, in these countries the company had a leading position in the TV market.
In 2019, an agreement was reached between Sharp and Hisense. The North American brand has been bought out by Sharp. Sharp plans to resume TV production in 2019 for North America. But as of 2020, no TV production has started in North America.
In Europe, Sharp also decided to regain control of television production. In 2016, the shareholders of the new joint venture SKYTEC UMC Management s. r. o. were UMC (Universal Media Corporation) and Sharp. Sharp has a controlling stake.
Philips TV brand
Philips – In 2010 Philips decided to stop producing TVs, the right to produce and sell Philips TVs was bought by the Chinese company TP Vision, which sells Philips TVs in Europe, Russia, the Middle East, Brazil, Argentina, Uruguay, Paraguay and some Asian countries. In the U.S., Canada and other countries in the Americas, the Philips brand has been bought by Funai Corporation, which makes and sells televisions under that brand name. The quality of Philips TVs varies greatly depending on the manufacturer, but in general the quality is mediocre.
Funai TV brand
Funai – The corporation owns not only this brand, but also Magnavox, Philips (America), SANYO, Kodak (printers). It produces inexpensive televisions for the North American market under various brands.
Polaroid TV brand
Polaroid – Polaroid went bankrupt in 2011, in Europe Polaroid TVs are produced by the Turkish concern Vestel. In the U.S., the brand belongs to PLR IP Holdings, a valid licensee of Empire Electronics.
Hisense TV Brand
Hisense – who owns Hisense. Chinese electronics manufacturer, produces about 50% of televisions under its own brand, also acquired licenses to produce televisions under other brands, in the Americas produced and sold televisions under the Sharp brand until 2019, in other regions since 2018 produces televisions under the Toshiba brand. Hisense also owns the trademarks under which Hitachi, Lucent, Matsushita, NEC, Sanyo, Toshiba and Qualcomm manufacture and sell their products.
Hitachi TV Brand
In 2010-2012, the management of the corporation decided to review its TV manufacturing policy. It was decided to sell all the TV assembly plants; the last TV assembly plant in Japan was sold at the end of 2012. The corporation decided to outsource TV production. Hitachi sells televisions but does not manufacture them. Hitachi branded televisions are made to order. For Europe, televisions are assembled by Vestel, a Turkish concern. For the U.S., Canada, TVs are made by Hisense, China.
Vizio TV brand
Vizio – An American company sells televisions under the Vizio brand name, it does not make televisions because it does not have manufacturing facilities, it only sells and services its products. The televisions are made in China and Mexico, by third party manufacturers.
SunbriteTV brand of TVs
SunbriteTV – The brand is owned by SnapAV, which acquired SunbriteTV in 2015 and went on to produce TVs that are positioned as outdoor equipment, the company invests in developing TVs to protect them from external influences, and components for the TVs are purchased from various manufacturers.
Supersonic TV brand
Supersonic – the brand belongs to Supersonic Inc., the company specializes in the production of various electronics, including televisions, mainly in the assembly of components.
RCA TV Brand
RCA – RCA was bought out by Technicolor and the rights to sell televisions under license were transferred to Curtis International, televisions are ordered from third-party manufacturers under the RCA brand name.
Thomson TV brand
Thomson – Thomson was bought by Technicolor, and in the future the right to produce Thomson-branded televisions is licensed to TCL, a Chinese concern that sells its televisions in Europe under the Thomson brand.
Telefunken TV brand
Telefunken is a German company producing various electronics, the TVs under the Telefunken brand are produced by the Turkish concern Profilio-Telra. The televisions do not occupy the expensive segment, since cheap components are used in the assembly process.
TVs brand TCL
A Chinese company producing various electronics. It is in the top three in terms of the number of televisions produced, with about 28 million televisions produced in 2018. Television sets are mainly assembled in China, but some of them are assembled in other countries from components produced by TCL.
TCL produces LCD panels for its TVs independently at its factories in China, the first factory was built in 2009, the second in 2016. The range includes LCD and QLED displays, and there are also plans to start producing OLED screens.
The main number of TVs produced are cheap models of TVs with Full HD and 4K resolution. The low price is achieved by using cheap materials and components in the TVs. For example, the screens even have 4K resolution, but with a maximum frequency of 60 frames per second.