LG noise reduction explained
LG TVs have announced the technology of four-step noise reduction (Quad Step Noise Reduction). And LG explains these 4 steps as follows.
1 stage of noise reduction – reduction of spatial noise.
2 noise reduction level – temporary noise reduction
3 noise reduction level – image contour reduction
4 noise reduction stage – final reduction of the image contour.
Now a little general information, as such, noise does not exist in digital video, it simply does not exist. The concept of noise in the video comes from analog television, which was really subject to external influences and noise was created on the video (noise on the screen). On modern televisions, there is no noise when displaying digital video.
So what kind of noise is LG talking about? Everything is very simple, everyone is used to it if on the screen a bad video means the noise is to blame. Therefore, the notion of noise in the video is more understandable than other names.
What Quad Step Noise Reduction Does
When digitizing a video, the more video is compressed, the more image artifacts may appear on the screen. The most noticeable coding errors, not smooth transitions of color shades, the appearance of a halo around objects in the image.
Quad Step Noise Reduction corrects errors that occurred during video encoding, for better video display.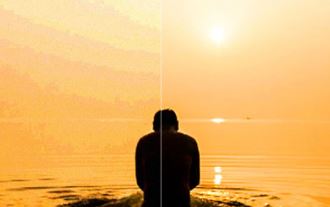 How Quad Step Noise Reduction works on LG TV
In LG TVs with more powerful processors such as A7, A9, these are OLED and NanoCell series televisions. An improved program for correcting typical errors that occur during video encoding has been developed. When displaying a video, the program analyzes possible errors, and if they are found, the image is corrected. Quad Step Noise Reduction can be turned on or off in the TV setup.
Quad Step Noise Reduction is useless when watching high-quality video encoded with modern codecs with high-quality video digitization.