Professional home cinema The Wall
In 2019, Samsung launched the Wall Home Theater System. Although the truth is this video wall. And the price of such a home theater ranges from $ 15,000 to $ 1,000,000.
Why is it so expensive, the thing is that this series of home theater is made using Micro LED technology. Micro LED technology is new and is still the first generation device. The home theater itself is modular. The screen is assembled from modules, which, when connected together, increase the area of the screen. The largest screen can be assembled from 64 modules.
Technical specifications The Wall
The module measures 36.4 inches diagonally or 31.7 inches wide (80.6 centimeters) wide, 17.8 inches (45.3 cm) high, but the screen resolution of this module is 960 X 540 pixels. This is very small by modern standards for screen resolution, such a resolution was relevant 10 years ago. The pixels are very large, the pixel size is 0.84mm, this is a very large pixel. Therefore, no one will make The Wall home theater from one module. Yes, from 4 modules to make a home theater is not advisable. If you make a TV of 4 modules, you get a TV with a screen of 75 inches and a resolution of Full HD, at a price of about $ 60,000. The same Samsung TV with a 75-inch screen and 4K resolution will cost about $ 3000.
The Wall IW008J vs IW008R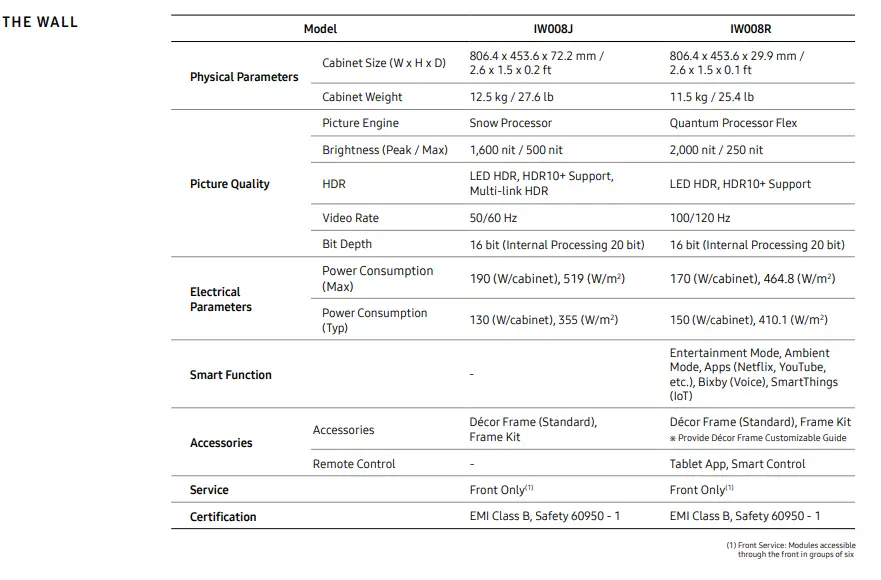 The difference between the 008J and 008R models as a panel, the 008R modification supports a frame rate of 100/120 per second. 008J only 60 frames per second
The Home Theater Dimensions
Samsung offers to assemble The Wall home theaters from the following number of modules.
16 modules (4×4) – there will be a screen with a resolution of 4K, 146 inches, weight 184kg., Power consumption 2.4 kW
36 modules (6×6) – there will be a 6K resolution screen, 219 inches, weight 414 kg., Power consumption 5.4 kW
64 modules (8×8) – there will be a screen with a resolution of 8K 292 inches, weight 756kg., Power consumption 9.6 kW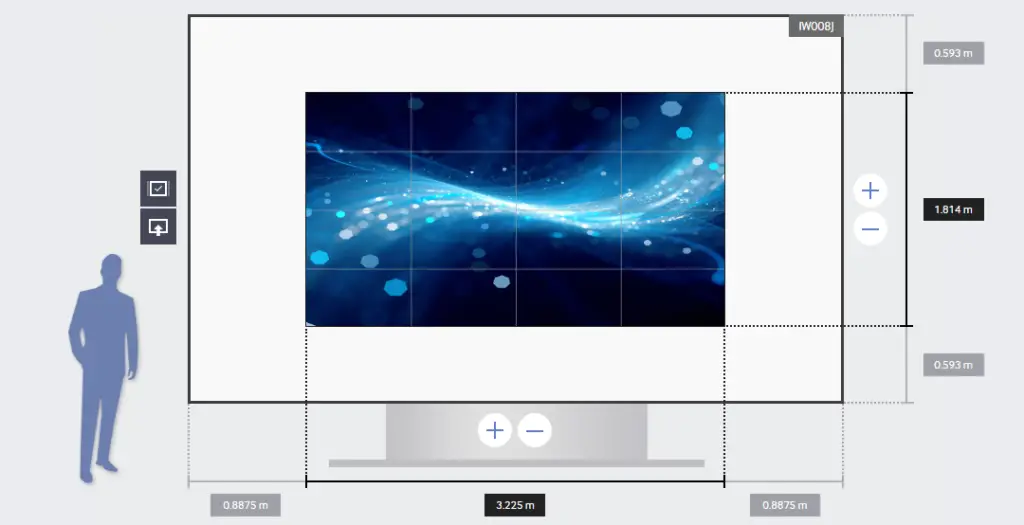 How many color shades does The Wall have, color depth of The Wall
An interesting question, if we turn to the technical specifications on the panel, then Samsung indicates 16 bits, software processing 20 bits. But on a site in the US, the Samsung The Wall commercial displays section indicates the Bit Depth 18 Bit parameter and not a single mention of 20-bit software processing.
For televisions, it is customary to indicate the color depth in bits per channel (color), QLED televisions have a color depth per channel 10 bits. 3 colors blue, red, green. If in terms of the entire image in the QLED TV, the color depth is 30 bits.
And, what we have at The Wall is 16 or 18 bits, there can not be one channel, no display can show such a number of shades. Then, the color depth of 6 bits goes to three channels, it is also unlikely, 6 bits are very small. And what Samsung writes about the color of the image. Almost nothing, no specific information, only general phrases
Great color
True details come from true color shades. The microLED technology developed at Wall delivers inherent color quality, double the color clarity and wider color gamut than conventional LED displays, creating vibrant but natural colors for an impressive visual experience.
But there is no source information with which LED displays the image quality is compared. Compared with conventional LED TVs, they have a color depth of 8 bits per channel. The screen supports 24 bit color depth.
From all the information we can conclude that the color depth in The Wall is less than 10 bits. Most likely about 8 bits. But where does 16 bit come from? If you think about it, then modern processors process information of 32 bits or 64 bits. The Wall GPU of course uses a standard architecture. And since support for HDR is declared, it is necessary to provide video processing with HDR and a color depth of 10 bits. Otherwise, we may assume that the display does not support HDR.
To increase the speed of image processing and reduce the load on the processor, since it still needs to do scaling. It is more advisable to work with a bit rate multiple of 16. But the processor software only takes into account for example 8 bits or 10 bits. The remaining bits may not be counted.
Well, it turns out that The wall can process streaming video with 16 bits of color depth if necessary, only extra bits will be simply deleted. 16 bit is just how deep a color panel can receive streaming video. And the panel itself, visually can show colors on the screen is comparable with standard LED screens, but it can be a little better.
Color Mapping Example from The Wall Brochure

Advantages and disadvantages of Samsung The Wall
Advantages – panel dimensions, but the same Sharp has long been producing video walls using LED technology. The price of one 70 inch panel is about $ 8,000. The use of Micro LED is not yet an advantage. This is more marketing, microLED still needs to be finalized.
Disadvantages – the price, very few are willing to pay, hundreds of thousands of dollars for such a product. Again, compare the 146-inch The Wall video wall; it costs about $ 200,000; 16 modules are needed to create such a wall. . Sharp video wall assembled with four modules sized 70 inches, will have a size of 140 inches costs about $ 35,000