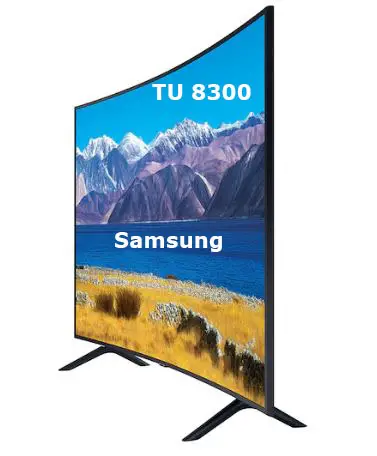 Samsung 55TU8300, 65TU8300
Samsung has announced the release of a new TV model in 2020 TU8300. The televisions will go on sale first in North America, later Europe. It's a curved-screen TV. The TVs will be assembled at the factory in Mexico for the USA, Canada, with the screen sizes of 55 and 65 inches. The small demand for televisions with screens less than 50 inches for North America makes it impractical to produce televisions with small screen sizes.
In Europe, TU8300 series TVs will be produced with 49 inches screen size as last year.
Overview of specifications 55TU8300, 65TU8300
If we talk about the technical characteristics, they are very mediocre, behind the new processor, Crystal Processor 4K, hiding a low-power processor of previous years, many users note in TVs with such a processor, slow applications and a long response to commands. This indicates a weak processor and a small amount of memory. But this is understandable, though the TV has a loud name Crystal UHD, but it's a budget-class TV, just installed in it LED screens with the minimum possible characteristics, the maximum possible frame rate of 60 per second.
The TV features bad black color (really dark gray), white heterogeneity and quite a long pixel response time of about 10 ms in game mode and 80-100 ms in normal operation. TU7000 and TU8000 series are inexpensive lower price range TVs.
New in TU8300 TVs
The new operating system version 2020 has been installed with the addition of Ambient Mode and AirPlay 2 (not for all regions, AirPlay 2 may require a software update). Samsung applies Game Mode, but if it used to be Game Mode, now it's ALLM. The TV can detect the connection to the game console and will switch to Game Mode itself. But that hasn't changed, and Game Mode turns off all the advanced image enhancement settings. The game console's image is played back without further processing by the TV. The game console image is displayed in its original format on the TV.
Summary of TU8300
TV will be suitable for watching in lighted rooms, watching in a dark room because of bad black will be uncomfortable. It is not recommended to use the TV as a monitor, white heterogeneity will also be annoying. Very mediocre TV, although with a curved screen.
Detailed specifications of TU7300.
| | TU8300 (2020) | TU8000 (2020) | RU8000 (2019) | NU8000 (2018) |
| --- | --- | --- | --- | --- |
| Actual price | | | | |
| screen | | | | |
| Screen Size | 55, 65 | 43, 50, 55, 65,75 | 43, 50, 55, 65,75, 82 | 43, 50, 55, 65,75 |
| Style | Curved | Flat Panel | Flat Panel | Flat Panel |
| Resolution | 3,840 x 2,160 | 3,840 x 2,160 | 3,840 x 2,160 | 3,840 x 2,160 |
| screen bit | 10bit (8bits+FRC) | 10bit (8bits+FRC) | 10bit (8bits+FRC) | 10bit (8bits+FRC) |
| type screnn | Crystal UHD | Crystal UHD | premium | premium |
| screen technology | VA | VA | VA | VA |
| Backlighting | Edge-LED | Edge-LED | Ultra Slim Array (Edge) | Edge-lit LED |
| Dimming Technology | | ? | UHD Dimming | Supreme UHD Dimming |
| Stand Type (Color) | Slim Feet (Black) | Slim Feet (Black) | Flat Foot Simple | T-Type Center Low |
| Bezel Width | Slim | Slim | SNB | 3 Bezel-less |
| Video | | | | |
| Motion Rate | 120 | 120 | 240 | 240 |
| refresh rate | 60 | 60 | 120 | 120 |
| Color | PurColor | PurColor | Dynamic Crystal Color | Dynamic Crystal Color |
| HDR (High-Dynamic Range) | HDR | HDR | HDR | HDR Plus |
| Picture Engine | Crystal Processor 4K | Crystal Processor 4K | UHD Engine | UHD Engine |
| Audio | | | | |
| Dolby | Yes | Yes | Yes | Yes |
| Sound Output | 20W | 20W | 20W | 40W |
| Woofer | No | No | No | Yes |
| Speaker Type | 2.0CH | 2.0CH | 2CH | 2.1CH |
| Multiroom Link | Yes | Yes | Yes | Yes |
| Features | | | | |
| OS | Tizen 5.5 | Tizen | Tizen 5.0 | Tizen 4.0 |
| Wi-Fi | Yes | Yes | Yes | Yes |
| Bluetooth | Yes (ver.4.2) | Yes (ver.4.2) | Yes (ver.4.2) | Yes (ver.4.2) |
| Smart Hub | Yes (incl. Universal Guide and TV Plus) | Yes (incl. Universal Guide and TV Plus) | Yes (incl. Sports, Music and TV Plus) | Yes (incl. Sports, Music and TV Plus) |
| Bixby | Yes | Yes | Yes | Yes |
| Digital Clean View | Yes | Yes | Yes | Yes |
| Ultra Black | No | No | No | No |
| ConnectShare | Yes | Yes | Yes | Yes |
| Closed Captioning | Yes | Yes | Yes | Yes |
| Game Mode (ALLM) | Yes | Yes | Yes | Yes |
| Eco Sensor | Yes | Yes | Yes | Yes |
| Mobile to TV - Mirroring, DLNA | Yes | Yes | Yes | Yes |
| Google Assistant | Yes | Yes | Yes | No |
| Alexa | Yes | Yes | Yes | No |
| AirPlay 2 | Yes (Depending on the region, OS update is required) | Yes (Depending on the region, OS update is required) | No | No |
| Auto Channel Search | Yes | Yes | Yes | Yes |
| InstaPort S (HDMI Quick Switch) | Yes | Yes | Yes | Yes |
| Channel Guide | Yes | Yes | Yes | Yes |
| Ambient Mode | Yes | Yes | No | No |
| Auto Power Off | Yes | Yes | Yes | Yes |
| AI Technology | No | No | No | No |
| Apps Platform | Smart TV Powered by TIZEN™ with Bixby Voice, Apps and Full Web Browser | Smart TV Powered by TIZEN™ with Bixby Voice, Apps and Full Web Browser | Smart TV with Bixby Voice, Apps and Full Web Browser | Smart TV with Bixby Voice, Apps and Full Web Browser |
| Auto Motion Plus | Yes | Yes | Yes | Yes |
| Embedded POP | Yes | Yes | Yes | Yes |
| Anynet+ (HDMI-CEC) | Yes | Yes | Yes | Yes |
| V-Chip | Yes | Yes | Yes | Yes |
| TV to Mobile - Mirroring | Yes | Yes | No | Yes |
| USB HID Support | Yes | Yes | Yes | Yes |
| AI Upscale | No | No | No | No |
| Easy Pairing | No | No | No | Yes |
| Inputs & Outputs | | | | |
| HDMI | 3 | 3 | 4 | 4 |
| USB | 2 (ver 2.0) | 2 (ver 2.0) | 2 | 2 |
| Ethernet | Yes | Yes | Yes | Yes |
| RF In (Terrestrial/Cable | Yes | Yes | Yes | Yes |
| RF In (Satellite Input) | No US, Yes Europe | No US, Yes Europe | No US, Yes Europe | No US, Yes Europe |
| Digital Audio Out (Optical) | Yes | Yes | Yes | Yes |
| Audio Return Channel Support | Yes | Yes | Yes | Yes |
| One Connect | No | No | No | No |
| Dimensions | | | | |
| Digital Broadcasting US | ATSC/ClearQAM | ATSC/ClearQAM | ATSC/ClearQAM | ATSC/ClearQAM |
| Digital Broadcasting Europe | DVB T/T2/C/S/S2 | DVB T/T2/C/S/S2 | DVB T/T2/C/S/S2 | DVB T/T2/C/S/S2 |
| Analog Tuner | Yes | Yes | Yes | Yes |
| Accessories | | | | |
| Remote control | Standard Smart Remote (TM2050A) | Standard Smart Remote (TM2050A) | TM1950A | TM1850A |
| Samsung OneRemote | Yes | Yes | | |