Special Dolby MS10/MS11/MS12 sound decoders, a family of decoders developed by Synopsys, are used for sound decoding. Sometimes the MS11 decoder is also called MS110, but this is incorrect and does not correspond to Dolby's technical documentation. You should know what a Dolby MS decoder is, it is an integrated circuit designed specifically for sound processing. It comes as a sound decoder in various devices such as TVs.
Dolby MS10, MS11, MS12 is a decoder that can simultaneously encode and decode, in formats supported by Dolby, multiple audio streams, by using the decoder in a device such as a TV, the manufacturer solves the problem of supporting multiple audio formats at the lowest cost.
Description of MS10, MS11, MS12 decoders
These decoders are single or dual core audio processors and they are specifically designed for TVs, multimedia set-top boxes and other consumer devices.
What are they used for? A regular processor can also decode an audio stream, but it will consume a significant amount of resources, installing a separate specialized processor allows:
Firstly, to reduce the load on the main processor, its resources can be directed to other tasks, for example, to process TV video, instead of sound processing, another processor will process the sound, the audio processor will cope with this task.
Secondly, using an audio processor requires no additional software development and allows compatibility between different Dolby products such as Dolby Digital, Dolby Digital Plus, Dolby Pulse and other products.
The MS 11 processor can have one or two cores. The single-core processor uses the AS211SFX chip, the dual-core AS221BD.
MS10, MS11, MS12 specifications are explained
Decoder Dolby MS10 features
The Dolby MS10 decoder is designed for devices that play sound from a digital stream. This decoder began to be developed in 2007, and in 2009 it was approved and began to be used to decode digital broadcasts in TVs and other devices. The decoder supports the decoding of two audio tracks, which at the time was quite enough.
The Dolby Multistream Decoder handles various types of AAC content to PCM, and simultaneously transcodes this content to Dolby Digital for multichannel bitstream output. AAC formats supported include:

• Dolby Pulse
• aacPlus
• MPEG-2/4 AAC
• MPEG-4 HE AAC
• MPEG-4 HE AAC v.2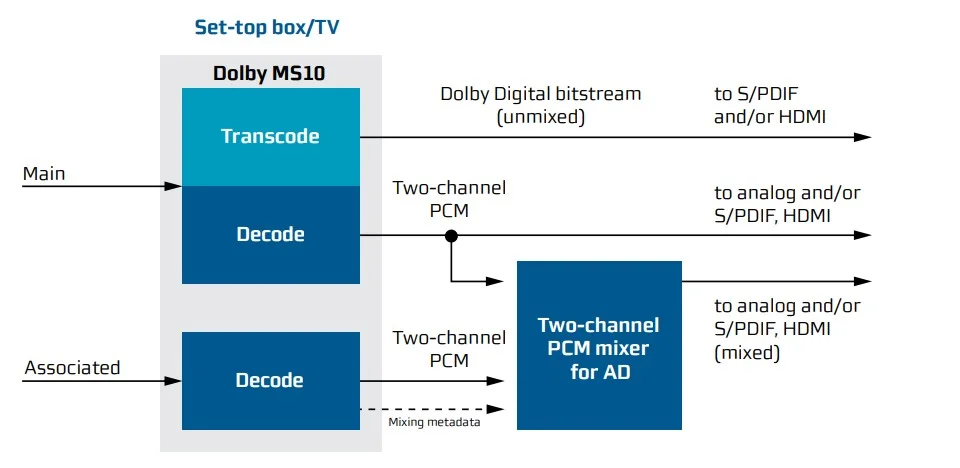 Decoder Dolby MS11 features
In 2010 the MS 11 decoder was developed it can handle two incoming channels of digital audio, can output audio in digital 5.1 format, MS 11 also allows you to adjust the sound level, for example when watching a movie sound at the same level, and in the commercial break sound level is much higher (louder) MS11 allows you to equalize the sound. This is the next generation of decoders for premium audio playback in TVs and other devices.
Supports decoding
Dolby Digital Plus
Dolby Digital
Dolby Pulse (AAC LC, HE AAC, HE AAC v.2)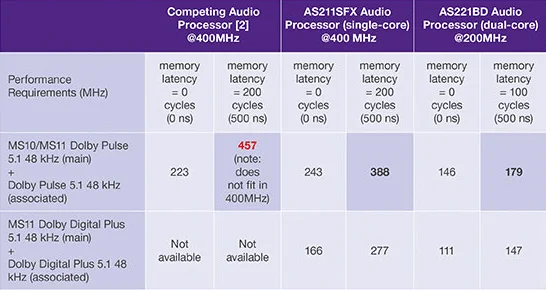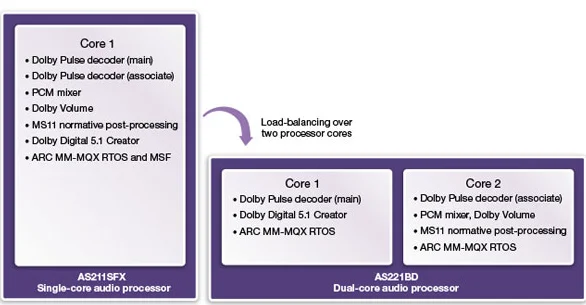 Decoder Dolby MS12 features
Dolby Multistream Decoder MS12 provides manufacturers of TVs, set-top boxes, and IPs with a single-package solution for decoding all premium audio content worldwide, including broadcast, file-based, OTT/VOD services and pay-TV operators. The decoder was developed in 2017 as the next generation of premium decoders.
Supports audio formats according to broadcast formats:
Dolby Digital Plus
Digital
HE AAC
All bitstream AAC and Dolby AC-4.
Supports 7.1- or 5.1-channel Dolby Digital Plus bitstream output via S/PDIF, HDMI or Wi-Fi connection. Provides volume equalization for all audio formats in programs and channels with metadata-based, end-to-end intelligent volume. Dolby MS12 also supports bass enhancement, speaker tuning, virtual surround sound, and voice-activated dialog enhancement. Dolby AC-4 support in Dolby MS12 works on ATSC 3.0 broadcast systems in the United States. Another important Dolby MS12 feature is built-in support for advanced audio options from Netflix.
Decoder Dolby MS12 vs Atmos
You should know that Dolby Atmos is a surround sound support based on audio metadata. Dolby MS12 includes Dolby Digital Plus signal processing with Dolby Atmos extensions. So the expression Dolby MS12 versus Dolby Atmos is not correct. Dolby Atmos is merely an extension to improve the encoding and decoding of sound included in the Dolby Digital Plus audio format.