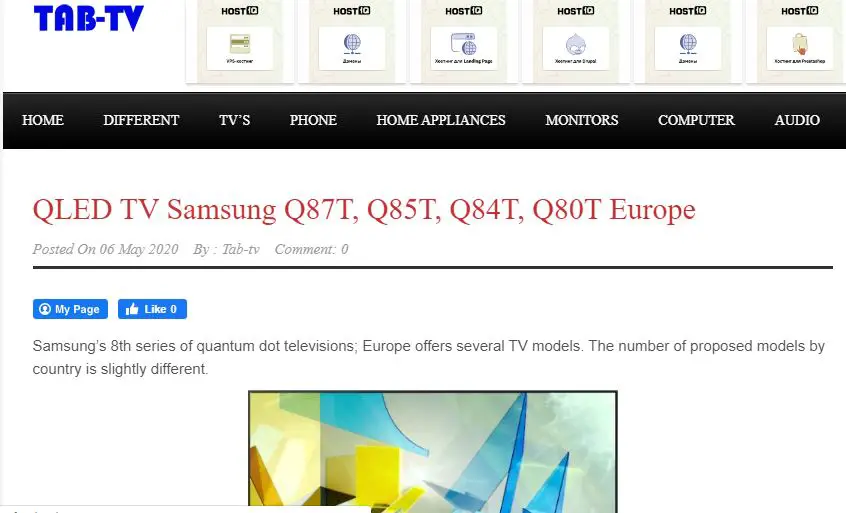 Samsung's 8th series of quantum dot televisions; Europe offers several TV models. The number of proposed models by country is slightly different.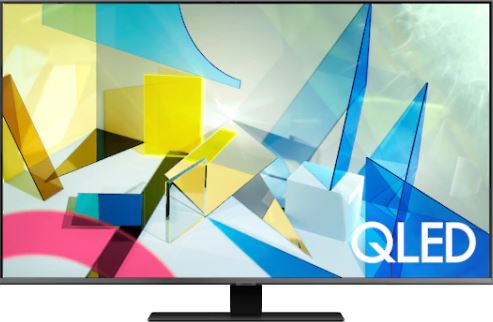 Samsung Q80T, Q85T in Britain
In the United Kingdom, these are TV models QE49Q80TATXXU, QE55Q80TATXXU, QE65Q80TATXXU, QE75Q80TATXXU. A TV model QE55Q85TATXXU, QE65Q85TATXXU, QE75Q85TATXXU, QE85Q85TATXXU is also offered
Samsung Q87T, Q85T, Q84T, Q80T in Germany
For Germany, Samsung offers the TV models GQ49Q87TGTXZG, GQ55Q87TGTXZG, GQ65Q87TGTXZG, GQ75Q87TGTXZG. There are also several Q85T models, these are GQ49Q85TGTXZG, GQ65Q85TGTXZG, GQ75Q85TGTXZG TVs. There is also a TV model GQ49Q84TGTXZG, GQ65Q84TGTXZG, GQ75Q84TGTXZG. The Q80T TV completes the 8th series with the models GQ49Q80TGTXZG, GQ55Q80TGTXZG, GQ65Q80TGTXZG, GQ75Q80TGTXZG. In Germany, 85-inch TVs will not be offered.
Samsung QUHD in other European countries
Other countries offer televisions of similar models. For example, in France so far, only the Q80T model is proposed.
Samsung Q80T, Q87T production Russia
In Russia, TVs are different from TVs made in Europe. There are not two sets of tuners installed as in TVs for Europe, but one set. Also, the number of speakers is reduced at the same power level. The number of speakers is 2.2.2CH. TV models QE49Q87TAUXRU, QE55Q87TAUXRU, QE65Q87TAUXRU, QE75Q87TAUXRU, QE85Q87TAUXRU are offered. And the Q80T, QE49Q80TAUXRU, QE55Q80TAUXRU, QE65Q80TAUXRU, QE75Q80TAUXRU, QE85Q80TAUXRU series.
Differences between TV models Q87T, Q85T, Q84T, Q80T
Models of Q87T, Q85T, Q84T TVs are identical in technical specifications. They differ only in design, for example, the stand for installing the Q87T TV is black, while the model Q85T is silver.
There are technical differences between the Q80T models and other models. There are differences between the Q80T and others in the following. Q80T screens are installed that do not have anti-reflective coating. In other models of the 8 series, the screens are anti-reflective. The sound, although the power of the speakers is the same, but the Q80T model has 6 2.2.2CH speakers. Other models 8 speakers 4.2.2CH.
The main features of QLED TV Samsung Q87T, Q85T, Q84T, Q80T
If very briefly, then these are TVs with screens with a color depth of 8 bits, to increase the number of shades and reach the level of 1 billion shades, FRC technology is used. Maximum TVs can show 100-120 frames per second. There are 2 sets of tuners, but this is only on TVs made for Europe. Televisions that are manufactured at the factory in Russia have only one set of tuners. In 2020, Samsung paid attention to the improvement of sound, applied new technologies for tracking sound and adjusting sound for the premises.
Detailed technical specifications of Q87T, Q85T, Q84T, Q80T TVs
The table shows the detailed specifications of the QLED 8 Series TVs.
Technical specifications of Samsung Q80T vs Q84T vs Q85T vs Q87T TVs
| | Q87T (2020) | Q85T (2020) | Q84T (2020) | Q80T (2020) |
| --- | --- | --- | --- | --- |
| | | | | |
| screen | | | | |
| Screen Size | 49, 55, 65, 75, 85 | 49, 55, 65, 75 | 49, 65, 76 | 49, 55, 65, 75, 85 |
| Style | Flat Panel | Flat Panel | Flat Panel | Flat Panel |
| Resolution | 3,840 x 2,160 | 3,840 x 2,160 | 3,840 x 2,160 | 3,840 x 2,160 |
| screen bit | 8bit+FRC | 8bit+FRC | 8bit+FRC | 8bit+FRC |
| type screnn | Quantum Dot | Quantum Dot | Quantum Dot | Quantum Dot |
| screen technology | VA | VA | VA | VA |
| Anti-glare coating | Yes | Yes | Yes | No |
| Backlighting | Direct Full Array 16X | Direct Full Array 16X | Direct Full Array 16X | Direct Full Array 16X |
| Dimming Technology | Supreme UHD Dimming | Supreme UHD Dimming | Supreme UHD Dimming | Supreme UHD Dimming |
| Bezel Width | Slim | Slim | Slim | Slim |
| Video | | | | |
| Motion Rate | 200/240 | 200/240 | 200/240 | 200/240 |
| refresh rate | 100/120 | 100/120 | 100/120 | 100/120 |
| PQI | 3900 | 3900 | 3900 | 3800 |
| Color | 100% Color Volume with Quantum Dot | 100% Color Volume with Quantum Dot | 100% Color Volume with Quantum Dot | 100% Color Volume with Quantum Dot |
| HDR (High-Dynamic Range) | Quantum HDR 12x/HDR 1500 | Quantum HDR 12x/HDR 1500 | Quantum HDR 12x/HDR 1500 | Quantum HDR 12x/HDR 1500 |
| Picture Engine | Quantum Processor 4K | Quantum Processor 4K | Quantum Processor 4K | Quantum Processor 4K |
| Audio | | | | |
| Dolby | Yes | Yes | Yes | Yes |
| Sound Output | 60W | 60W | 60W | 60W |
| Woofer | Yes | Yes | Yes | Yes |
| Speaker Type | 4.2.2 CH | 4.2.2 CH | 4.2.2 CH | 2.2.2 CH |
| Object Tracking Sound | Yes | Yes | Yes | Yes |
| Q-Symphony | Yes | Yes | Yes | Yes |
| Multiroom Link | Yes | Yes | Yes | Yes |
| Adaptive Voice Amplifier | Yes | Yes | Yes | Yes |
| Features | | | | |
| OS | Tizen 5.5 | Tizen 5.5 | Tizen 5.5 | Tizen 5.5 |
| Wi-Fi | Yes | Yes | Yes | Yes |
| Bluetooth | Yes ver 4.2 | Yes ver 4.2 | Yes ver 4.2 | Yes ver 4.2 |
| Smart Hub | Yes (incl. Sports, Music and TV Plus) | Yes (incl. Sports, Music and TV Plus) | Yes (incl. Sports, Music and TV Plus) | Yes (incl. Sports, Music and TV Plus) |
| Bixby | Yes | Yes | Yes | Yes |
| Digital Clean View | Yes | Yes | Yes | Yes |
| Ultra Black | No | No | No | No |
| ConnectShare | Yes | Yes | Yes | Yes |
| Closed Captioning | Yes | Yes | Yes | Yes |
| Game Mode | Yes | Yes | Yes | Yes |
| Eco Sensor | Yes | Yes | Yes | Yes |
| Mobile to TV - Mirroring, DLNA | Yes | Yes | Yes | Yes |
| Google Assistant | Yes | Yes | Yes | Yes |
| Alexa | Yes | Yes | Yes | Yes |
| Auto Channel Search | Yes | Yes | Yes | Yes |
| Channel Guide | Yes | Yes | Yes | Yes |
| Ambient Mode | Yes | Yes | Yes | Yes |
| Auto Power Off | Yes | Yes | Yes | Yes |
| AI Technology | ? | ? | ? | ? |
| Apps Platform | Smart TV with Bixby Voice, Apps and Full Web Browser | Smart TV with Bixby Voice, Apps and Full Web Browser | Smart TV with Bixby Voice, Apps and Full Web Browser | Smart TV with Bixby Voice, Apps and Full Web Browser |
| Auto Motion Plus | Yes | Yes | Yes | Yes |
| Embedded POP | Yes | Yes | Yes | Yes |
| Anynet+ (HDMI-CEC) | Yes | Yes | Yes | Yes |
| TV to Mobile - Mirroring | Yes | Yes | Yes | Yes |
| USB HID Support | Yes | Yes | Yes | Yes |
| AI Upscale | Yes | Yes | Yes | Yes |
| HDMI Quick Switch | Yes | Yes | Yes | Yes |
| Inputs & Outputs | | | | |
| HDMI | 4 (3 ver.2.0, 1 ver 2.1) | 4 (3 ver.2.0, 1 ver 2.1) | 4 (3 ver.2.0, 1 ver 2.1) | 4 (3 ver.2.0, 1 ver 2.1) |
| USB | 2 | 2 | 2 | 2 |
| Ethernet | Yes | Yes | Yes | Yes |
| RF In (Terrestrial/Cable | Yes | Yes | Yes | Yes |
| RF In (Satellite Input) | Yes Europe | Yes Europe | Yes Europe | Yes Europe |
| Digital Audio Out (Optical) | Yes | Yes | Yes | Yes |
| Audio Return Channel Support | Yes | Yes | Yes | Yes |
| eARC | Yes | Yes | Yes | Yes |
| Free Sync | Yes | Yes | Yes | Yes |
| VRR | Yes | Yes | Yes | Yes |
| One Connect | No | No | No | No |
| Samsung OneRemote | Yes | Yes | Yes | Yes |
| System | | | | |
| Digital Broadcasting | 2x DVB-T2CS2 | 2x DVB-T2CS2 | 2x DVB-T2CS2 | 2x DVB-T2CS2 |
| Analog Tuner | Yes | Yes | Yes | Yes |
| Accessories | | | | |
| Remote control | TM2050C | TM2050C | TM2050C | TM2050C |