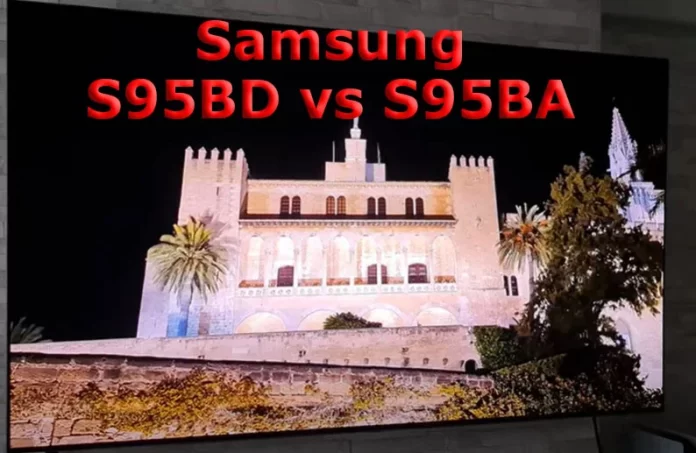 If you choose a TV in the US, you may see that Samsung has introduced two OLED TV models.
Samsung 55-inch OLED: QN55S95BAFXZA and QN55S95BDFXZA.
Samsung 65-inch OLED: QN65S95BAFXZA and QN65S95BDFXZA.
You won't find an explanation of how these TVs differ on Samsung's website, but you might notice that the S95BAFXZA is more widely represented, and the S95BDFXXZA is much smaller. But I will tell you what the differences are between these TV models.
Samsung S95bd vs Samsung S95b, Samsung S95b in Costco
You should know that the S95BDFXZA and S95BAFXZA TVs are the same in their specifications.
The difference is that the S95BDFXXZA televisions are custom-made for the Costco store. And they are meant to be sold through that retailer. In turn, Costco can also sell TVs through its dealer network.
Why Samsung produces small series of TVs
It's elementary: large chain stores order direct shipments of televisions, such as 50,000 units. Since Samsung knows these televisions will be guaranteed to be sold, the companies negotiate how to make the deal profitable for both parties. The logistics costs of a bulk order are reduced. Samsung is guaranteed to sell this batch of TVs. After all, it's profitable for Samsung. Costco should also benefit from the deal, which needs to attract a customer and make buying a TV from their network more preferable than other sellers. But let's talk about Samsung 2022 OLED TVs.
Samsung S95BDFXZA TVs are heavily discounted, so the company can sell them cheaper on its network. But that's probably not welcome because other big TV sellers are out there, so they've come up with other ways to make buying a TV at Costco's network more attractive. Because of this, at Costco, the TV costs the same as other stores but includes a protection plan when buying a TV. It sounds like this; you get $100 off your TV when you buy a $99.99 protection plan. The company can afford the discount and stay in profit.
And why produce a slightly different TV model? This is likely done so that Samsung can track a batch of TVs explicitly made for one seller.
Which TV is better to choose, S95BAFZA or S95BDFZA
Of course, I recommend buying the S95BDFZA TV; you get an extra five-year warranty, which is good. It will help if you read more about the additional warranty terms. But either way, it's good; without spending anything extra, you get a TV with a great warranty. Samsung's standard warranty is one year, and you'll have another four years.