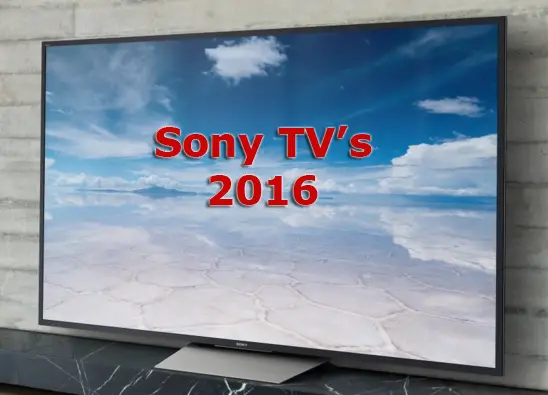 Sony introduced the model 2016, for North America in the model appeared at the end of the letter D, which is the year of model development. In Europe, the labeling has changed, the letter denoting the year of development model, has moved forward in the model designation.
In the second month of 2016 it announced the release of two televisions in the US and three models in Europe
If you look at the table below and the main characteristics of the television can be noted that the models have the same technical parameters, the same processors, operating systems, differences in matrices curved or straight, as well as the screen matrix.
US
X930D / X940D – with screen sizes of 55, 65, 75 inches, the main parameters of this model are as follows.

X850D –  this pattern with a screen size of 55, 65, 75, 85 inches.

Europe
XD9405 / XD9305
XD8505 / XD8577 / XD8599
SD8505
Comparative table of Sony TVs for the US
 

Model US

XBR X930D
XBR X940D
XBR X850D
Size

55, 65

75

55, 65, 75, 85

Resolution

4k

Motion enhancer

960

800

TRILUMINOS DISPLAY

Yes

Smart TV

Yes

LED BACKLIGHT

Edge LED

Direct LED

Edge LED

3D Type

Active

No

Curved

No

AUDIO POWER OUTPUT

7.5W+7.5W+7.5W+7.5W

10W x2

DISPLAY FEATURES SUMMARY

Slim Backlight Drive™

Full Array LED Backlight

 

Processor

4K Processor X1

HDMI

4

Voice Remote Control

RMF-TX200U

USB

3

Camera

No
Comparison table of TVs Sony Europe.
 model Europe

XD930
XD940
XD850
SD8505
Size

55, 65

75

55, 65, 75, 85

55, 65

Resolution

4k

Motion enhancer

960

800

1000

TRILUMINOS DISPLAY

Yes

Smart TV

Yes

LED BACKLIGHT

Edge LED

Direct LED

Edge LED

3D Type

Active

No

Curved

No

Yes

AUDIO POWER OUTPUT

7.5W+7.5W+7.5W+7.5W

10W x2

DISPLAY FEATURES SUMMARY

Slim Backlight Drive™

Full Array LED Backlight

 

 

Processor

4K Processor X1

HDR (HIGH DYNAMIC RANGE)

Yes

HDMI

4

Voice Remote Control

RMF-TX200Е

USB

3

Camera

No