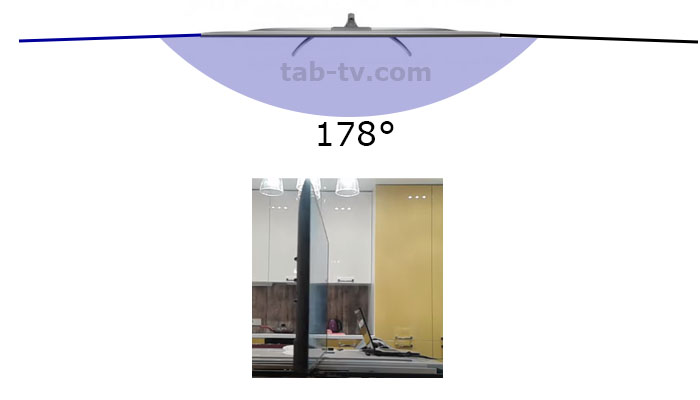 LCD viewing angle explained
I've seen, for example, on Chinese brand TVs, a viewing angle of 178°(H) x 178°(V) (CR≥10), 178 is understandable, it means at what angle you see the image on the screen when you look vertically and horizontally, but what is CR? I'll tell you what it is.
178 degree viewing angle monitor
I'll tell you a little bit about viewing angles in TVs and monitors. In the beginning, when LCD monitors were developed, they had very poor viewing angles. 50-70%. When the technology was improved, manufacturers began to specify higher viewing angles. But you should know that this is just marketing. Viewing angle is not a parameter that indicates picture quality. With a viewing angle of 178% you are looking at the side of the monitor or TV, what you will see on the screen, you will not see anything, you will not see the screen, you will only see the side of the TV. Now the 178 degree parameter is marketing and nothing more.
Display monitor or TV quality parameters
To understand picture quality there is no point in looking at the viewing angle parameter now. The most basic parameters are display frequency, color depth, contrast (just not peak). Picture quality depends on the type of display, all other parameters are secondary.
Types of displays
TN – the cheapest and the worst displays in terms of picture quality.
IPS – high brightness, contrast, budget display
VA – high contrast, slightly worse brightness compared to IPS, when viewing at an angle of over 30% changes the contrast of the image, inexpensive display.
QLED – same IPS and VA displays, but with improved materials, 10-bit color depth. Premium displays
OLED – premium display OLED technology is the pinnacle of display excellence, but there are drawbacks, displays burn out, diminished brightness over time, initially reduced brightness of the display.
What CR – (Contrast Range) stands for
CR (Contrast Range) is the contrast range, the amount of change in contrast of the image on your TV screen. It is used in conjunction with viewing angles and means the following. At a viewing angle of 178 degrees vertically and horizontally, the image contrast will change by no more than 10 times. In more detail, when viewing the TV strictly at the center of the screen, the contrast ratio is conventionally assumed to be 100%. At an angle of 178 degrees, the image contrast will be 10 times less, only 10%.
This parameter is useless at such a large viewing angle you will not see the screen. But it does mean that the greater the angle you look at the TV screen, the worse the contrast will be. This is the standard value for any budget display. Just accept the fact that some manufacturers specify this parameter, you can ignore it.