Dolby as a leader in audio processing, continues to implement new projects, so one of them was the ATMOS Dolby project.
Dolby atmos explained
This is a fairly new sound processing protocol that extends the capabilities of the speakers, allows you to create sound in a particular point in space. More it is called 3D audio.
Consider how it works.
We have already become familiar sound 5.1, 7.1. The 7.1 sound on the speakers served to 8 channels of 7 main front (center, left and right channels), side left and right channel, rear left side and right side, the eighth channel is a subwoofer. Total out the sound transmitted through the 8 channels 7 + 1. This standard has become one of the most common in movie theaters.
Speaker layout for Dolby atmos
Below the picture shows the placement of the speakers in the room when using the sound system 7.1.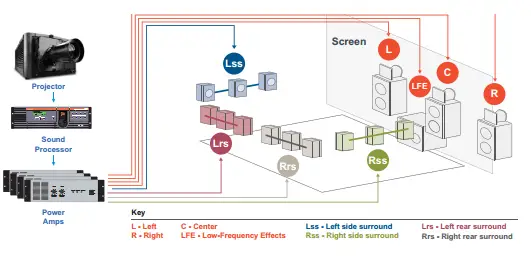 Thinking Dolby offered retaining compatibility with older formats, to develop a new format able to support up to 64 channels of 61 + 3. The ability to play will depend on how many channels of sound made in the studio. This gives you the opportunity to sound emanating from any particular point of the room. It offers some of the speakers placed on the ceiling.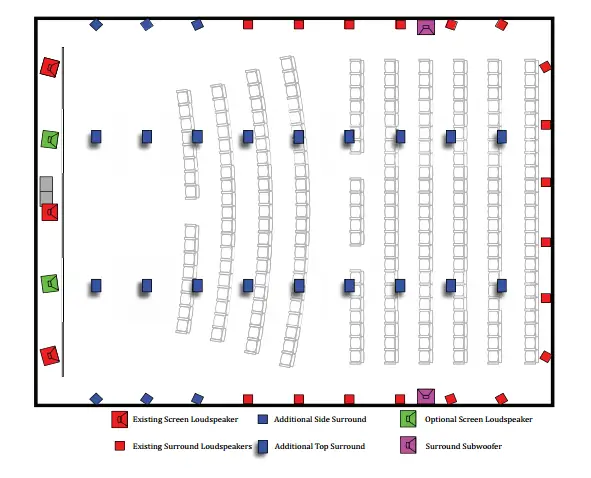 Due to the large number of channels, you can create a group of speakers or even a column which will be transferred to the sound. This will create a sound at a specific point of the room.

This standard is maintained and televisions, this means that the TV set to a sound processor that can process the sound in Dolby ATMOS standard and to transmit it to the home theater speakers. Without external speakers supporting this standard and having in its composition two dozen speakers, this standard is useless to the owner of the TV.
This format will receive the first distribution in the cinemas, but after a very small part of the owners of TV buys acoustics with Dolby ATMOS support if will be released home theaters, as wanting to buy a speaker system will not be much.
Most likely this format will die gradually as 3D video, save only in theaters.