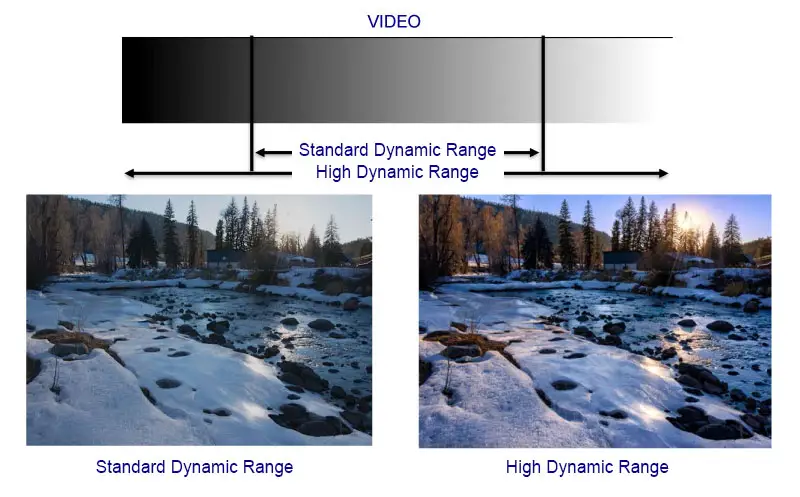 In 2016, the main innovation in support of televisions called HDR (High Dynamic Range), video with the extended range of the depth of color and tone.
What is HDR Video
Devices with HDR Video, will have a special mark indicating support for this technology.
HDR video what is it and how does it work? Let's try to explain, when shooting a video, several consecutive frames are made with different levels of brightness and contrast. Then from these several frames one frame is created. But in addition to the video there are shots taken in different lighting conditions. Video shot on the street day or night or in a dark room. When the TV plays such a video, for comfortable viewing it is desirable to increase the brightness when displaying, for example, a dark frame. For this, HDR is also used in video or video file streams, in addition to the video itself, sound, frame metadata or frame groups are also transmitted. The TV receives this data and changes the settings for specific frames in the video. This is one of the options for HDR.
How HDR works. Video is transmitted in standard formats. A video file can be watched on any TV, but modern TVs support higher levels of color and contrast. And on such TVs you can show a more beautiful video. Here in the video with HDR support, and data is transmitted at increased levels of color tones, brightness and contrast.
The main technical requirements for technology-supported HDR video:
Support for HDR 10 Media Profile in compliance with the recommendations set out by the International Telecommunication Union (Rec. 2020), a color profile SMPTE ST 2084, with a color depth of 10 bits.
REC 2020
REC 2020 specifies the basic requirements for screen resolution, frame rate. Basic requirements: support for UHD (4K) resolution, frame rate 120p, 119.88p, 100p, 60p, 59.94p, 50p, 30p, 29.97p, 25p, 24p, 23.976p.
SMPTE ST 2084
SMPTE ST 2084 –a standard developed by Dolby and approved by the Society of Motion Picture and Television Engineers. It stipulates how it should be processed by the video, which would pass it on to the high dynamic range of the brightness level to 10,000 cd / m2. (coding standards and processing).
The color depth of 10 bits
The color depth of 10 bits – meaning the transfer of colors 210, ie 1024 shades of one color. Given that television is transmitted three color can be transmitted and reproduced (1024 * 1024 * 1024) = 1,073,741,824 colors, more than one billion colors.
Basic requirements for the equipment with support for HDR video
UHD (4K) screen with a color depth of 10 bits, is now a color depth may show only the screens and OLED screens on quantum dots SUHD.
Available ports HDMI 2.0a.
The screen on IPS panel or VA can also show a video if your TV will support HDR video, and support such a video could any TV with 2.0 port for upgrade to 2.0A port do not need to change the hardware, software upgrades carried out. But the viewer does not see the full picture quality, screen simply will not be able to show it.
Where can I get content with support for HDR
C device that allows you to read the video in this format, and this Blu Ray player or computer, in this case, the video transmitted over the HDMI connection.
Get to the Internet, such as a TV and a projector.
Development of HDR, many companies are wondering transfer video to the consumer with great video quality, the existing standards do not allow to increase the dynamic range, and besides, there was no such screens that would show the beauty of the image. One of the first of the matter began to engage Philips, Dolby, Sony and other companies, but walking on the path of development of individual standards is very difficult to implement this technology massively.
HDR video can only be developed with the support of video producers, they must produce a video with the support this format, and consumer electronics manufacturers who are developing a technique able to show this format.
That's why leading companies have created UHDA, an alliance which included video producers and electronics manufacturers.
UHDA members are: The DIRECTV Group, Inc., Dolby Laboratories, Inc., LG Electronics Netflix, Inc., Panasonic Corporation, Samsung Electronics Corporation, Sony Corporation Technicolor, The Walt Disney Studios, Twentieth Century Fox, Universal Pictures Warner Bros., Entertainment Inc., Amazon.com, ARRI, Inc., Dreamworks, DTS, Fraunhofer Gesellschaft, Hisense, HiSilicon Technologies, Intel Corporation, Koninklijke Philips N.V., MStar Semiconductor, Inc., Nanosys Inc., Novatek, NVIDIA, Orange, Realtek Semiconductor Corp., Sharp Corporation, Shenzhen TCL New Technology Co., Ltd., Sky UK Ltd, Toshiba Lifestyle Products & Services Corporation, TP Vision Europe B.V.
Considering that such companies have entered into this alliance we can predict the very fast development of the standard HDR.