TruMotion, the designation used in TVs LG. Measured in hertz, it is a real opportunity to frame rate on a TV screen in a second. The Samsung this technology is called Clear Motion Rate.
For Europe and other countries in which the frequency of 50 Hz electric network can be designated TruMotion 50 Hz, 100 Hz or 200 Hz, and for the countries with the mains frequency of 60 Hz to 60 120 Hz or 240 Hz.
What does that mean in fact, the greater the frequency of image display is better, but if we look we see the following.
Most modern codecs, the same HEVC (4K allows you to encode content) allows you to record video at a maximum frame rate of 60 per second. With greater frequency, you will not find content. So why show a frequency of 200-240 Hz.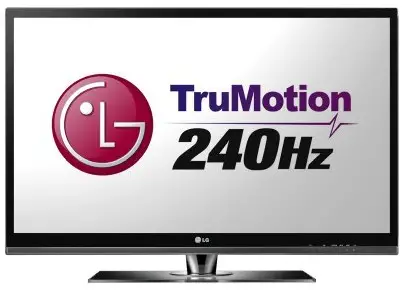 It is certainly possible to display video from a computer games enable you to provide a video with a higher frequency than 60 Hz, but practice shows that the use of TV as the monitor is not always good, because TV does not have a powerful video cards, they delay the video output on the screen, that dynamic games very critical, so-called Input lag.
Increasing the frequency of the output image will slightly smooth moving image by overlapping frames, if the original video has a frequency of 60 frames per second frame is duplicated 3 times more can be achieved in the frequency of 240 frames. Also added televisions able to create intermediate frames of two adjacent but artifacts that occur when creating the intermediate image, and the playback delay time depends on the signal processing (the more dynamic components the longer it is necessary processor for processing), spoil the whole picture.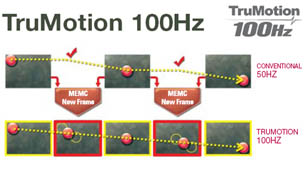 For normal viewing video is better to switch off TruMotion. You can not really tell the difference between the video at 60 frames per second and video with frequent 240 frames per second.
Undoubtedly the TV with the ability to display 240 frames per second used a better matrix than the TV with the ability to display 120 frames per second. It's probably all the differences between the TV with TruMotion 240 Hz and 120 Hz.