Direct Drive, what is it?
Manufacturers of washing machines since the mid 2000s, began to produce washing machines with direct drive. The truth is not new, and previously had washing machines in which the engine and the tank are located on the same shaft but then they were not as advertised. What advantages claimed in washing machines with a direct drive when compared to conventional, barban which rotates through a belt.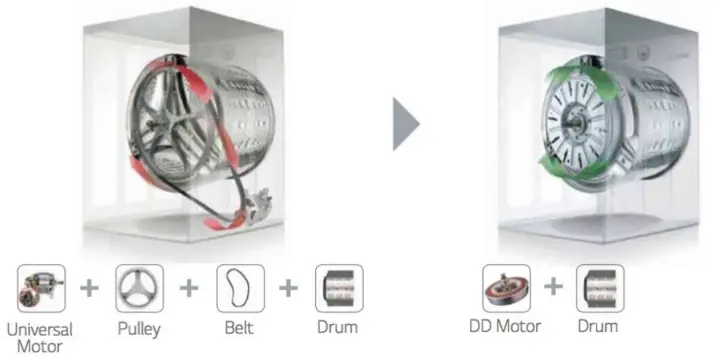 Less noise, noise from the engine is lower because there is no carbon brushes, the motor with the inverter and there is no belt. The main noise is created by spinning the linen and the pump, the advantages of direct drive that have less noise can be seen only in the washing process.
Reduced vibration, vibration occurs during the spin cycle, and there is no longer playing the role of which is on the axis of the engine or on the side. When using a belt, it acts as a shock absorber, a tank, in turn, also has shock, direct drive of a washing machine tank vibrates together with the drum, no less. Vibration damping depends on the quality of shock absorbers in washing machines.
Less wear parts, wear parts are not in direct drive, this belt and coal brush engine in the qualitative manufacture of these details of their service life from 7 to 20 years depending on usage.
More load, load depends on the volume of the tank washing machines with direct drive when the engine is on the same axis with a tank on the contrary remains less space.