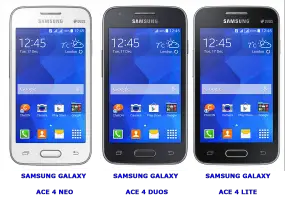 Series Phones Ace 4 have  four versions
1 sim
Duos
Neo
lite
TFT screens have the same 4 "and a resolution of 480×800 pixels. The most necessary and all the usual functions of a web browser, GPS, WI-FI.
The differences between the models of processors and cameras
Асе 4 duos (G313HU) 1 sim Ace 4 (G313H) core processor has two cores on the Cortex A7, with a frequency of 1GHz. 5 megapixel main camera, no front.
Ace 4 Neo (G318H) set as 2 core processor but clocked at 1.2 GHz, 3MP camera.
Ace 4 Lite  (G313HD) The phone has a processor with a single core and 1.2 GHz frequency, 3MP camera, no front.
ACE series phones 4, designed to be used primarily for calls. The speed of the Internet and watching videos is not large.