Two similar remote control Sony TVs with the touchpad, One-Flick Touchpad TV.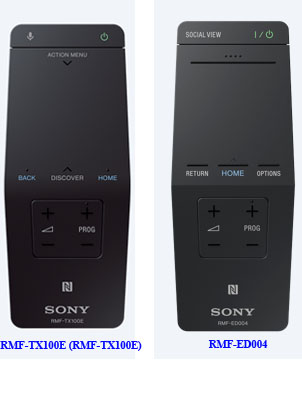 Different remote controls so that they are designed for different TV models with different operating systems.
RMF-ED004 - model remote for TV in 2014 with the end of the letter designations B.
RMF-TX100E (RMF-TX100U) - Remote control for TV models in 2015 with the operating system Android TV. And since Sony is completely updated line of Smart TVs it turns out that these panels for TVs Smart in 2015.
RMF-TX100E- Europa
RMF-TX100U- US
It works with television sets:
X9405C / X9305C

X9005C

S8505C

X8505C / X8507C

X8305C / X8307C

W808C / W855C / W805C / W807C

W755C / W756C