The history of Sharp TVs from 2000-2022
Sharp Corporation in the TV segment suffered a loss in sales of its TV sets in mid-2000. Competition from Korean TV manufacturers LG and Samsung, and then from Chinese companies such as Hisense, intensified. In 2012, Sharp decided to sell its TV business to other companies, and the deal was completed in 2014. As a result, the Sharp brand (televisions only) was sold. Japan was no exception, the factories were sold in 2016 to Foxconn of Taiwan. Also, the Sharp brand for TVs was licensed to other TV manufacturers. You should know that Sharp televisions made by Sharp have not been sold since 2015. Sharp is now an iconic brand that other companies use. Therefore, there are several types of TV models depending on who makes them. I will try to talk about Sharp in this article.
Sharp TV brand in Europe
In Europe, SKYTEC UMC Management s. r. o. has bought the rights to produce TVs under the Sharp brand. r. r. o., including Sharp, and sold its television factory in Poland. At first UMC Management was not able to properly master the production of new TV models. Yes, and Sharp's vision of (Foxconn) its brand changed. In 2016, Sharp decided to regain control of the Sharp brand for televisions. In 2016, Sharp and UMC entered into an agreement. According to this agreement, a controlling stake in UMC was sold to Sharp. Thus, Sharp regained control of the Sharp brand (televisions) in the European region. But since Foxconn owns the controlling stake in Sharp, it was Foxconn represented by Sharp that regained control of the Sharp TV brand for Europe. From 2017 to 2021, the production of Sharp TVs for Europe was handled by SKYTEC UMC Management s. r. o. A separate website was created to promote the Sharp branded consumer products. In 2021, SKYTEC UMC Management s.r.o. was renamed  SHARP Consumer Electronics Management s.r.o., and a single website sharpconsumer.com was created for Europe under the Sharp Be Original brand. The TV components are manufactured in Foxconn factories and the TVs are assembled in Poland.
Brand Sharp TV US
In 2015, the rights to the Sharp TV trademark were sold to the Chinese company Hisense, including a factory in Mexico. Hisense began selling its Sharp televisions in America. In 2016, Sharp initiated a lawsuit against Hisense. In 2016, Sharp (the LCD and TV division was bought by Foxconn) claimed that the Sharp TVs produced by Hisense were of poor quality, damaging the image of the company, the owner of the Sharp trademark. In 2019, Hisense and Sharp reached an agreement to return the Sharp brand (in the U.S.) and manufacturing facilities back to Sharp. Sharp (Foxconn) had planned to resume TV production for America in late 2019. But it never happened, from time to time there are various reports that here, here Sharp will return to the American market, so in 2022 I saw a report of an agreement reached to install Roku OS in Sharp TVs. In any case, you have to understand that right now these are TVs developed by Foxconn as the largest electronics OEM.
Sharp brand TV Asia
Sharp retained the production of TV sets for Asia (Japan, China and some other countries such as the United Arab Emirates). Although the division itself and the factories were bought by the Taiwanese company Foxconn. Sharp televisions are sold under the Sharp AQUOS brand. They differ from TVs made by other companies under license in that they have screens made by Sharp. Because of this, their price is higher than that of other manufacturers. However, Foxcoon is expanding sales of Sharp TVs in Asia and China.
Sharp TV serial number lookup, Sharp TV model number lookup
Given the large number of manufacturers of Sharp brand televisions, I can tell you that the easiest way to find the model number and serial number of your TV is with the sticker on the back of the TV. Look on the other side of the TV and you are sure to find a sticker with information about the TV, model number and serial number. You might be able to find the TV information on the TV menu as well, but finding information about the model number can be very individual, depending on who made the TV.
Sharp TV Model Number explained
In 2019, Sharp TVs received new model numbers. Which with slight variations will be applied to all Sharp TVs regardless of the region. This is the company's policy of reverting to the unified brand and quality management of Sharp TVs.
Example model number decoding for Sharp TVs from 2019 (Foxconn production) Japan, China, Asia
4T-C65BJ3EF2NB
4T – TV screen resolution

8T – 8K
4T – 4K
2T – Full HD
T – HD

C – LED TV
65 – screen size diagonal inches
BJ3 – a TV series, in each series there are some features sound quality screen type, etc.
EF2NB – tuner type and design
Sharp AQUOS TV explanation
Sharp AQUOS This brand was invented at Sharp. The goal was to distinguish TV sets from other brands. Initially it was assumed that these would be TVs with special parameters, originally such TVs were equipped with displays made by Sharp. Since the displays are made in Japan, it is assumed that they are better. But whether this is true is hard to say, the factory in Japan is quite old, although Sharp makes quite high quality displays. Now Sharp AQUOS are TVs made in Japan by the former Sharp division, now run by Foxconn.
Sharp TV model number US 2015-2018 ( by Hisense) explained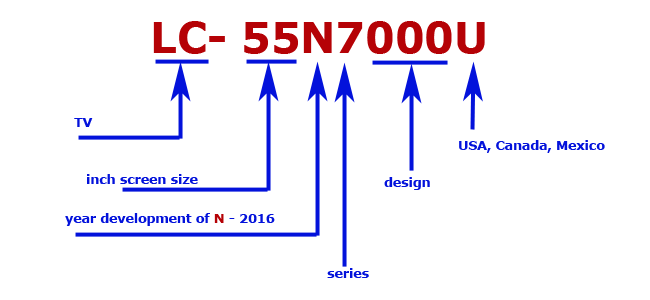 These are the model numbers that Hisense used for Sharp TVs in the US, Canada and Mexico. The TVs were assembled in Mexico, the screens and electronics were manufactured in China, mostly in Hisense factories. There is minimal information from the model number, this is typical of Chinese TVs. The meaning of the TV model number can be explained as follows.
LC – TV
55 – size screen
N – year
7000 – series
U – country for sale TV
Sharp TV model number 2020-2022 Europe explained
In the picture I have shown the number structure of the Sharp TV models that started to be produced in Europe in 2020.
Now I will explain how to understand the model number of a Sharp TV, such TV models you can find in stores in Europe. Let's look at the model number 75EQ4EA.
75 is the screen diagonal size in inches.
E – year of development

E – 2022
C, D – 2021
B – 2020

Q – display type, in this case Q means that the TV is equipped with a QLED display. Other letters mean other types of displays, it is difficult to say which ones, there is very little information on the official website, and to be honest, I have no particular desire to sit and look.
4 – TV series.
EA – the region for which the TV is made, Europe. But perhaps the company has ambitious plans to conquer other markets. At the moment, the TVs in this division are only made for Europe.
Sharp TV model number 2015-2018 decode explained Europe
From 2015 to 2019, TVs produced by UMC had their own model numbers. The televisions were assembled from OEM components, most likely after the takeover of Sharp (producing only televisions) by OEM Foxcoon, steps were taken to standardize the televisions. Starting in 2019, other model numbers are already being used in Europe. I can assume that there were simulated model number structures that Sharp used previously for televisions they are similar.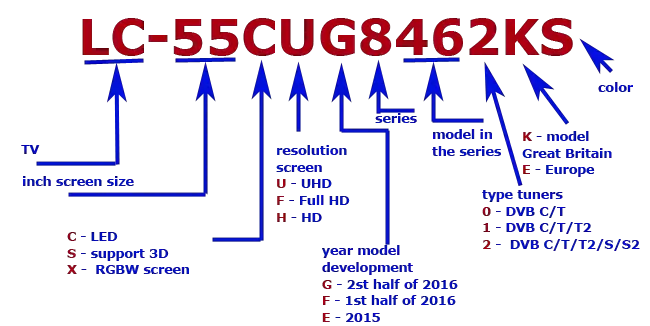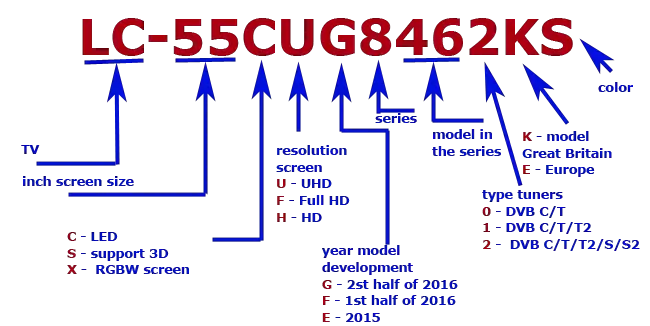 Decoding example, Sharp TV model numbers LC-55CUG8462KS
LC – TV device
55 – inch screen size
What is the display in a Sharp TV
С – type matrix screen on TV,  From 2017 this does not apply in the model number.

С – LED телевизор,
S – 3D support,
Х – screen with 4 colors RGBW (red, green, blue, white).
This designation was used until 2017. It has not been used since 2017.
U – Screen resolution in this case, UHD or 4K
What year my TV Sharp
G – the year of development of a model, can be conventionally considered the year of assembly. Sharp, like other TV manufacturers, updates models every year, usually presenting new TV models in the second half of the year.

I – 2018
G – 2016-2017
F – 2015-2016
E – 2014-2015

8 – series
46 – model in the series
2 – type tuners in TV
K – region for which released the TV, such as K – means that the TV is released in Ireland or the UK, it has support service broadcasting Saorview Ireland or support similar service Freeview HD for the UK.
S – S frame color screen – Silver.
Decode  Sharp TV model number 2015
This is another example of explaining the model number of Sharp's 2015 TVs.


Sharp TV model number before 2015 (made by Sharp)
Decode old models Sharp TV until 2015
LC-60LE857E
LC

–code assigned by the manufacturer to indicate that the product belongs to the class televisions.

60

–screen size  inches   LC-60ххххххх

L

–LCD    LC-60Lхххххх

8

–series LC-60LЕ8хххх

5

–year development  LC-60LЕ85ххх

Е

–Europe
How do I know what year my Sharp TV is?
year development   LC-60LЕ857RU,
2 – 2010
3 – 2011
4 – 2012
5 – 2013
6 – 2014